This Chart Shows How Much Money College Grads Are Giving Up by Working as Teachers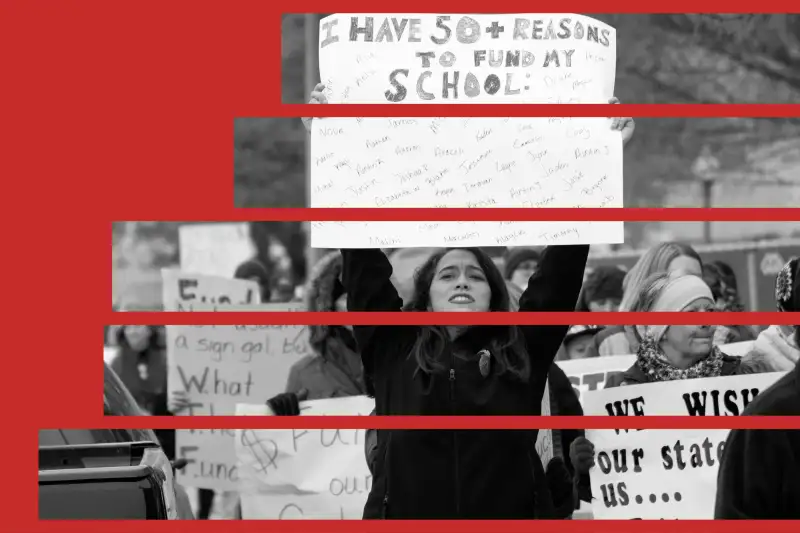 J Pat Carter—Getty Images
Teachers just got another way to make the case that, as a group, they are making too little money.
Public school teachers earned average weekly wages of $1,137 in 2017, while all other college graduates working full time earned $1,476 per week, according to a report out today from the left-leaning Economic Policy Institute.
Even after controlling for various factors that affect pay — such as education, age, and years of experience — teachers still earn 18.7% less than comparable workers. And while benefits, including retirement, health insurance, and paid holidays, make up a larger share of compensation for teachers than for other workers, it's not enough to erase the wage gap.
If the 18.7% pay gap is adjusted to include teachers' benefits, which are 7.6% higher than similarly educated workers, the total compensation penalty is 11.1%, according to the EPI. That's up from 10.5% in 2015 — the last time the EPI looked at the numbers — and it's a record disparity, according to the study, which has compared wage and benefits data dating back more than 20 years.
The study focuses on weekly (rather than annual) wages because teachers are often paid for less than a full year of work.
Teacher pay has been in the spotlight for the past six months, thanks to large protests in a handful of states over pay and teaching conditions. The attention has spurred countless stories about how teachers have to work evening and summer jobs to make ends meet, and it's even encouraged more than 150 educators to run for state legislative office to push for better funding, according to Education Week.
In addition to the national compensation penalty, the EPI report also spells out the state-by-state pay penalty for teachers, compared with professionals in other industries who have similar levels of education. The gap ranges from 36% in Arizona to 3% in Wyoming.
And as it turns out, four of the five states with the largest teacher pay penalty — Arizona, North Carolina, Oklahoma, and Colorado — are the same states where educators took to the picket lines earlier this year.
(The authors did not have data on benefits at the state level, the EPI says, so the state-by-state comparison is based strictly on wages, not total compensation; and it controls only for education level, not other factors such as gender or years of experience.)
Many of the states toward the bottom of the above chart have cut per-pupil education spending while also passing tax cuts, says Lawrence Mishel, one of the report's authors and a teacher pay expert at the Economic Policy Institute.
The report also shows that teacher pay has continued to erode relative to similar workers. In 2004, the pay penalty was just 11.4%, less than two-thirds the current level.
Of course, earning less than workers in other industries does not prove on its own that teachers are underpaid. But it does highlight part of the challenge in recruiting and retaining teachers, especially in high-need subject areas that command attractive salaries in the private sector. More than 30 states, for example, reported teacher shortages in mathematics for the 2018-2019 school year, according to the U.S. Department of Education.
Research does suggest that competitive salaries can help keep quality teachers in the classroom, Mishel says. "The teacher workforce is the single most important ingredient in schools in determining how children are going to fare in their education," he says.