This Man Retired at 50 to Travel the World and See Eclipses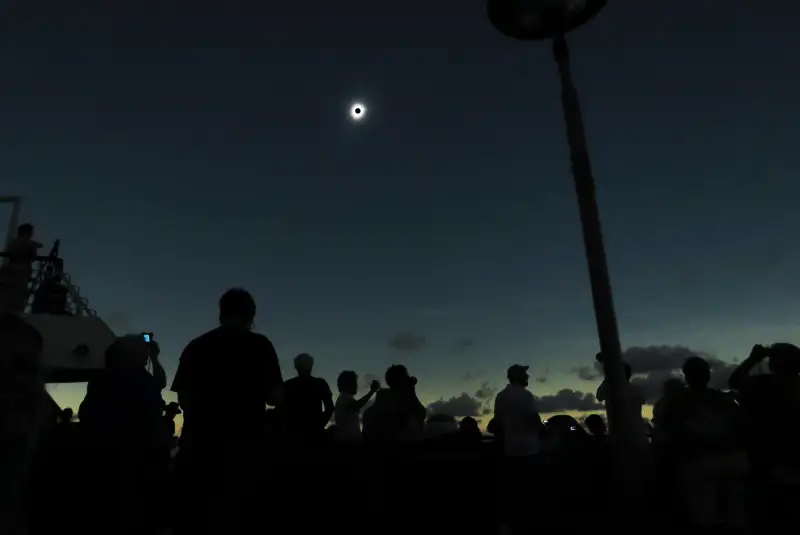 Bill Kramer, 59, is a retired business owner who runs the eclipse-chasers.com web site. He spoke to Money about how he got hooked on eclipses and how he budgets for trips to experience them.
I've nerded out on this stuff since I was a little kid. I was 11 in 1970 when there was an eclipse coming up the eastern seaboard. I skipped out of a swim meet in my Speedos in March to watch it. I got in a lot of trouble.
This summer will be my 17th total solar eclipse. It's easier to say where I haven't been to see one: I haven't been to Antartica, South America or Australia.
I'm a retired computer wonk. I got involved in computers in the late 70s, which was the time to do it. I started my own computer business in the 1980s, so I was able to create the time to see eclipses. But I couldn't go to all of them, so I had to be selective. The way I did that was sometimes, whether the eclipse interfered with my kids' school schedule, or you look at geography: do I really want to go to Antartica?
I set a goal of retiring at 50 and I did. Now, I live in Jamaica. My wife and I have been there seven years. I'm bringing our friend from Jamaica with me to see this eclipse. He's a wicker weaver who's never been off the island. We sit together in the evenings with my telescope, looking at Saturn.
There's a standard misconception that eclipse chasers are elitist, wealthy people. But here's the thing with an eclipse: you know it's coming in advance. You can budget accordingly. You're not going to one every single year. Now, if you become a recognized authority on this, you can get free trips from travel companies. But you sing for your supper. You've got 50 people saying, "You better make sure the sky's clear."
Let's say there will be an eclipse in somewhere fun, like Tahiti. It's not a cheap place. Breakfast there is like $40. Maybe that vacation will cost you five figures. If your normal budget is four figures, how long will it take you to make up the difference?
This time, it's an easy eclipse, since it's in the U.S. We decided to see the eclipse within a day's driving distance of Ohio, where we have the most family. We'll be on the Kentucky/Tennessee border. We reserved the hotel over a year ago. We booked 20 rooms for friends and family. I'm back in the U.S. on the 16th, flying to Cleveland and gathering the caravan. Our two daughters will be joining us, and our grandson born in November.
Eclipse chasing is travel with a purpose. It's not just about the eclipse. While you're there, what's on your bucket list that's nearby? The next big one, in terms of duration, will fall across Egypt in August of 2027. Why don't you see the pyramids while you're at it? They're worth it.
The next total solar eclipse coming to the U.S. is in 2024. That will occur in April, which implies clouds in most of the U.S. But that one is coming out of Mexico, so chances are we'll go to Mexico.