This New Medicare App Is a Godsend for Seniors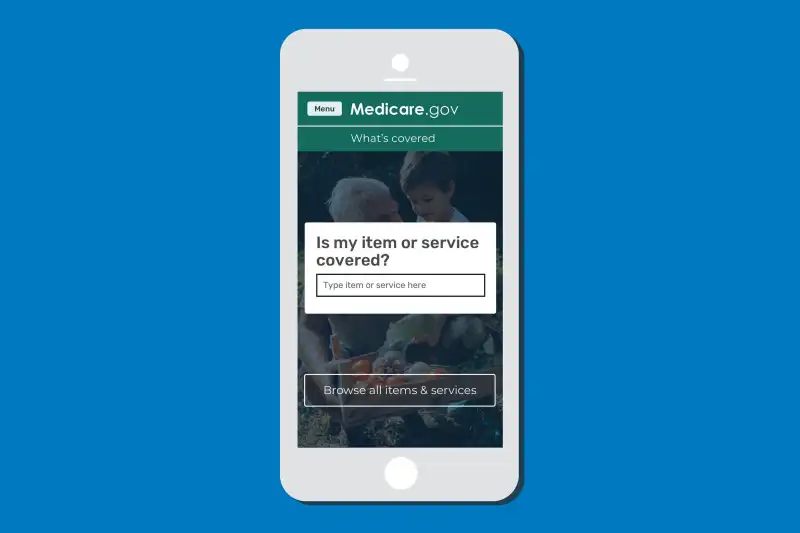 Courtesy of the Centers for Medicare & Medicaid Services
Want to see if Medicare covers a procedure you're considering? There's an app for that.
On Monday, the Centers for Medicare & Medicaid Services launched "What's Covered," a new app that allows beneficiaries with Original Medicare to quickly research whether the program will pay for a given medical item or service. Seeking acupuncture or massage therapy? Then you're responsible for the full cost, since those are a non-covered services. But if your doctor has prescribed a special bed for your wound care, then Medicare will pay for it.
The app is the latest rollout in the CMS's "eMedicare" initiative, launched last year to help modernize the government health insurance program that covers roughly 60 million Americans. Other parts of the initiative include an online price comparison tool.
The Medicare population is projected to increase to more than 80 million by 2030, as the youngest baby boomers age into the program. Around 42% of Americans age 65 and older used smartphones and almost 70% were using the Internet as of 2017, according to Pew Research Center. The app can also be a valuable resource for caregivers researching options for their loved one.
The app focuses on Original Medicare, which consists of Part A hospitalization coverage, Part B outpatient coverage, and optional Part D drug coverage and Medigap supplemental coverage. Roughly two-thirds of beneficiaries have Original Medicare, with the remaining third on Medicare Advantage (also known as Part C), which is care provided by private companies contracted by the government. Some Medicare Advantage plans cover services that Original Medicare doesn't, such as hearing aids.
Occasionally, the answer to whether Medicare covers a procedure or service isn't a straight yes or no. Under "home health services," for example, the app lists conditions that must be met for the service to be covered and mentions that you're not eligible if you need more than part-time or "intermittent" skilled nursing care. Medicare doesn't pay for so-called "custodial care," which is non-rehabilitative help with activities of daily living such as bathing, dressing and eating, either at home or in a care facility.
The What's Covered app is available for free in both Google Play and the Apple App Store. For other helpful apps for older adults, check out Money's roundup here.