The Best Apps for Older Adults You Should Download Right Now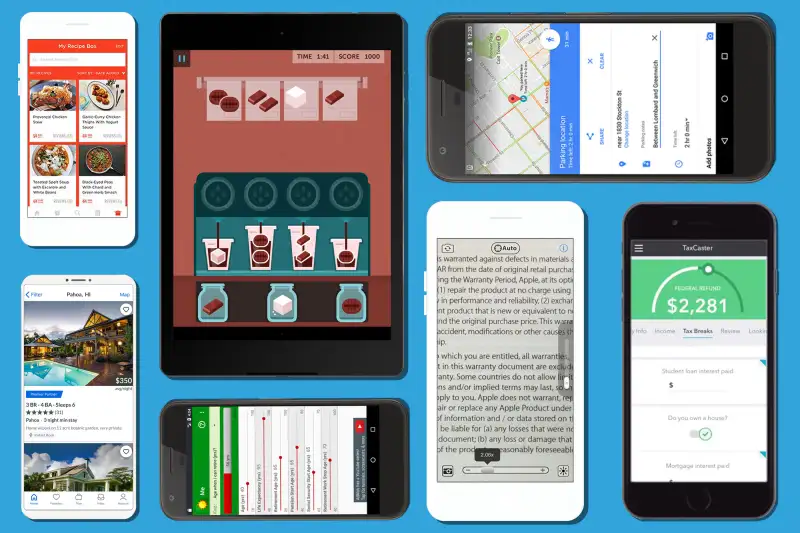 Photo illustration by Money; Getty images (3); Screenshots courtesy of apps
Not so long ago, technology aimed at older adults was all function, no form. But those days are gone, and today grownups enjoy the same sleek and useful devices as everyone else -- you can play your favorite tunes, calculate your retirement readiness, and monitor your blood pressure all in the palm of your hand.
Around 42% of Americans age 65 and older used smartphones and almost 70% were using the Internet as of 2017, according to Pew Research Center; those numbers are only going up. As retirees continue to integrate technology into their lives at a faster and faster pace, it's good to know how to make the most of your devices, whether you have an iPhone, iPad or Android.
Here at Money, we've rounded up the best free apps for older adults and caretakers to download. If you're up for a splurge, consider buying an Apple watch and using these apps on it. The latest model has a heart monitor and other medical capabilities. Plus, if you fall out of reach of your cell phone, you'll still be able to call for help.
Created by two brothers after their father mistakenly took an extra dose of insulin and almost died, Medisafe is a health app with more than 19,000 reviews and a 4.7 rating on the iOS App store. One of its most useful features is the medication reminder option, which allows you to set alarms and will also notify you if you're running low on a prescription or have been prescribed medications that aren't supposed to be taken together. You can also add a family member or caregiver as a "Medifriend" to be sent reminders if you miss a dose. Available for iPhone and Android.
Remembering where you parked your car is hard for everyone. That's why Google Maps added a parking spot feature (Apple Maps offers this feature, too). You have to keep your location services for the app on "always" (which can admittedly drain battery), and turn on the "know where you parked" button, but once you do, you avoid the hassle of having to open a separate app once you arrive at your destination. Once it's enabled, Google automatically drops a blue dot on the map where you parked your car. It also recently introduced a parking spot saver feature in some U.S. cities, too, which will point you to designated parking garages nearby once activated. If you want to use a separate app, however, we recommend downloading Find My Car Smarter (which is also free) or Anchor Pointer ($1.99). Available for iPhone and Android.
This tried and true app will always be helpful to have on hand. It essentially makes your iPhone into a full-screen magnifying glass that helps you read pretty much anything. From menus in dark restaurants to prescription bottles or even regular old mail, you can use this app to zoom in on type and shine a light on it at the same time. You can also take photos of items and then zoom in on the photo. It even allows you to enable an auto-light feature that will turn on automatically in low-setting sights. Available for iPhone and Android.
The popular vacation booking website, which is similar to Airbnb, has a corresponding app that has high-quality photos of listings that feel easy to scroll through. The app also stores important information that for many people can be easy to lose track of — even if you're offline you can still access things like WiFi passwords and rental check-in instructions if you forgot to bring them with you. The HomeAway app makes booking comfortable vacation accommodations painless for retirees who don't want the responsibility of owning an expensive second home. But if you do own a vacation house? You can rent it out on HomeAway easily, too. Available for iPhone and Android.
Personal finance expert Darrow Kirkpatrick created an app for his website Can I Retire Yet? to track your progress towards or in retirement. The free version allows you to do a basic check up of your goals, but if you want more in-depth analysis and financial modeling, including tax planning, you can download the paid version for $9.95. Available for Android.
This TurboTax app may come in especially handy this year thanks to tax reform. You can estimate your income taxes and also compare how your situation differs from last year, so you can see what changed for you under the new tax law. It can also help you make related financial decisions like realizing capital gains. Plus, it's available for both iPhones and Androids.
Staying mentally sharp is important to maintaining quality of life as you age, and Lumosity is one of the most popular "brain training" and memory apps out there, with a 4.7 rating in the iOS App store. It offers a wide variety of brain teasers and puzzles that proponents say enhance cognitive skills like problem-solving and critical thinking. You can also take a free "fit test" to see how your mental muscles measure up to other people your age. Available for iPhone and Android.
Epicurious is a popular food app that offers a little bit of everything — more than 35,000 recipes, cooking videos, a seasonal ingredients locator that will show you what foods are available at farms near you and much more. You can even import recipes directly into a shopping list within the app. It also includes real reviews from other real people so you can see feedback from others at your skill level. Available for iPhone and Android.
One of the best parts of getting older is that you're eligible for all kinds of discounts. If you aren't an AARP member, this app shows you other kinds of discounts, too. Many people assume senior citizens discounts are for people 65 and older, but this app also includes discounts and savings available to 55-year-olds. While some reviews have pointed out it can be glitchy at times, it categorizes discounts by age and type, which keeps it simple and easy to use. Available for iPhone and Android.
Correction: An earlier version of this story misspelled the app Lumosity.