This Popular Money-Saving App Just Started Charging a Monthly Fee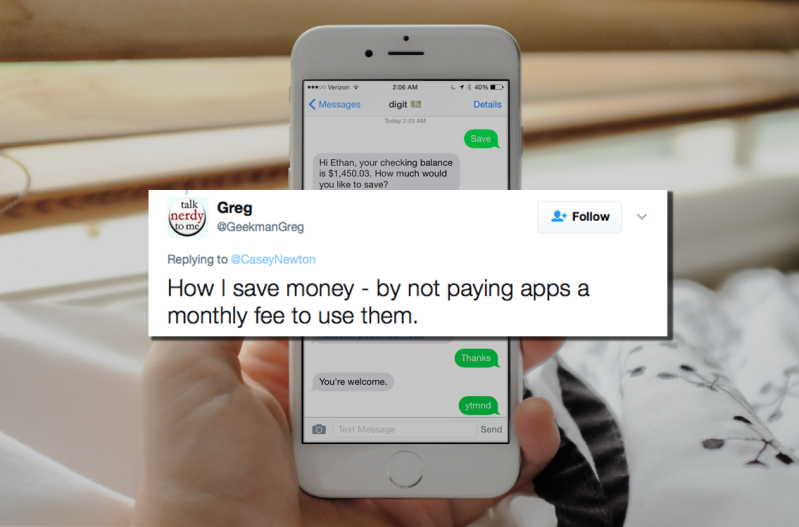 Photo illustration by Money; @GeekmanGreg
Would you pay money to save money? That's the bet popular money-saving smartphone app Digit is making after deciding it will charge users up to $36 a year.
The company announced Tuesday it would begin charging users $2.99 a month after a free 100-day intro period. Existing users also will have 100 days, beginning today, before the fee kicks in. Last month, Digit was chosen as one of Money's 36 Apps to Save You Money.
Digit has grown popular among millennials in the past 18 months for making saving not only effortless, but also (somewhat) fun, with engaging GIFs in its regular text updates about your checking account balance and how much you've saved. The service deducts small amounts from your checking account a couple times a week based on your spending habits. The money then goes into a separate Digit account that you can then transfer to a bank whenever you're ready to make a withdrawal.
The money in Digit accounts doesn't earn interest, but Digit does give users a small bonus four times a year, based on how much they've saved. The company also announced Tuesday it will increase the size of that bonus to 1% of the amount you saved from 0.2%. But you'd still need to keep a monthly an average monthly balance of $3,600 to offset the $2.99 a month fee.
Digit CEO Ethan Bloch told Forbes that it decided to charge a monthly fee instead of making money by selling customers' data or recommending financial products such as credit cards. The company says it has helped its users save $500 million since it launched in 2015.
But it's unclear how many users will stick with the app once the fee takes affect. As soon as the news was announced, technology writers and users took to Twitter to question the decision:
Users were also complaining on social media about not being able to access their Digit accounts through the app Tuesday afternoon. After Digit emailed users to notify them of the fee change, a spike in traffic caused the app to crash.