This Valentine's Day, All I Want to Talk About Is Money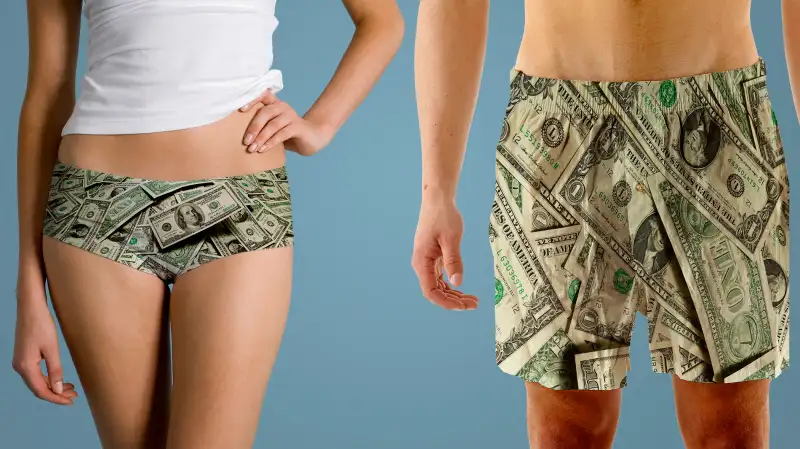 Photo Illustration by Tiffany Herring for Money, Getty Images (4)
This year, my boyfriend Peach and I are going to be celebrating our first Valentine's Day as a co-habitating, New York City couple. We moved in together shortly before Thanksgiving, after more than six years of dating, and quickly settled into the monotony of seeing each other day-in and day-out. Let's just say, we were long overdue for romance.
It was all scripted in my head.
Shedding the mandatory sweatpants and hoodie uniform of the self-employed writer, washing my hair after – well, a few more days than I care to share – and applying some concealer to the bags under my eyes, I'd prepare for an intimate evening.
"I'm heading home," he would text, my heart skipping a beat.
I'd open a bottle of Pinot Noir to decant and start preparing homemade gnocchi with gorgonzola sauce – a thrilling feeling washed over me, knowing where the night would lead.
He'd walk in the door and smile.
Bringing over a glass of wine and shuffling him towards a dish of his favorite pasta I say, "Okay, it's been a couple of weeks…Let's talk numbers!"
***
Getting financially naked with a partner is one of the most intimate and vulnerable acts two people can take. It's a term originally popularized by Manisha Thakor in her 2009 book Get Financially Naked and one I often use to describe the process of telling your partner every bit of your financial history - the good, the bad and the baggage. There's a risk of judgement, rejection, even mockery when you engage in getting financially naked. The emotions run so deep that 39 percent of millennials would prefer to disclose an actual STD to a new partner - an STD! - than fess up to debt load, according to a recent survey conducted by SoFi, a student loan refinance company.
But the first time Peach and I ever got financially naked, it felt so uncomfortable that we didn't even finish.
"I just don't want to be judged," he told me. "My number's pretty high."
"I've never done this before," I said.
"Okay, just don't freak out because I've been cautious," Peach clarified. "I only took out what I needed."
Then he started to come to terms with sharing the specifics of his debt load, but at the last minute just admitted to carrying student loans without filling in the details. Wanting to be supportive, I didn't press for more information at the time.
I admitted that I managed to graduate debt free thanks in part to parental support along with following the scholarships to college. Piling on to this confession by sharing my net worth felt gauche, so I abstained and we quickly pivoted to another topic of conversation.
Then a few weeks later, we tried again.
This time we were slow, but deliberate in our discussion. We asked each other what types (e.g. auto loans, student loans, credit card) and how much debt did the other have. Coming to the table without a cent of debt to my name, it felt cruel to sit there fully clothed as he stripped down to his financial skivvies.
So, I asked him if he'd want to know my net worth and to hear about my financial goals. It was a number I'd never disclosed to anyone. I was nervous, feeling a state of vulnerability I had never known in the past – but one he was likely feeling too. In a moment of fitful, financial passion, we even decided to share our credit scores that night.
Despite the early awkwardness, the process of getting financially naked not only brought us closer as a couple but also laid the groundwork for figuring out a future together. A future in which we wanted to be teammates in all money matters, regardless of our individual financial baggage.
***
Nowadays, Peach and I get financially naked as a matter of routine. We occasionally fall off the wagon and go a few weeks without connecting, but for the most part we take 30 minutes every two weeks to check in with one another. As an unmarried couple, we've elected to keep finances separate for now, but we still take the time to discuss household budgets, the obligations we share (groceries, the dog, rent, utilities) as well as personal goals (beefing up emergency funds, paying down student loans, preparing for an upcoming trip to Berlin). On occasion we even strategize plans for the future, like whether we could live off my salary for basic expenses while the majority of his income would go towards paying off his student loans in two years.
While Peach may laugh at the level of which I find talking numbers intoxicating, bordering on erotic, it's a type of intimacy that's difficult to create outside of a loving, supportive relationship. Sounds like the perfect Valentine's Day to me.
Erin Lowry is a millennial personal finance expert, speaker, and author of the book, "BROKE MILLENNIAL: Stop Scraping By and Get Your Financial Life Together." She lives in New York City with her boyfriend Peach and their spunky rescue dog Mosby.