Meet Goop's Shaman, a Crystal Expert That Helps People With Their Careers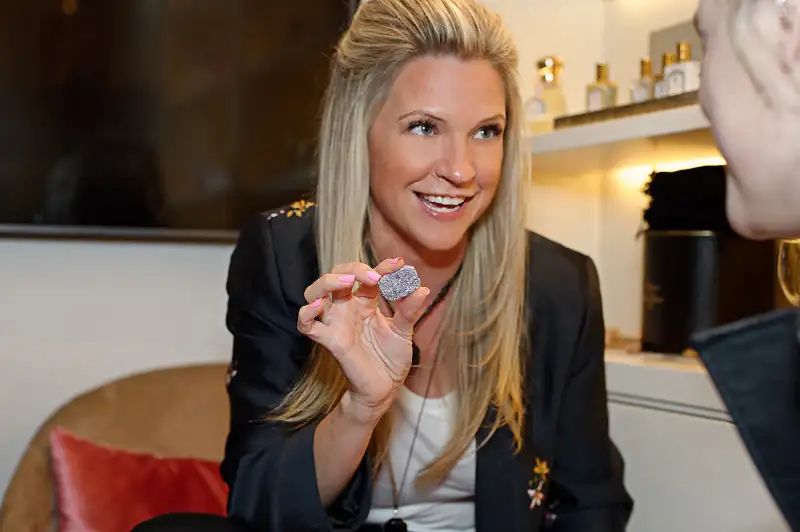 If you're in a rough patch in your career, you've probably read all the standard advice to start feeling inspired again. Start meditating, try a LinkedIn influencer's top tip for starting the day off right, or read Bill Gates' favorite book. But if none of that is working and you're still feeling stuck, Colleen McCann, owner of the career consulting company Style Rituals, has a slightly different suggestion: Why not look into crystals?
McCann, who launched her Los Angeles-based company in 2015 and works full-time advising business professionals across the globe on everything from their love life to branding ideas, says the energies of stones interact with the "human electromagnetic field so as to bring about energetic changes" in a person's life. What type of change depends on the stone.
There's citrine for business and personal power, lapis lazuli for communication, or black obsidian for grounding and protection. Amethyst will keep away toxic people ("aka energy vampires"), according to McCann, while green adventurine will "call in money and good fortune."
Humans have used stones and crystals to summon specific energies for thousands of years. McCann's twist is using them to help think up new branding ideas or reinvigorate a career path. "Energetically, crystals are believed to be a timeless database of knowledge, because they retain all the information they have ever been exposed to," says McCann. "So why wouldn't they be use them in business practices?"
Her interest in crystals began when she was young. But it wasn't until about a decade ago, when a mentor told her to go to a crystal store and walk to the stones that she was energetically drawn to, that she started taking them seriously. "I came into the mystical side of stones with a very skeptical mind," says the former fashion stylist and designer. "But stones speak to me."
Now she helps other people engage with crystals and energy practices to help their business and professional lives. "I am here to demystify the mystic," she says. "I believe everyone has the ability to tap into their own intuitive gifts and I help my clients learn how to flex their intuitive muscle."
courtesy of Style Rituals
McCann's business grew popular enough (she says she has a six month waiting list to see clients) that she soon linked up with another successful blonde who promotes wellness ideas that are outside the mainstream. As the House Shaman for Gwyneth Paltrow's GOOP empire, McCann provides mystical- and spiritual-based content for the site's readers, and has two product collaborations, the 8 Essential Crystals package and a space clearing kit for general energetic health.
Crystals are having something of moment. Celebrities beyond Paltrow have embraced them (reality star Spencer Pratt is a longtime proponent), and they are a staple in the booming wellness community. McCann herself says she's definitely noticed an uptick in interest in her practices over the past two years. She credits this to people feeling disconnected from the world they live in, and trying to find a way to become more grounded. "I think that more people on this planet are awakening to things. People are looking for something real, and they are gravitating to old ways, old practices that have gone to the wayside since tech has gotten big."
Though she got started in crystal readings and currently offers a slew of services, her Intuitive Business Building sessions, in which she offers tarot card readings, gifts crystals to the client, and helps them master basic spiritual practices to help their businesses flourish (all for $250 per hour), is one of her most popular offerings. She also has a book about crystals coming out next year and hosts special events about crystals and stones for the likes of Givenchy, Saks Fifth Avenue, and Barneys.
"Really successful business owners or thought leaders I work with have a spiritual practice, or want it in their life, whether they talk about it or not," she says. That's what she offers them.
courtesy of Style Rituals
For those curious about crystals, McCann says there's no bad time to start. Research which stones are related to the problem you're trying to solve (for example, a Rose Quartz stone could help your love life) or, try McCann's strategy: Go to a crystal store and see which stones you gravitate toward. Then, place them on your desk or in your pocket or purse, or try meditating while holding them and "actively [envision] what you want to call into your life."
"We all have stuff going on we're trying to work on, like calling more money into our lives, or financial success, or working on love, or happiness, or being able to sleep better—and there's a crystal for that," she says.
McCann's Business Crystal Recommendations:
Iron Pyrite – Known as the high manifestor, used if you want to call something into your life
Citrine – Known to work with your personal power and financial success
Sun Stone – Known as a stone for career path, which is different than making money
Moss Agate, Jade, other green crystals: As a general rule of thumb, a lot of greens stones work with the idea of money and abundance