Extreme Couponers Are Taking Over TikTok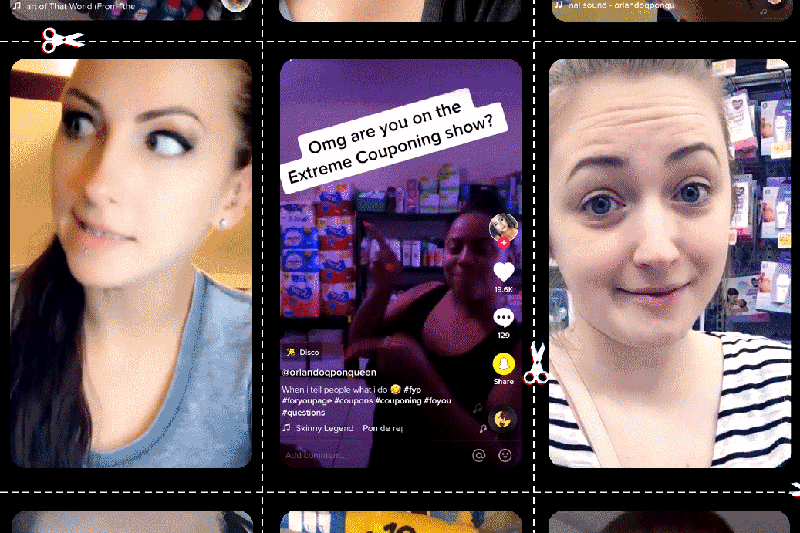 Courtesy of Katie Swanson, Shai Marie Guzman and Alysia Bye
Katie Swanson is sitting in a Milwaukee parking lot, sunglasses on her head and kid in the backseat, telling 502,000 people how to get über-cheap paper towels.
"OK, you guys need to run — not walk — run to Target right now," she says into her phone camera, panning to show a trunk full of boxes. "My store had 68 rolls. I took all of it."
Swanson flashes her receipt for proof, then dives into the details. She's not usually a "shelf clearer," but she broke her own rules today when the price of Up&Up full-sheet paper towels fell from $0.99 to $0.35. She even asked an employee to check the stock in the back of the store. Viewers can do the same, she explains, as long as they know the item's DPCI number.
With a couple of taps, Swanson posts the 55-second clip, and the comments start rolling in.
"I saved sooo much money !! I got 72 rolls :))" writes ♡ brianna_ ♡.
"I got 35 of them," adds Kat R.
"Thank you so much for posting this," says Sydney Richman. "I just went and purchased 100 paper towels for $36."
Swanson is a mini celebrity on TikTok, the wildly popular shortform video app. Though it's best known for its lip-sync memes and the genesis of "Old Town Road," TikTok has somehow become the newest hangout for the extreme couponing community. That's notable because of its audience. Forget Facebook moms — it's Generation Z that loves TikTok's endless scroll, mysterious For You page and inventive filters.
So why is couponing, of all things, taking off there?
"People have known about extreme couponing for a while, but I don't think anybody has ever taken the time to sit down and teach them," Swanson says. "It's something that everybody can do."
It Started With a Stockpile
Swanson began couponing about six years ago, but she didn't become internet famous for it until this summer.
It all started when she decided to stay home with her first child. Going from two incomes to one was tough for her young family, she says, especially because "babies are very expensive." She started hunting for deals and got good at it: She estimates she saves $8,000 a year thanks to her couponing.
Swanson joined TikTok this past March as @coupon_katie. It was just for fun until she posted a video of her stockpile, a designated area in her house where she keeps shelves full of her spoils: some 30-odd jugs of laundry detergent, 44 boxes of toothpaste, 24 boxes of aluminum foil, 60-plus packages of paper plates and more. "Ooh Ahh (My Life Be Like)" by GRITS played as she showed off her reserves of Fabuloso, Clorox wipes, Dial bodywash and Gillette Mach 3 Razors.
"It got over 3 million views," the 28-year-old says. "I was like, 'Maybe I can be the one to pave the way.'"
TikTok and couponing both have huge followings, so in a way it's the perfect combination of two trends. TLC's Extreme Couponing show aired for five seasons between 2010 and 2012, at one point averaging 2 million viewers per episode. TikTok, meanwhile, is used by some 500 million people around the world every month — two-thirds of them under 30.
Together, they're unstoppable. The TikTok hashtag #coupons has 29.2 million views. #Couponing has 14.5 million, and #coupon has another 6.8 million and counting.
It's a natural fit, according to Karen Freberg, an associate professor of strategic communication at the University of Louisville. She says couponing TikToks allow viewers "to see visually the impact that saving money has," which gets them more engaged with the subject matter.
Swanson has made it her mission to educate people about it. She aims to produce one TikTok a day, which can take her anywhere from 10 to 45 minutes depending on its content. She often uses props, like a toy cash register and a kids shopping cart, to walk her frugal followers through the ins and outs of saving money. Her videos have gotten 10.8 million "likes."
"Young people are lacking economic basics," she says. "I really try to explain the value of a dollar."
Shai Marie Guzman, the 28-year-old behind @orlandoqponqueen, has a similar goal. Though she's already big on Instagram, on TikTok she's trying to cater to college and high school students who need to stretch their money. Her account there is more meme-centric than Swanson's. Instead of giving outright lessons, Guzman puts coupon-themed spins on TikTok trends, doing choreography to songs like "Weak" by AJR.
However, she prides herself on responding to all the couponing questions she gets in her DMs.
"I feel so satisfied helping everybody," says Guzman, who has 9,000 followers and 98,000 likes on TikTok. "Starting my page was the best thing I've ever done."
Moms, Memes and Moneymakers
Anyone who's ever downloaded TikTok knows it's like falling down a rabbit hole. Log on to check out one 60-second video, and all of a sudden it's three hours later and you're trying to do The Git Up dance in your living room.
The coupon corner of TikTok is no exception.
It's packed with subgenres. There are stockpile updates, like Swanson's, and meme videos, like the one where Guzman dances to "Pon de Replay" by Rihanna. There are clips where people flip through their highly organized coupon binders on camera, and others where they boast about deals they've scored. Sometimes, there's even drama between couponers, like when it comes to falsifying zip codes for better price-matching (a serious faux pas).
Alysia Bye, a 24-year-old who lives in Indiana and goes by @alysiamarie94 on TikTok, likes to do math as she shows off her hauls to her 114,000 followers. She breaks down the costs of a shopping trip and averages out the price per item.
For example, in a clip from August, Bye stands in Walgreens as she explains how she grabbed a $5.09 Rimmel eyeshadow palette for just $0.09 thanks to a combination of store and manufacturer coupons. In another, she's at home as she tells viewers how to score five packs of Chips Ahoy! cookies and Capri Suns for under a dollar each by using digital coupons at Kroger. Her videos have racked up 977,000 likes.
A couponer since 2014, Bye says there's not a whole lot of preparation involved in her TikToks because sales are often time-sensitive.
"If I find something on clearance, it's obviously going to run out of stock," she adds. "If I find a deal, I don't really do my makeup — or anything, really. Most of the time, I'm like no makeup, mom bun, 'Hey guys, here's this quick deal.'"
Bye especially enjoys featuring what she calls free moneymakers, which happen when she purchases a discounted item and then gets a rebate that's worth than the price paid. She says TikTok provides a nice break from her family duties, keeps her connected and holds her accountable.
For Guzman, couponing is a time-consuming hobby. She says she spends all day every day looking at deals, cutting coupons and planning shopping lists. She recently paid $60 for $190 worth of snacks, but the trip to the store took her more than two hours.
That's why it's nice to see the hard work pay off — both in her bank account and on TikTok.
"I started getting so many new followers, I was like, 'Oh my Lord, what did I just do?'" Guzman says. "That has opened up a whole new window."