Tim Howard, American Stud Goalie, Is Suddenly a Marketer's Dream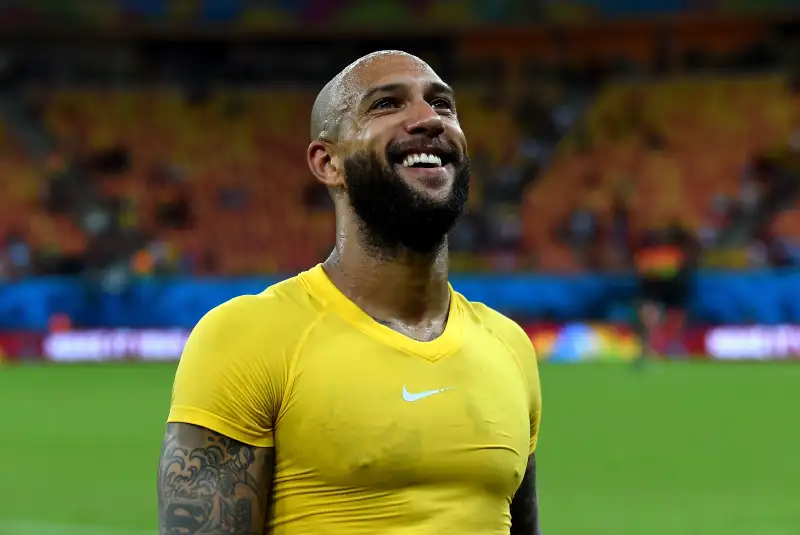 Stuart Franklin—FIFA via Getty Images
After making an amazing 16 saves in the U.S.'s World Cup match against Belgium, Tim Howard is the social media world's favorite son. The memes range from marriage proposals (some, creepily, from dads on the behalf of their daughters), to #ThingsTimHowardCouldSave (the Titanic, Lehman Brothers, the lady about to get eaten in "Jaws," etc.), to Howard's status as an American hero (he's subbed in for Captain America and George Washington, among others). Howard was mentioned in one of every five Tweets about the U.S.-Belgium match, and some prankster even changed the Secretary of Defense Wikipedia page, briefly giving the title to Howard.
What makes Howard particularly appealing—to everyday spectators and marketers alike—is that he comes across as simply a hard-working, humble dude who takes a lunch-pail "That's my job" approach onto the field.
What's more, all of the attention showered on him has come about organically. There's nothing contrived or fake about it, or about Howard either, apparently. He is a 35-year-old guy from New Jersey. He plays in England for Everton, and he's long been a world-class goalie. But his status in the U.S. isn't anywhere close to being in the superstar stratosphere of, say, LeBron James, or another pro athlete with the surname Howard (Dwight, the center for the NBA's Houston Rockets), for that matter. Heck, FIFA's online store doesn't even have Tim Howard jerseys for sale. The memes weren't the result of some marketing campaign, but due to random people being extra excited by Howard's record-breaking performance in goal.
All of which means that Howard is in possession of the rarest of qualities—authenticity—in a world oversaturated with advertisements, marketing, and "personal branding." There are a quite a few brands that would love to attach themselves to Howard's heroics and persona right about now, so the opportunity is there for the goalkeeper.
Michael Neuman, managing partner of Scout Sports and Entertainment at Horizon Media, thinks that of the many inspiring characteristics Howard has displayed via his performance at the World Cup, "reliability, durability, consistency and resiliency" are at the top of the list. "Those are attributes most brands would aspire to own in the minds of consumers who are more brand savvy than ever," Neuman said via e-mail.
With that in mind, Neuman says Howard would be a great match for the automobile industry. "Automobiles, especially SUV's and mini-vans are the chariots du jour getting our national youth to and from soccer matches on weekends," Neuman explained. "Detroit's recent issues of reliability can be enhanced with an alignment with Howard across all creative media channels. If I was his agent, I would suggest he shave his beard and hang out a sign that reads 'Open for Business, Let's Talk.'"
For now, Howard's associations and endorsements are fairly limited. Before the match against Belgium got underway, the People for the Ethical Treatment of Animals (PETA) declared Howard their pick for World Cup MVP thanks to his participating in the "Ink, Not Mink" program, in which people show off their tattoos as a way to discourage consumers from wearing fur or other animal products. Here's the fur-free stud explaining his stance on the issue:
Clearly, Howard could do a lot more in the way of endorsing products and causes, if he was interested. It's not apparent he actually would. When asked of his future plans on Good Morning America the day after the match, Howard simply said, "Right now I'm still very emotional from the game," and "I'm just trying to figure what's what and let the dust settle. Spend some time with my kids."
What we've learned from the recent past, though, is that one brilliant moment in the spotlight can change everything for an athlete—and quickly. The out-of-nowhere best-selling jersey phenomenon can been seen in the experiences of NBA players like Jeremy Lin and Jason Collins, who instantly became icons and heroes that fans just had to support and emulate. During the 2014 Winter Olympics in Sochi, Russia, merchandise featuring the unheralded American hockey player T.J. Oshie was suddenly in demand after he scored on four of six penalty shots to defeat Russia in a shootout.
By now, marketers are well-versed in the practice of reacting instantaneously to anything and everything that captures the world's attention, from the power going out at the Super Bowl to a presidential candidate mentioning Big Bird during a debate. Social media dominates these "quick hit" reactions, of course, but marketers don't limit their efforts to Twitter and Facebook. Insurer Liberty Mutual was able to produce and air a TV commercial featuring Olympic skier Heidi Kloser less than two weeks after an accident left her unable to compete in the Sochi games—and she walked memorably, with the help of crutches, into the Olympic stadium with Team USA during the opening ceremonies.
Suffice it to say that Howard has some pretty terrific prospects to parlay his newfound hero-stud status into something much bigger. Great for him. Is there any takeaway from the experience of Howard, or Lin, or Oshie, for the average Joe?
Dan Schawbel, a personal branding expert and the author of Promote Yourself: The New Rules for Career Success, says that when you are celebrated for a standout performance on the job, or when you're suddenly the subject of widespread attention, you should absolutely take advantage. "When you get in the spotlight, you want to maximize that opportunity as much as possible because you don't know when it will happen again," said Schawbel. "You should build the accomplishment into your online profiles, share it with others and leverage it to get a promotion or salary increase."
Career expert Stephen Viscusi, CEO of the Viscusi Group in New York City and author of Bulletproof Your Job, cautions that a worker in such a situation should proceed with a sense of graciousness, so that you're always perceived as a good teammate. "If you had an amazing day like USMNT Goal Keeper Tim Howard did against Belgium in the World Cup Semi-Finals, the best way to get credit for that and make it last is to share the credit with teammates and your boss," Viscusi said via e-mail. "You will still maintain credit for what you did. But, by sharing your accomplishment with your boss and colleagues, you will be seen in a better light and you won't be seen as showing off. That's the smart way to handle it."
This is advice that Howard himself is already following. On Wednesday, here's the gracious Tweet he sent out: "Im proud to suit up w every one of these guys. It's a tremendous honor to represent this country & a ride I'll never forget."