Here Are Today's Best Mortgage & Refinance Rates for August 19, 2020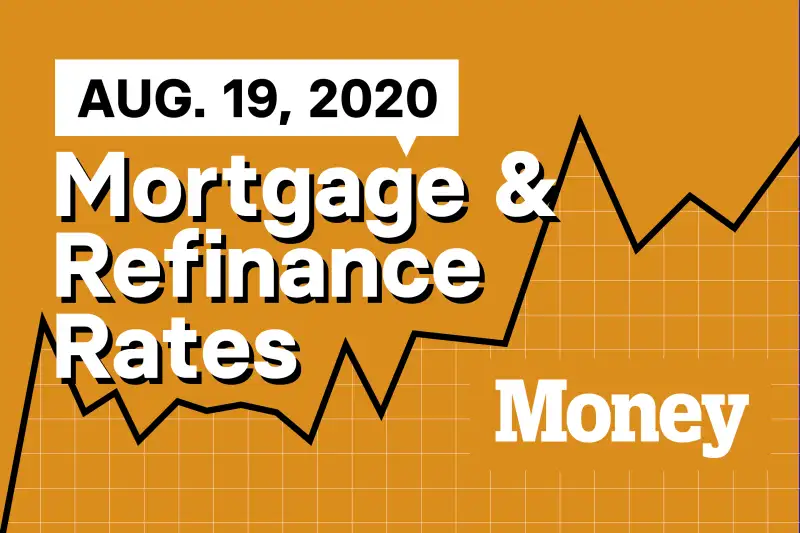 Borrowers with 700 credit scores were charged an average of 3.466% to secure a 30-year fixed-rate purchase mortgage on Tuesday, according to Money's survey of over 8,000 mortgage lenders across the country. The average rate for a 30-year refinance was 4.49%.
30-year fixed-rate mortgage purchase
3.466%
Rates of August 18, 2020
Refinance rates today
A homeowner with excellent credit who qualifies for the lowest rates as reported by Freddie Mac can save a significant amount of money when refinancing. A year ago the average mortgage rate was 3.60%. A homeowner with a $250,000 mortgage balance paying 3.60% on a 30-year loan could cut their monthly payment from $1,137 to $1,049 by financing at today's lower rates. (It is important to consider closing fees and that refinancing could reset the clock on your mortgage, meaning you will have to make payments longer.)
For more on refinancing read: Is Now a Good Time to Refinance My Mortgage? A Decision-Making Guide
What else do house hunters need to know today?
The total volume of mortgage loan applications fell a little over 3% from last week as positive economic news pushed mortgage rates slightly higher, according to the Mortgage Bankers Association. Purchase loan applications for the week ending August 14 were up 1% week-over-week and 27% higher than the same week last year.
Refinance loan applications, which have led the rebound in the housing market, were down 5% week-over-week but 38% higher than a year ago.
"Positive economic data reported last week on retail sales, as well as a large U.S. Treasury auction, drove mortgage rates to their highest level in two weeks. The rise in rates dampened refinance activity, but purchase applications continued their strong run," said Joel Kan, the MBA's vice president of economic and industry forecasting. "The housing market remains a bright spot in the current economic recovery and these results, combined with July data on housing starts and homebuilder optimism, suggest that housing supply could be increasing to better meet the strong demand for buying a home."
Kan is referring to the increase in building permits, housing starts, and housing completions, all of which indicate that the deficit in housing inventory may start to ease during the latter part of the year.
What should house hunters be watching this week?
On Thursday, Freddie Mac will release its weekly Primary Mortgage Market Survey. Interest rates have been below 3% for the last three weeks. The Bureau of Labor Statistics will also be releasing its weekly new unemployment claims data. Last week's claims were below 1 million for the first time since the pandemic began, and it's expected that this week's numbers will be below 1 million again. Despite the recent decrease in new claims, unemployment numbers remain at historically high levels.
The suburbs are making a comeback thanks to the pandemic
Danielle Hale, chief economist for Realtor.com, on how remote work is making the suburbs cool again:
For more on credit scores, read: How the Pandemic is Persuading Millenials to Leave the City and Make Living in the Suburbs . . . Cool?
Bottom Line:
A 'Middle Finger' to Struggling Families: How a New Fee Is About to Make Refinancing Your Mortgage a Lot More Expensive
Fall Homebuying Outlook: Everything You Need to Know About Prices, Supply and Mortgage Rates
A Wild Market Means More Home Appraisals are Coming in Low. Here's What to do if a Bad Appraisal Threatens Your Deal
Rates are subject to change. All information provided here is accurate as of the publish date.