Here Are Today's Best Mortgage & Refinance Rates for August 25, 2020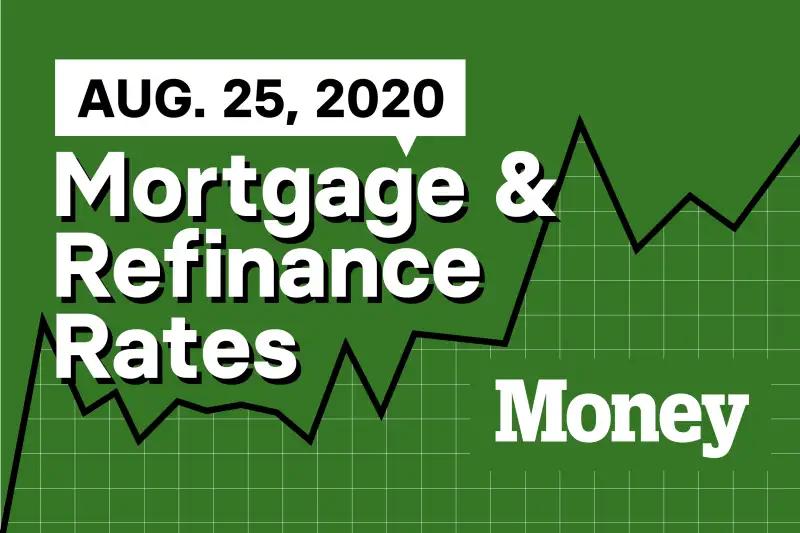 Borrowers with 700 credit scores were quoted an average rate of 3.529% to secure a 30-year fixed-rate purchase mortgage on Monday, according to Money's survey of over 8,000 lenders across the country. At this credit score, roughly the national average, the average rate for a 30-year refinance was 4.573%. Our rates include mortgage points and are for borrowers putting 20% down.
30-year fixed-rate purchase mortgage
3.529%
Rates of August 24, 2020
Borrowers in Iowa were quoted the lowest rates on Monday—at 3.349%. Those in Indiana got the highest average rate at 4.823%. The borrowers with the best credit scores, 740 and above, were quoted rates averaging 3.114%, while those with credit of 640 or below were given rates of 4.896%—a 1.782 percentage point spread.
You may be able to negotiate a better rate if you shop around or if you have other accounts with the lender. (Check out Money's picks for the best mortgage lenders here.) Currently, some banks are hiking up advertised rates to keep demand in check, so you may be offered a lower rate if you reach out directly.
Freddie Mac's widely quoted Primary Mortgage Market Survey put rates at 2.99% with 0.8 discount points paid for the week ending August 20. The mortgage purchaser's weekly survey reflects borrowers who put 20% down on conforming loans and have excellent credit.
Refinance rates today
Our survey shows that the best rate for a 30-year refinance for someone with a 740 credit score was 3.763% Monday. Last August, the average mortgage rate (including fees) was 4.005%.
30-year fixed-rate mortgage refinance
3.763%
Rates of August 24, 2020
A homeowner with a $200,000 mortgage balance currently paying 4.005% on a 30-year loan could potentially cut their monthly payment from $1,013 to $928 by financing at today's lower rates. To determine if now is a good time for you to refinance, you will also want to consider the closing fees you paid on your current mortgage, how much your new lender is charging and how long you have left on your current mortgage. (Our picks for the best lenders for refinancing are here.)
What else is happening in the housing market right now?
The news of today, that could impact your home tomorrow.
Sales of new single-family homes increased 13.9% over June numbers, according to the U.S. Census Bureau. This represents a seasonally adjusted annual rate of 901,000 compared to a rate of 791,000 in June. In July 2019, news homes were selling at an annual rate of 661,000.
The median sales price for newly built homes was $330,660 in July, while the average sales price was $391,300.
A similar survey by real estate brokerage Redfin showed a year-over-year increase of 10.1% in sales of new homes, reaching pre-COVID levels, while the sale of existing homes increased by 5.3% over July 2019 numbers.
"The shortage of both new and existing homes is intensifying across America right now as record-low mortgage rates drive more demand, but the shortage of new homes is less severe due to a surge in construction right before the pandemic," said Sheharyar Bokhari, senior economist for Redfin. "As a result, sales of new homes are growing faster than sales of existing homes. Sales of new homes are also on the rise because the coronavirus pandemic is fueling interest in the suburbs-where there tends to be more space to build new homes."
The number of mortgage loans in forbearance plans dipped slightly for the week ending August 16 as the pace of homeowners exiting the payment deferral programs has slowed, according to data from the Mortgage Bankers Association. The MBA estimates that 7.20% of all mortgage loans are in forbearance, down one basis point from last week's 7.21%, representing about 3.6 million homeowners.
"The share of loans in forbearance declined for the tenth week in a row, but the rate of improvement has slowed markedly. The extremely high rate of initial claims for unemployment insurance and high level of unemployment remain a concern, and are indications of the challenges many households are facing," said Mike Fratantoni, chief economist for the MBA. "While new forbearance requests remain low, particularly for Frannie Mae and Freddie Mac loans, the pace of exits from forbearance has declined for two straight weeks."
Mortgage Prediction of the Week
Expert views on what comes next.
Ruben Gonzalez, chief economist for brokerage Keller Williams:
For more expert predictions on home sales and prices, read: How Long Will Home Prices Continue to Rise? 8 Experts Weigh In
Bottom line:
A 'Middle Finger' to Struggling Families: How a New Fee Is About to Make Refinancing Your Mortgage a Lot More Expensive
Fall Homebuying Outlook: Everything You Need to Know About Prices, Supply and Mortgage Rates
How the Pandemic Is Persuading Millennials to Leave the City and Make Living in the Suburbs ... Cool?