Here Are Today's Best Mortgage & Refinance Rates for August 27, 2020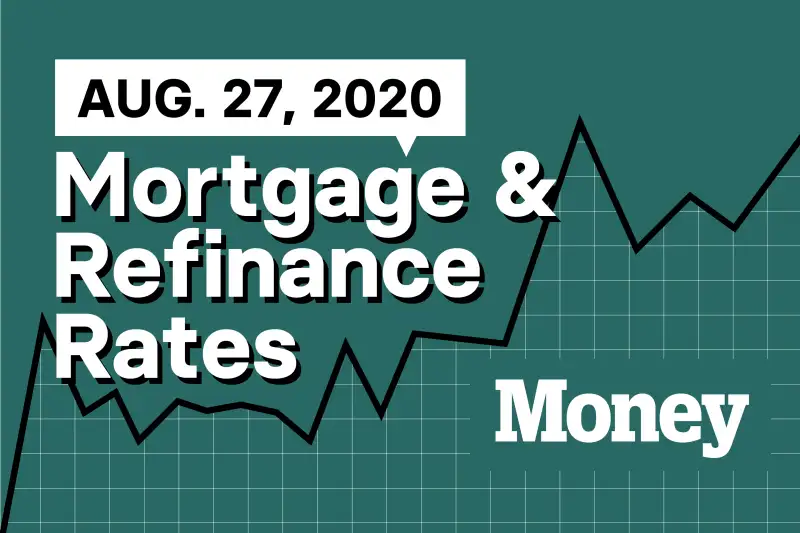 Borrowers with 700 credit scores were quoted an average rate of 3.594% to secure a 30-year fixed-rate purchase mortgage on Wednesday, according to Money's survey of over 8,000 lenders across the country. At this credit score, roughly the national average, the average rate for a 30-year refinance was 4.58%. Our rates include discount points and are for borrowers putting 20% down.
30-year fixed-rate purchase mortgage
3.594%
Rates of August 26, 2020
Borrowers in Kentucky were quoted the lowest rates on Wednesday—at an a rage of 3.364%. Those in New Mexico saw the highest average rate at 3.826%. The borrowers with the best credit scores, 740 and above, were quoted rates averaging 3.171%, while those with credit of 640 or below were given rates of 4.93%—a 1.759 percentage point spread.
You may be able to negotiate a lower rate if you shop around or if you have other accounts with the lender. (Check out Money's picks for the best mortgage lenders here.) Currently, some banks are hiking up advertised rates to keep demand in check, so you may be offered a lower rate if you reach out directly.
Freddie Mac's widely quoted Primary Mortgage Market Survey put rates at 2.91% with 0.8 discount points paid for the week ending August 27. The mortgage purchaser's weekly survey reflects borrowers who put 20% down on conforming loans and have excellent credit.
Refinance rates today
Our survey shows that the best rate for a 30-year refinance for someone with a 740 credit score was 3.797% on Wednesday. Last August, the average mortgage rate (including fees) was 4.005%.
30-year fixed-rate mortgage refinance
3.797%
Rates of August 26, 2020
A homeowner with a $200,000 mortgage balance currently paying 4.005% on a 30-year loan could potentially cut their monthly payment from $1,013 to $932 by financing at today's lower rates. To determine if now is a good time for you to refinance, you will also want to consider the closing fees you paid on your current mortgage, how much your new lender is charging and how long you have left on your current mortgage. (Our picks for the best lenders for refinancing are here.)
What else is happening in the housing market right now?
The news of today, that could impact your home tomorrow.
The continued demand for affordable homes is pushing the market even more in favor of sellers as home prices and pace of sales climb while inventory continues to lag, according to Realtor.com's Weekly Recovery Report. The Housing Market Recovery Index reached a level of 106.6 nationwide for the week ending August 22, increasing 1.8 points from last week. An index of 100 represents the pre-COVID baseline for January 2020.
The "housing demand" index, measured by search traffic growth, was 124.1, the highest level since March. The housing inventory component, measured by growth in new listings, was 95.5, back below baseline levels. Overall housing inventory, however, is down 37%, likely leading to increased competition and bidding wars for homes still on the market. New listings are down 13% from last year. The resulting disparity between supply and demand has led to homes selling 9 days faster on average than last year. Median listing prices are up 10.3% year-over-year.
There's a record level of buyers competing in the housing market now. In a typical year, buyer-seller activity would be winding down heading into Labor Day, but 2020 has not been normal, said Javier Vivas, Realtor.com's director of economic research. "It may be late August, but we're in the thick of the homebuying season, with busy open houses, multiple offers and even bidding wars becoming the common theme in many markets. First-time homebuyers face the biggest hurdles and have to lean on financing to keep their home ownership dreams alive."
Las Vegas continues leading the way in terms of the Recovery Index with a rating of 123.9, followed by Seattle (118.6), San Jose (116.9), Denver (115.8), and Los Angeles (115.7).
Mortgage tip of the week
Buying a home can be daunting. Follow these expert tips to make the process easier.
Ralph DiBugnara, President of Home Qualified, a digital resource for buyers, sellers, and realtors:
Bottom line:
A 'Middle Finger' to Struggling Families: How a New Fee Is About to Make Refinancing Your Mortgage a Lot More Expensive
5 Ways Your Finances Instantly Change When You Buy a House
When Will It Get Easier to Buy a Home? 8 Experts on the Nation's Housing Shortage
Rates are subject to change. All information provided here is accurate as of the publish date.