After This Toys 'R' Us Manager Was Laid Off, He Found His Dream Job as a Toy Store Owner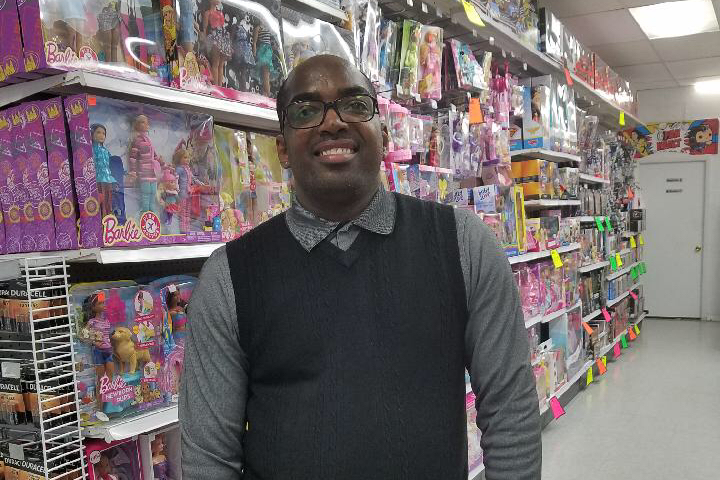 Courtesy of Glendon Warner
Glendon Warner always wanted to run his own business. So, when he and 33,000 other Toys 'R' Us employees lost their jobs this year as the company closed its U.S. locations, he saw the behemoth retailer's absence as the perfect opportunity.
He opened his own toy shop.
"Sometimes," Warner tells Money, "it takes one business to go out of business for another to go into business."
Toys, Babies & More opened in a 1,600 square-foot location in Hyattsville, Md., in late September — just in time for the busy holiday season. The unassuming store is filled with stuffed animals, gadgets, toy cars, dolls, and more — a selection informed by Warner's experience at Toys 'R' Us and his four kids.
Warner immigrated with his family to the U.S. from Guyana over a decade ago and says opening his own business meant achieving the American dream. But getting here wasn't easy — it required years of sacrifice and strategic planning.
The former Toys 'R' Us store manager had already attained a license last fall before his employer announced it would close all 800 of its U.S. stores. He saved his tax refunds and found extra income by selling toys and other items at flea markets with his wife for years to afford the downpayment on his store's location. "We were using that as fuel to get to go to where we want," Warner says.
At first, he thought about opening a dollar store — perhaps a worthwhile bet as stores like Dollar Tree and Dollar General add more and more locations each year while other retailers flounder in comparison. But with the closure of America's largest toy retailer, he saw an opening in the market in his community. And he took it.
"The community that I'm in doesn't have anything like a toy store. Even at Walmart, there's a long line," Warner says. "God blessed me in a time where I can afford to pay the rent."
Like tens of thousands of former Toys 'R' Us employees, Warner did not receive any severance pay when the retailer shuttered earlier this year. Thousands of these laid-off workers fought for months for their severance pay (Warner says he signed a petition on Facebook at the time) and have wrestled to make ends meet as they sought to find new jobs. (On Tuesday, two of the company's former owners — Bain Capital and Kohlberg Kravis Roberts — announced a $20 million severance pay fund to be doled out to former employees, marking a win for employees months after they were out of their jobs.)
Now, with his own business, Warner says he wishes it were larger so he "could hire at least 10" former Toys 'R' Us employees. But, like many of them, the sudden job loss and lack of severance pay hit Warner hard, too. He still has car insurance bills, young children, and a $2,000 mortgage to care of. "It's still a struggle for me, too," Warner says.
He tried to find another gig to help keep his finances afloat as he planned for his store's opening — but had no luck. His wife of 27 years, who works a registered nurse, picked up extra shifts. To save on costs, he enlisted his family — including his kids and two nephews — to help repaint and retile the store. He drove to trade shows in New Jersey and New York to buy hundreds of toys, and plans to hit another one in Las Vegas in the coming months.
Even now, with the store open, the money he earns goes directly back into the store. "It's still not easy," Warner says. "I still have bills."
But he's thrilled. Opening his own store is the cumulation of decades of experience — and surviving the tumultuous retail climate in the U.S. He first learned the tricks of the trade from a prominent businessman in Guyana who owned a number of restaurants and became like a second father to Warner. He listened to him conduct business over the phone; he learned the importance of saving money; he learned the necessity of making a sacrifice.
And so he did. Already married and with a child, Warner moved to the U.S. in 2006 to build a life of his own. He first worked at Sears — which now is facing the threats that come with bankruptcy — and earned just $6.95 an hour as a regular associate. He took the bus to and from work for two years and worked overtime to impress his bosses and earn more cash. He worked his way up the ranks and, within five years, became a manager — before leaving for Toys 'R' Us.
Each sacrifice created opportunity for more reward, Warner says. After riding the bus for two years, he bought his own car. After living with his uncle in Maryland, he and his wife bought their own home.
"These things play in your head as a man growing up," Warner says. "It's always my motivation. Nothing was given to me."
Now, Warner is trying to build a loyal customer base. The store is brand new, and, while he says it serves an untapped market in the area, toys aren't necessarily flying off the shelves. But he's staying positive.
"Some days, no one walks in, and some days, for three days, I have no one walk in," Warner says. "But it doesn't break me because I have encouragement and motivations to make it happen."
"It's not all glory right now for me," Warner adds. "But I'm happy to achieve the American Dream."