Here Are the 9 Attorneys General Who Led the Campaign to End DACA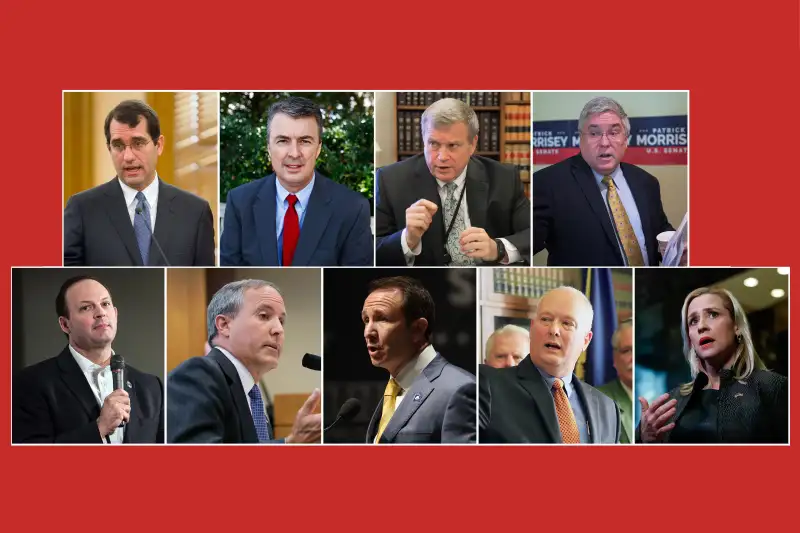 Today, Attorney General Jeff Sessions confirmed reports that the administration is rescinding DACA, putting nearly 800,000 immigrants who came to the U.S. as children or teenagers at risk of deportation. The program will expire in six months, giving Congress an opportunity to find a replacement program, Sessions said in a press conference.
President Trump's reported statements on the issue have been mixed. Speaking from the Oval Office last week, the president called the policy "a very, very difficult subject for me." But he has apparently been convinced into action by more conservative members of his party and other elected officials.
The decision comes at the heels of a June letter from ten attorneys general, and one governor, who vowed to sue unless the Trump administration slashes the program.
Led by Texas AG Ken Paxton, the group urged the administration to revoke DACA by Sept. 5 (today). Writing in Fox News last month, Paxton called Obama's unilateral decision to offer deportation protection for immigrants who came to the U.S. before the age of 16 "unconstitutional," and doubled down on his promise to challenge it in court.
On Friday, Tennessee attorney general Herbert Slatery backed out of the group.
"Many of the DACA recipients, some of whose records I reviewed, have outstanding accomplishments and laudable ambitions, which if achieved, will be of great benefit and service to our country," he wrote in a letter.
Here are the ten people still leading the charge:
Steve Marshall – Alabama
Attorney General since: 2017
Law Degree: University of Alabama School of Law
Recent thoughts on immigration: Argued sanctuary cities "prohibit or impede the enforcement of federal immigration laws, not only defy the rule of law but also hinder the ability of Law Enforcement to effectively protect the public. Such cities also pose harm to other areas by providing a refuge for criminal illegal aliens who commit crimes out of state."
Also, included Alabama as one of 15 states that supported President Trump's travel ban.
---
Leslie Rutledge – Arkansas
Attorney General since: 2015
Law Degree: University of Arkansas at Little Rock
Recent thoughts on DACA: "DACA is an unlawful program that must be phased out. I am not asking the government to remove any person currently covered by DACA or for the Administration to rescind DACA permits that have already been issued – this is about upholding the rule of law. Even former President Obama acknowledged many times that he did not have authority to unilaterally grant this type of legal status to over one million aliens."
---
Lawrence G. Wasden – Idaho
Darin Oswald—Idaho Statesman/AP
Attorney General since: 2003
Law Degree: University of Idaho
Recent thoughts on DACA: "This is part of my office's ongoing efforts to encourage the federal government to respect the separation of powers. These directives were the equivalent of legislating by executive order. My signature on this letter is not about targeting immigrant families. Rather, it is consistent with my objection to legislative executive orders as well as encouragement to Congress to fulfill its constitutional responsibility and address these pressing issues."
---
Derek Schmidt – Kansas
Thad Allton—The Topeka Capital-Journal/AP
Attorney General since: 2010
Law Degree: Georgetown University
Recent thoughts on DACA: "The problem with DACA is that it is unlawful; under our Constitution, only Congress, not the President, has the power to change immigration law. Those who understandably feel strongly that the law should accommodate children brought to the U.S. at a young age and raised here would be well-advised to focus on persuading Congress to act."
---
Jeff Landry — Louisiana
Attorney General since: 2016
Law Degree: Loyola University New Orleans
Recent thoughts on DACA:"This executive amnesty was another example of the Obama Administration bypassing Congress to advance its radical agenda."
---
Doug Peterson — Nebraska
Attorney General since: 2015
Law Degree: Pepperdine University
Recent thoughts on DACA: "The topic of immigration, particularly the DACA program, evokes strong feelings on both sides of the issue. Persons of goodwill may disagree on the direction of immigration policy. The Constitution provides, however, that the appropriate venue for determining policy direction lies with the legislative branch and not the president acting via executive order."
---
Alan Wilson —South Carolina
Attorney General since: 2011
Law Degree: Columbia
Recent thoughts on DACA: "I don't think anybody believes that a child who has been brought here at the age of six months old and is now graduating high school with a full ride or a scholarship to some school and doesn't even speak Spanish should be dropped across the border. I don't think that is the intent of anyone here. I think what most of my colleagues felt was the rule of law has to mean something. And if there's a right way to do this, it is do it through Congress, and allow Congress to pass a law and to make those accommodations under federal law and let the executive branch enforce that."
---
Ken Paxton — Texas
Attorney General since: 2015
Law Degree: University of Virginia
Recent thoughts on DACA: "Last year, when a Texas-led lawsuit of 26 states culminated in the U.S. Supreme Court blocking President Obama's unlawful deferred-action policies, including DAPA, then-candidate Trump was completely correct when he said that the Court "blocked one of the most unconstitutional actions ever undertaken by a President."
---
Patrick Morrisey — West Virginia
Attorney General since: 2013
Law Degree: Rutgers University, Newark
Recent thoughts on DACA: "I applaud President Trump for having the courage of his convictions to uphold the rule of law and stop this Obama-era program. DACA was unconstitutional and represented an unlawful, unilateral action by the Obama administration," Morrisey said. "Changes in law must be made through the legislative process. We will always stand up and defend the rule of law and our Constitution."
---
C.L. "Butch" Otter — Idaho
Governor since: 2007
Education: Saint Martin's University; Boise State University; College of Idaho
Recent thoughts on immigration: Agrees with Trump that persecuted Christians should get priority over other religious groups in the U.S. refugee program. When asked if Muslims are also persecuted, Otter said: "Probably. I don't know that, but I do know that the Christians are."