5 Times Trump's Favorite Economic Advisor Has Been Spectacularly Wrong About the Economy
Money is not a client of any investment adviser featured on this page. The information provided on this page is for educational purposes only and is not intended as investment advice. Money does not offer advisory services.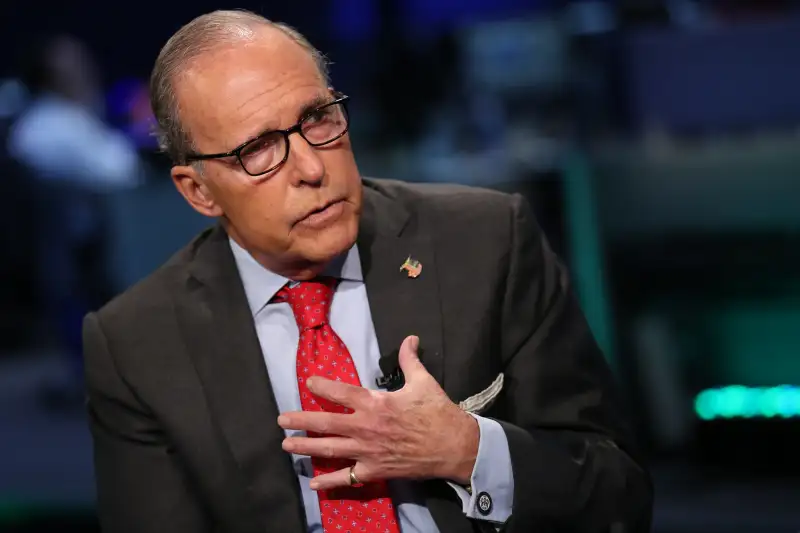 Adam Jeffery/CNBC—NBCU Photo Bank via Getty Images
President Trump plans to name Larry Kudlow as his top economic advisor.
There's just one problem with that idea: The longtime television personality, who would gain a key role in shaping U.S. economic policy, has a well-known history of making some shockingly wrong financial predictions.
The 70-year old Kudlow -- former host of CNBC's Kudlow Report, which ran from 2009 to 2014 -- is one of America's most recognizable financial commentators. With his signature bright ties and slicked-back hair, a throwback to the 1980s (when he was a Reagan administration wunderkind), Kudlow has been an informal Trump advisor in the past.
On Wednesday, Kudlow confirmed the president had chosen him to lead the National Economic Council -- a role vacated when former Goldman Sachs executive Gary Cohn quit amid a dispute over tariffs.
Kudlow's on-air chops, reportedly one of the things Trump admires about him, could help the administration sell its economic policies to the nation. But his glitzy resume has some big drawbacks too.
The NEC, created in 1993, has historically been led by experienced business executives like Cohn or academics like Larry Summers, who served under President Obama. Yet while Kudlow is sometimes described as an economist, he has no economics Ph.D. -- and, in fact, didn't even major in economics at college. As for his Wall Street career, it ended in the mid-1990s amid what Kudlow admitted was a serious drug and alcohol problem.
Since then, he's largely spent his career being confident and colorful in front of cable-television cameras, stumping for American business and Reagan-style economic fixes, especially tax cuts for the wealthy.
But while partisanship and cheerleading makes for good viewing, Kudlow's broken-clock-is-right-twice-a-day approach has led to some jaw-droppingly bad economic predictions. Indeed, Wall Street watchers have made something of a parlor game tallying and mocking Kudlow's incorrect -- sometimes stunningly so -- economic predictions. (A spokeswoman for Kudlow & Co., the company that handles Kudlow's appearances, declined to comment on his track record as a pundit.)
A few examples follow. Be amused.
Or terrified.
---
What Kudlow said: "There is no question that President Clinton's across-the-board tax increases…will throw a wet blanket over the recovery and depress the economy's long-run potential to grow."
When he said it: 1993
What happened next: The 1990s bull market.
Source: Jonathan Chait/New York
---
What Kudlow said: "This correction will run its course until the middle of the year. Then things will pick up again, because not even Greenspan can stop the Internet economy."
When he said it: February 2000
What happened next: The Dow would drop another 30% before bottoming out in September 2002 and beginning its comeback. But the Internet-laden Nasdaq, which peaked in March 2000, would not regain that level for another 15 years.
Source: Bull! via MarketWatch
---
What Kudlow said: "The shock therapy of a decisive war will elevate the stock market by a couple thousand points."
When he said it: June 2002
What happened next: Over the next six months the Dow dropped 1,000 points. Meanwhile, the U.S. war in Iraq -- the conflict Kudlow was referring to -- proved anything but decisive, dragging on for roughly a decade and costing the U.S. Treasury more than $2 trillion.
Source: National Review

---
What Kudlow said: "But at the end of the day, it will be the middle-class American worker who will benefit most from the pickup in capital formation brought on by Bush's latest tax cuts. Investors will respond to fresh economic incentives, and a new flow of capital will generate stronger markets, a true business expansion, higher productivity, more jobs, and -- perhaps most importantly -- outsized gains in real worker wages."
When he said it: May 2003
What happened next: Americans' real median household income did tick up over the next several years, but then plunged during the Great Recession. By a decade after Kudlow made his forecast, in 2013, the typical American was making about $1,000 a year less than he or she did in 2003. The wealthiest Americans, however -- who benefited directly from the Bush tax cuts -- have continued to see their economic fortunes improve.
Source: National Review
---
What Kudlow said: "There's no recession coming. The pessimistas were wrong. It's not going to happen. At a bare minimum, we are looking at Goldilocks 2.0. (And that's a minimum). Goldilocks is alive and well. The Bush boom is alive and well. It's finishing up its sixth consecutive year with more to come. Yes, it's still the greatest story never told."
When he said it: December 2007
What happened next: The global financial crisis, followed by the worst recession since the Great Depression.
Source: National Review
---
What Kudlow said: "Trump and the GOP are on the side of the growth angels with the passage of powerful tax-cut legislation to boost business investment, wages, and take-home family pay."
When he said it: December 2017
What happened next: We'll see.
Source: CNBC