Trump Just Delivered Another Blow to Retirement Savers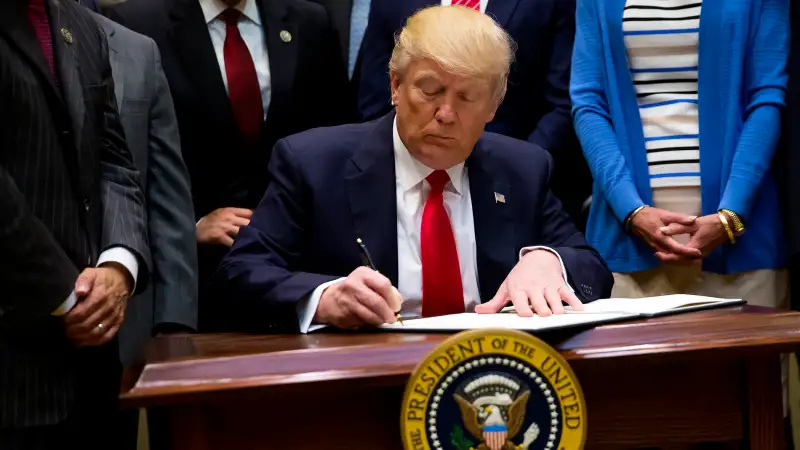 Eric Thayer-Pool—Getty Images
President Donald Trump Wednesday signed into law a measure that will make it harder for workers without 401(k) plans to save for retirement.
Trump's move quashes an Obama-era regulation that encouraged states to establish auto-IRA programs, under which companies without retirement plans would automatically sign employees up for payroll-deduction IRAs.
Following lobbying by some Wall Street interests, the House passed a resolution nullifying the regulation in February, and the Senate followed suit earlier this month. While not expressly prohibited, state auto-IRA initiatives now face legal uncertainty, experts say.
In spite of Wednesday's setback, Oregon plans to proceed with a pilot auto-IRA program, called OregonSaves, that's set to launch July 1, according to a statement from state Treasurer Tobias Read. In California, state Senate Leader Kevin de Leon and Treasurer John Chiang released a joint statement on Thursday stating that "the California Secure Choice program stands on firm legal and statutory ground and will proceed without delay."
The aim of such initiatives is to allow--and encourage--companies to automatically enroll employees in individual retirement accounts, with money regularly withdrawn from their paychecks. Small businesses and their employees would be the primary target for such programs, since these companies are less likely to provide access to a workplace retirement account.
Some 55 million Americans lack access to savings plans through their employer, and research shows that without them very few people save on their own. Only 14% of U.S. households contribute to IRAs, and many use them primarily to hold assets rolled over from workplace 401(k)s, according to a recent study by the Center for Retirement Research at Boston College.
Auto-IRA programs would be overseen by the states and administered through individual financial-services companies. The Obama-era regulation overturned by Trump would have granted protection to employers who establish these accounts for their workers, essentially saying that companies wouldn't expose themselves to certain legal risks if they provide a conduit for regular paycheck deductions for a plan they're not sponsoring.
A handful of states, also including Illinois and New Jersey, have already approved auto-IRA programs, while an additional 30 states were considering them, according to AARP, which has actively supported the plans.