'Trump Slump' Could Mean Well Over $10 Billion Per Year in Lost Tourism Revenues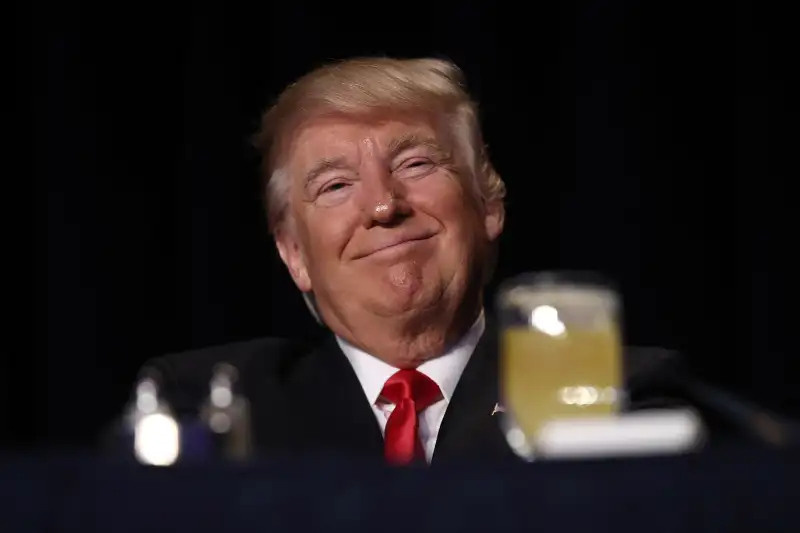 The so-called "Trump Bump" may be pushing the stock market to record highs. But the "Trump Slump"—the anticipated decline in foreign travelers to the U.S. due to the reality of Donald Trump as president—is not boding quite as well for the American economy.
The rise of Trump, and specifically his policies on immigration and the Muslim ban, appears to be causing some foreign tourists to rethink plans to visit the U.S. Search engines reported a steep decline in international travelers looking for flights to America immediately after Trump issued a controversial order banning refugees and immigrants from seven predominantly Muslim countries in early 2017. Many overseas-based tour operaters noticed a sharp dip in bookings to the U.S. around this time as well.
A large slump in international travelers would cause harm to America's tourism industry, and its economy in general. "Closing borders risks jobs," said David Scowsili, president and CEO of the World Travel & Tourism Council, a private industry group, in a speech directed at the administration in mid-February. "The livelihood of millions of Americans depends on people being able to use planes, trains and automobiles to spend their tourist dollars."
How big could the falloff in international travelers truly be? On Tuesday, the New York Times cited a forecast from the international firm Tourism Economics stating that the number of foreign travelers in the U.S. could drop by 6.3 million annually due to Trump rhetoric and policies. America welcomed about 77 million international visitors in 2016, so that would mean a decrease of 8.2%.
What could such a drop mean in terms of dollars? According to U.S. Travel Association data for 2015, "each overseas traveler spends approximately $4,400 when they visit the U.S. and stays an average of 18 nights." A more recent estimate from the Global Business Travel Association holds that "each overseas traveler spends approximately $5,000 when they visit" the U.S.
Multiply that spending by a theoretical decline of 6.3 million foreign visitors, and what you get is a potential loss of $27 billion to $31.5 billion annually. That would be a devastating slump indeed.
However, according to Tourism Economics president Adam Sacks, the impact wouldn't be quite so bad. He says that because the decrease in travelers would draw disproportionately from Canada and Mexico, whose tourists spend less on average than overseas visitors, the likely economic loss would be more like $10.8 billion per year.
Still, Tourism Economics' forecast only focuses on leisure travel. It doesn't include potential losses from decreases in people traveling to the U.S. for education or medical tourism. Both of these groups tend to spend far more than the average foreign tourist while they're in the U.S.
There are plenty of unknowns and more than a little speculation in many projections. It will be months before we can confirm the degree to which international tourists and students are staying away from Trump's America, if indeed they are. What's more, Trump's policies on immigration and other issues are hardly set in stone, and there are other factors that could result in fewer international visitors—the strength of the U.S. dollar, for instance, makes it more expensive for foreigners to tour America.
What is clear, though, is that more evidence points to a significant decrease in foreign visitation to the U.S. Not long ago, travel organizations were forecasting that foreign traveler visitation would be on the upswing. But they've been forced to come up with new—lower—projections in light of the Trump effect.
New York City's tourism bureau told the Times that prior to Trump's election the city anticipated an increase of 400,000 foreign visitors this year. The latest forecast calls for 300,000 fewer foreign tourists in 2017 compared to last year, resulting in losses of $600 million for city businesses catering to visitors. Another study estimated that over three years Los Angeles County could lose 800,000 international travelers and $736 million because of decreased interest in visiting America. These figures don't include dollars spent on expenses such as international airfare or visits to other destinations while traveling in America either.
The Global Business Travel Association (GBTA) reported that $185 million in business traveler reservations were lost during the single week when the Trump's immigration ban made news around the world. That's just for business travel—not leisure.
Last week, the GBTA released a forecast for business travel in the U.S., which called for a 4.4% increase in 2017. But the group noted that its research was finalized before Trump took office, and that the projected increase "is now very much in jeopardy" because of the president's policies and how America is perceived overseas.
"The ultimate concern is that the lasting impact of the travel ban, and any future appeals around it, could cause other countries beyond just those named in the ban to think twice about planning meetings and events in the United States," GBTA executive director and COO Mike McCormick wrote. "Closing our borders sends a message to the world that the United States is closed for business."