Here's How Many Jobs America Could Lose Because of the Trump Tariffs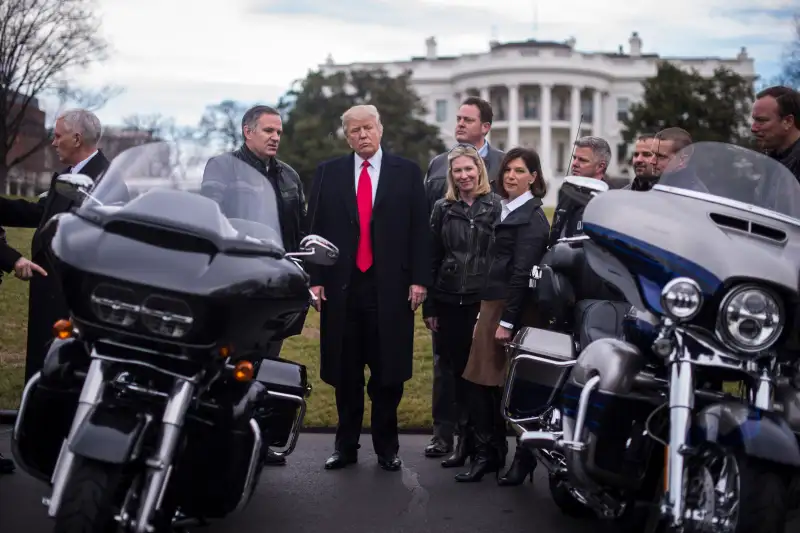 The Washington Post—The Washington Post/Getty Images
President Donald Trump has argued that increased tariffs on goods imported from overseas are necessary for national security, and for the sake of boosting American business interests and the economy in general. But the fallout of the Trump tariffs may include job losses for hundreds of thousands of American workers.
On Monday, the stock market plunged, with a broad selloff in tech stocks and the Dow dropping over 300 points. The iconically American motorcycle manufacturer Harley-Davidson also said on Monday it was moving some production operations overseas. And word spread that a Missouri nail manufacturer named Mid-Continent Nail just laid off 60 workers and could be out of business by the end of the summer.
The Trump trade war has been blamed for all of the events above. What's more, a wide range of analysts and studies shows that the Trump tariffs are likely to kill the jobs of many more American workers, either because protectionist trade policies push companies to shift jobs overseas or because companies are forced to eliminate jobs entirely after finding they can no longer compete in the global marketplace.
How many American jobs could the Trump tariffs destroy? It's hard to answer that definitively, in part because some companies say that they're planning on creating jobs because of the Trump tariffs at the same time others are announcing job cuts for the same reasons. Still other companies won't necessarily explain exactly why they will make their decisions in terms of layoffs or new hires. The new tariffs may be one factor among many.
Still, analysts say that tens of thousands of American workers are likely to lose their jobs—and upwards of two million jobs are at risk—more or less as a direct consequence of the Trump administration's trade policies, and the retaliatory tariffs that follow.
Wisconsin-based Harley-Davidson announced on Monday that it was shifting some production overseas as a way to avoid new E.U. tariffs being imposed in response to the Trump tariffs. Harley-Davidson says it sold about 40,000 motorcycles in Europe last year, and the E.U. tariffs would have added $2,200 to the average cost of exporting each of its bikes from the U.S.
Harley-Davidson said that moving some of its production out of the U.S. "is not the company's preference," according to a statement provided to the New York Times. Instead, the move "represents the only sustainable option to make its motorcycles accessible to customers in the E.U. and maintain a viable business in Europe." It's unclear how many jobs Harley-Davidson is shifting overseas.
President Trump has praised Harley-Davidson in the past. Soon after his inauguration, Trump invited Harley executives to the White House and referred to the company as "a true American icon, one of the greats." He also thanked Harley-Davidson "for building things in America."
This week, however, Trump bashed the firm for surrendering in the trade war, and said that American customers will revolt as a result of its production shift overseas.
Mid-Continent Nail says that it laid off 60 workers in mid-June and will cut another 200 jobs in July because it is being hit hard by a 25% import tax on steel from Mexico and Canada. The company says it could simply go out of business, putting all 500 employees out of work, by Labor Day.
But these job losses potentially represent only the tip of the iceberg. Here's what various analysts and business groups have estimated in terms of American workers losing jobs as a result of Trump tariffs and a broader trade war.
• A group representing the solar power industry says that the Trump administration's decision to increase taxes on imported solar panels will cause the loss of 23,000 jobs this year, with more job cuts in the years ahead.
• The Council on Foreign Relations estimates that Trump's 25% tax on imported steel would cause 18,000 to 40,000 auto-industry job losses in the U.S. by the end of next year.
• A study from the American Action Forum indicates that a 25% tax on imported cars and auto parts would result in "a net decrease of 157,000 jobs."
• Another study, from the Peterson Institute for International Economics, shows that 195,000 American auto-industry jobs would be lost over the next three years if Trump moves forward with a 25% tax on imported cars and auto parts. What's more, if nations retaliate with their own tariffs, American auto production would drop 4% and auto industry employment would decrease 5%. That's the equivalent of 624,000 jobs lost.
• Research conducted on the behalf of the Consumer Technology Association and National Retail Federation shows that Trump's proposed tariffs on Chinese imports, and the tariffs China are expected to impose in response, would cause the loss of 134,000 U.S. jobs, including 67,000 jobs lost just in agriculture.
• The latest estimates from the nonprofit Tax Foundation indicate that if U.S. and retaliatory tariffs are fully enacted, U.S. GDP would drop by $110 billion, wages for American workers would decrease 0.31%, and there would be a net decrease of 314,479 U.S. jobs.
• The pro-business U.S. Chamber of Commerce said that "launching a tit-for-tat trade war would harm the U.S. economy and undermine American leadership" around the world. The group also said that the Trump tariffs could put upwards of 2.6 million American jobs at risk, including the possibility of 1.8 million jobs destroyed in the first year of a full-fledged trade war.
It's important to mention that there is some overlap in many of the estimates above, and that all projections by necessity incorporate some degree of speculation. Also, Trump supporters would stress that the administration's overall economic policy, including its corporate tax cuts, are nudging some companies to bring jobs back to the U.S. Some companies are even creating jobs because of the Trump tariffs: The American appliance maker Whirlpool, for instance, said earlier in the year it was adding 200 jobs after the Trump administration began taxing imported washing machines by up to 50%.
Overall, though, most economists say the Trump tariffs are bad for the American economy, and for American workers.
Nobel Prize-winning Yale economist Robert Shiller told CNBC that Trump's tariffs are "too crazy" to last for the long haul. "They are generating so much anger around the world. It's not a sustainable policy."
In a recent op-ed for USA Today, George Mason University economics professor Donald J. Boudreaux wrote that Trump is "dead wrong" that tariffs on imports like steel and aluminum would strengthen national security. "The tariffs will weaken the United States, protect jobs in inefficient industries while preventing job growth in efficient ones, and harm relationships with our allies," Boudreaux explained.