Donald Trump Was Hurting Retailers Around Trump Tower. Now He Might Be Helping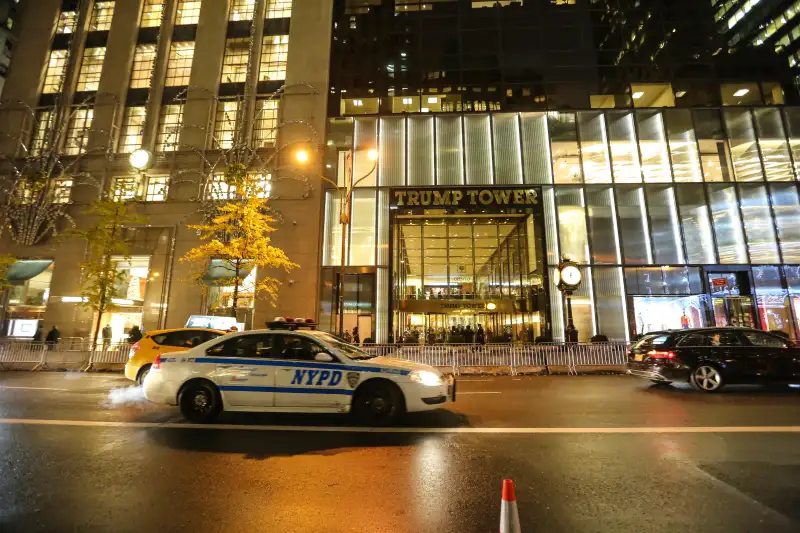 Brazil Photo Press/CON, LatinContent/Getty Images
For weeks after Donald Trump was elected President of the United States, the luxury Fifth Avenue retailers that surround his New York City home complained about the hit their businesses were taking amid tight security and constant protests. But now that President Trump lives more than 200 miles away from Trump Tower in the White House, things have changed: He might actually be good for business.
As security has lessened since Trump decamped his iconic Manhattan skyscraper for Washington, business for some retailers on the street known for high-end shopping has started to rebound, according to Tom Cusick, president of the Fifth Avenue Business District. How much it has recovered will remain unclear until retailers report first-quarter earnings — which are expected in the coming weeks. (And most retailers don't release earnings for individual stores.) But Cusick and others credit increased foot traffic from tourists looking to catch a glimpse of where the future President lived — and where his wife and youngest child still live — for boosting business on the blocks surrounding Trump Tower.
"There's no doubt in my mind that businesses have improved greatly," Cusick said.
Joseph Sitt, chief executive of Thor Equities, which owns real estate worldwide including many Fifth Avenue shops, said the effect has been especially pronounced for retailers just a bit further south of Trump Tower, past the tightest security but still close enough to have "a tremendous pick up in foot traffic."
"What [Trump Tower] has effectively done is move the center of gravity on Fifth Avenue," Sitt said.
It was only a few months ago that things looked much bleaker for a retail stretch that plays host to stores like Tiffany & Co., Gucci and Bulgari. Overnight after Election Day, barricades and trucks full of sand transformed the block between 56th and 57th Streets on Fifth Avenue to protect the President-elect, who lived in Trump Tower with his wife, now-First Lady Melania Trump, and youngest son, Barron. Retailers surrounding Trump Tower suffered as a result, losing a total of $40 million in the final three months of the year, according Cusick, president of the Fifth Avenue Business District.
"Things were pretty normal on the avenue, then November 8 happened," Cusick said.
As Trump hosted dignitaries ranging from his future Cabinet picks to Kanye West during his transition, security dominated those blocks of Fifth Avenue. It cost the Big Apple $24 million to provide this extra security at Trump Tower between the election and inauguration, according to the New York City Police Department. That amounts to $308,000 per day. Even now, the city is still shelling out up to $145,000 a day to pay for a security detail — albeit a smaller one — to protect Trump Tower while Melania and Barron are still there.
Cusick's estimate of the loss for retailers in the fourth quarter was a conservative one, he said. Tiffany & Co.'s iconic flagship store located in the same complex as Trump Tower dropped 7% in sales during the last three months of the year and saw a 14% decline in holiday sales, in part due "to post-election traffic disruptions," the company said in a statement.
But with less security, Trump Tower has become a popular tourist destination. Gawkers gather outside the tall tower, taking selfies with the block "Trump Tower" letters across the golden front of the building or posing with two heavily armed police officers outside the building's entrance. On a recent Thursday afternoon, some visitors to the tower wore "Make America Great Again" hats, and one told woman told her friends, "the First Lady lives there."
Many seemed undeterred by the beefed-up security and road blocks that made it more difficult to get to their shopping destinations — and some, like Dawn Camarada, of Long Island, didn't think about it at all.
"When I got here and I visually saw it, I forgot," said Camarada, who was shopping with her daughter at Gucci. "I understand why they have it. It makes sense. They need it. You can never have enough security."
Fifth Avenue's business boosters aren't celebrating yet, saying it's too early to say if the stores most hit by the heightened security will make a full recovery. By April 29, Ralph Lauren will close its Polo Ralph Lauren store — less than a block south of Trump Tower. The retailer did not disclose the store's sales for the fourth quarter, but the company cited "economic" reasons for its closure. (The shuttering perhaps reflects a larger trend of brick-and-mortar retailers suffering around the country as a result of the rise of e-commerce.)
Representatives from Tiffany & Co., Gucci, Bulgari and Henri Bendel did not respond to requests for comment.
"Mostly, [Trump Tower] helps tremendously, and then in this small section, it hurts tremendously," said Sitt, referring to businesses the immediately next to the President's former home that have been more harmed than helped.
"It's the base of his brand, it's his marquee," Sitt said. "It's where he lives. He's created it into one of the most-visited tourist destinations in New York City."