Why Isn't Tuition Lower if Most College Classes Are Online? Good Question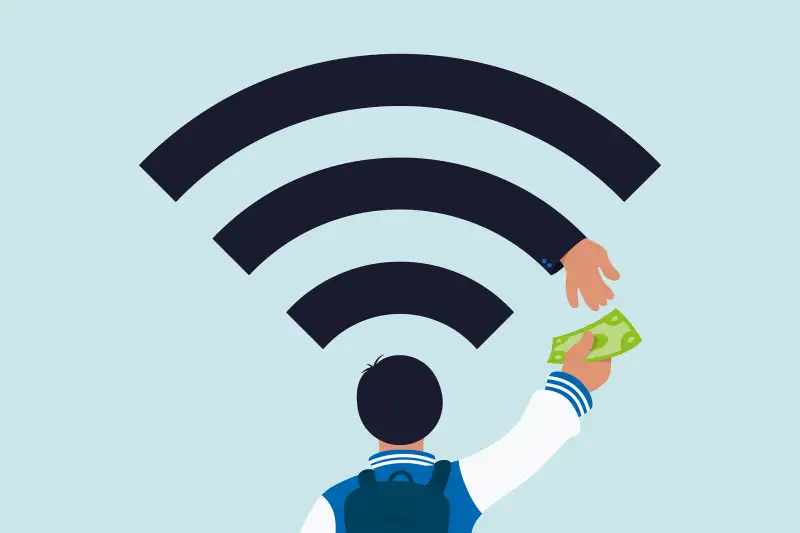 Francesco Ciccolella for Money
Tyler Weisner wants to know what he's paying for this fall.
With courses online, the 21-year-old Michigan State University student can't TA calculus classes like he's been doing for the past two years. He can't grab a beer at Harper's downtown. He can't meet up with friends on campus to hang out, study for computer science exams or go see the Spartans play.
The pandemic has changed everything about Weisner's college life — everything, that is, except tuition.
"Michigan State University is providing a significantly worse value proposition to its students and demanding that they all pay full price as if this were a regular semester," Weisner wrote in a Change.org petition asking for lower rates. "As everyone knows, the current situation is anything but normal."
Millions of students are heading back to school this fall amid the coronavirus crisis. Though institutions have raced to scale up remote instruction and create campus rules designed to keep students safe, they've largely left the cost untouched. And that's a big deal, given that 56% of students surveyed say the pandemic has jeopardized their ability to afford tuition.
Tuition has always been a source of complaints for families with kids in college. But the price tag is easier to stomach when a student can take a nap on the quad, sit with esteemed professors during office hours and pull all-nighters in historic libraries. Without those perks, people are growing frustrated.
Weisner, the 1,000 people who signed his petition and others are demanding to know: If college is basically online now, why isn't tuition cheaper?
"It's just not possible for it to equate to an in-person experience," he says, adding that he's particularly concerned about out-of-state and international students. "If you can find the same education on YouTube, how can they justify charging us $25,000 to $50,000 a year?"
The colleges' argument: Their costs haven't dropped
Joni Finney, professor of practice at the University of Pennsylvania and director of the Institute for Research on Higher Education, says students' concerns are valid. But institutions have to pay their own bills. Think: staff salaries, building maintenance and utilities.
Regardless of instruction format, Michigan State "is delivering courses taught by highly qualified and world-class faculty, tutoring services, faculty office hours and access, academic advising and access to our libraries," President Samuel Stanley said in a recent statement explaining why it's not offering a tuition discount. At the same time, the university has to cover costs for course design, professional development and technology needs.
This adds up. Data from the National Center for Education Statistics shows that public four-year colleges spend an average of $45,000 per student.
"In higher education, we are not good at looking at our fundamental costs and figuring out how to be more cost-effective," Finney says.
READ MORE: THE BEST COLLEGES IN AMERICA, RANKED BY VALUE
To safeguard themselves against fluctuations in funding and the economy, universities often rely on tuition as a revenue source. In 2016-2017, net tuition per student made up 43% of total revenue at public baccalaureate colleges, according to the most recent Trends in College Pricing report from the College Board.
That was before the coronavirus. Now, colleges are not only reeling from budget cuts, canceled events, and enrollment drops, but they're also facing new expenses. They've got to find cash somewhere to buy things like hand sanitizer stations, face masks and symptom tracker apps — an effort that one university estimates will cost $50 million.
The pandemic is a threat to colleges' bottom line and students' wallets.
Finney says higher education works like a business but doesn't always operate that way. For example, if a company sees profits drop, it will usually make major internal changes. But at colleges and universities, they instead "try to pass all of the additional costs onto students," she says.
Some colleges are truly struggling to cope
That's not to imply colleges aren't attempting to cut costs, because they are.
At Michigan State, for example, Stanley took a pay cut, reduced 401(k) matching, furloughed 700 employees and tightened hiring decisions. Nationally, college presidents plan to lobby for government support, contact new donors and reduce academic offerings in order to make ends meet.
Still, many colleges are "flirting with disaster," says Richard Vedder, a senior fellow at the public policy-focused Independent Institute and author of Restoring the Promise: Higher Education in America. Some state universities and private liberal arts colleges are in what he calls a "life-or-death" situation where they must "scrounge up every dollar they can." (Indeed, a handful of schools have announced permanent closures this year, including MacMurray College and Urbana University.)
In colleges' defense, the value of a degree remains clear. The Federal Reserve Bank of New York found in 2019 that the typical college graduate earned $30,000 more a year than the standard worker with a high school diploma.
"A piece of paper saying that you have a bachelor's degree from such and such university does have a good deal of value associated with it," Vedder says. "There's no evidence that, if that paper represents courses taken majority-online, it has any less value than if they were taken in person."
However, Vedder recognizes that postsecondary education is about more than the education itself. Students are missing out on the networking, the transition to adulthood and, yes, the parties.
Tuition discounts aren't unheard of (but could be higher)
Williams College is discounting its comprehensive fee — which includes tuition, room and board, and other fees — by 15% for the 2020-2021 academic year. At Rutgers University, President Jonathan Holloway announced a 15% reduction in its campus fee "in recognition of the financial hardship that many of our families are facing."
They're not the only ones. Other schools giving discounts include Princeton University, Georgetown University and Johns Hopkins University. Some, like the College of William & Mary, Duke University and Lehigh University, have frozen tuition at 2019-2020 levels. (Michigan State falls into the second category, having kept tuition steady despite student outcry to lower it.)
So, why are some colleges slashing tuition while others aren't? In some cases, they're wealthy. In others, they're desperate.
Aside from their multibillion-dollar endowments, elite schools tend to be selective and attract more affluent applicants. They're also used to discounting tuition — a 2019 study from the National Association of College and University Business Officers found that private nonprofit schools collect only about 47% of their tuition sticker price. Discounting the rates for coronavirus is a no-brainer.
"They're trying to make a gesture acknowledging the difficult times we're in. I really appreciate those institutions willing to step forward," Finney says. "Having said that, the decreases they've made — the 10% at these private research universities — is really pennies for them. They could probably do a lot more."
At schools in areas where there's a lot of competition for students, tuition discounts are a bid for survival. For an institution staring down a drop in enrollment, Vedder says it makes sense to minimize the damage by offering a discount. If it generates buzz, even better.
How a tuition awakening could affect the future
The long-term impact of the coronavirus on tuition is unclear, but the experts have a couple of predictions.
Vedder says falling enrollment has been a problem for a while, so he doesn't expect big jumps in sticker prices for fall 2021. The schools hurting for students now will still be hurting for students when the pandemic ends (and open to any gimmick that attracts them).
Finney anticipates that families will be more involved in the tuition debate going forward — especially given the fact that some colleges shifted instructional plans after the fall tuition deadline passed.
SEE Money'S LATEST RANKING: THE 739 BEST COLLEGES IN AMERICA
It's certainly true for students like Weisner, who personally emailed a Michigan State dean and searched public records for administrators' salaries as he made his case for lower tuition. And that's just the beginning. As the semester goes on, Finney says parents and students will really start to see what they paid for.
She means this literally: A parent working from home may actually watch as their college student participates in a Zoom lecture at the kitchen table. Then they may start asking questions.
"It's pulling back the curtain," Finney says. "They're hearing what students are getting, and they're like, we're paying that much for that?"
More from Money:
Money's 2020-2021 Best Colleges Rankings