Uber Is Using Drones to Advertise in This Fast-Growing Market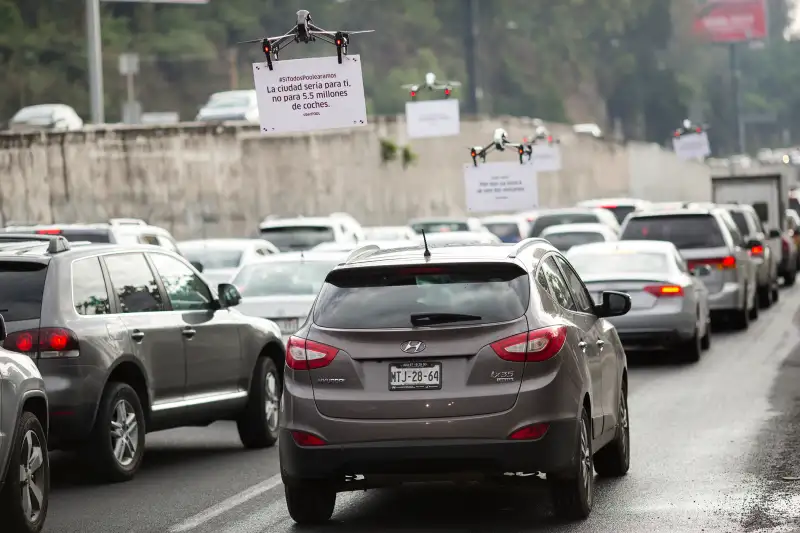 Brett Gundlock—Bloomberg via Getty Images
Gridlocked drivers in Mexico City have been getting an eyeful lately.
A fleet of drones, led by the ride sharing company Uber, have flocked drivers with ads for UberPOOL — a service that allows passengers to share rides with other riders headed the same direction for a fraction of the cost of a regular ride.
Some of the ads, according to MIT Technology Review, carry shame-inducing signs that nod to the city's famously polluted air:
The ads are part of a broad push by Uber to capture consumers in markets across Latin America. Of the more than 500 cities that Uber operates in worldwide, the company does better business in Mexico City than anywhere else, according to Bloomberg.
Uber isn't the first company to use drones to its marketing advantage. Last year, Marketwatch reported on a company called Hoovy, which hangs banners from three to six foot wide drones and flies them over events and businesses. The company counts Sony, Dave and Buster's Entertainment, and the NFL among its customers.
Outside the advertising industry, drones are flying into the consumer space at breakneck speed.
Online retailer Amazon started testing drones last year as a way to enable faster deliveries, and Walmart has been using them to manage inventory at warehouses.
In September, United Parcel Service (UPS) said it began testing drones for emergency delivery of medical supplies, with hopes to eventually win federal approval of drones as a regular delivery option. Around the same time, GoPro unveiled its new drone Karma, a miniature, user-friendly device equipped with a camera that hangs off the front.