How Uber Prices Compare With Rental Cars In These 3 Cities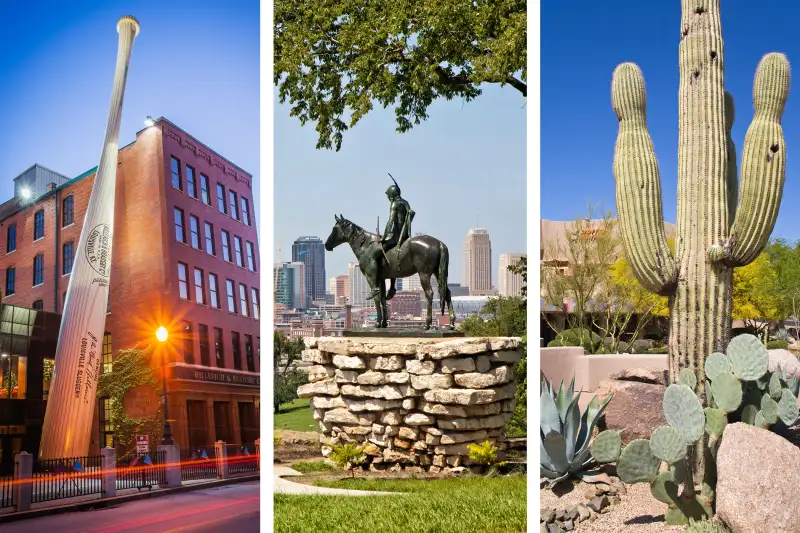 (left and right) Getty Images; (center) Alamy
Wondering whether to rent a car or rely on Uber on your next vacation? It's not easy to compare them, given Uber's unpredictable "surge" pricing and the ping-ponging nature of rental car fees. To get the most accurate estimates, we set up three sample trips and priced them using each transportation option. We used the most affordable option available on Uber's fare estimator tool and the lowest car rental prices from Expedia. The results might surprise you.
Case No. 1: Louisville
For a three-night stay at downtown Louisville's 21c Museum Hotel, within walking distance of the waterfront, the Louisville Slugger Factory, the Muhammad Ali Center, and plenty of restaurants, you'll ride to and from the airport ($16 each way with Uber), and perhaps further afield to a few restaurants or bars (we'll estimate three outings at $10 per trip, or $60 total). Splurge on an UberXL (an SUV or other kind of larger vehicle) to and from Churchill Downs ($15 each way), and you're looking at a total Uber tab of $122.
Considering you can snag a compact car from the Louisville airport for $26 a day, or $69 for the entire weekend, a rental car seems the obvious choice—at first. But factor in parking: At 21c, the valet costs $27 a day (though you can come and go as much as you please), or there's a self-park garage that's $7 each time you pull in. For the self-park option, using our itinerary above, you'll fork over $35 at the garage, bringing your total, before gas, to $102. Filling up that compact will run you $30 or so, bringing your rental to $132. Uber wins, by a hair.
Case Study No. 2: Phoenix
Let's map out another long weekend, at the Royal Palms Resort and Spa outside of Phoenix. Uber estimates it can get you to the airport for $14 tops each way. Maybe you'll plan one outing to Phoenix ($14 each way) and one to Scottsdale ($7 each way). Looking to get active? Uber can take you to the base of Camelback Mountain for a hike ($8 each way) and over to the Phoenician for a round of golf ($5 each way), bringing your total to $96.
On the flip side, a Friday to Sunday rental from Phoenix's Sky Harbor International Airport will only cost $64, all told. But parking on-site is all valet, for $25 a night (in-and-out privileges included). A $30 tank of gas brings you up to $169, meaning Uber actually nets you $73 in savings.
Cast Study No. 3: Kansas City
How about a city with an airport that's much further out of town? An Uber ride from Kansas City's airport to the Hotel Sorella—located on Kansas City's Country Club Plaza, where you can walk to a handful of shops, restaurants and bars—will cost you $30 each way. You could take a scenic stroll to the Nelson-Atkins Museum of Art (or Uber for $5 each way). Add a trip to the Boulevard Brewing Company ($7 each way) and Oklahoma Joe's BBQ ($6 each way). Want to splurge? Head to a Royals game at Kauffman Stadium for $17 each way. But let's say you hit surge pricing on the way back, upping the baseball outing to $60 total (though it could certainly climb higher). Uber tally: $156.
An economy rental car from Kansas City's airport is a shockingly low $11 a day, or $51 for the entire visit. At Sorella, valet runs $18 a night (the self parking option is actually $21 each time you come in to park). Gas is a tad cheaper in Kansas City; filling up a tank will run you $27 or so. Add $12 to park at the baseball stadium, and you're at $144 for the weekend in a rental car. That's about $12 cheaper than Uber.