Why Disgraced CEOs Get Insanely Generous Payout Packages When They're Fired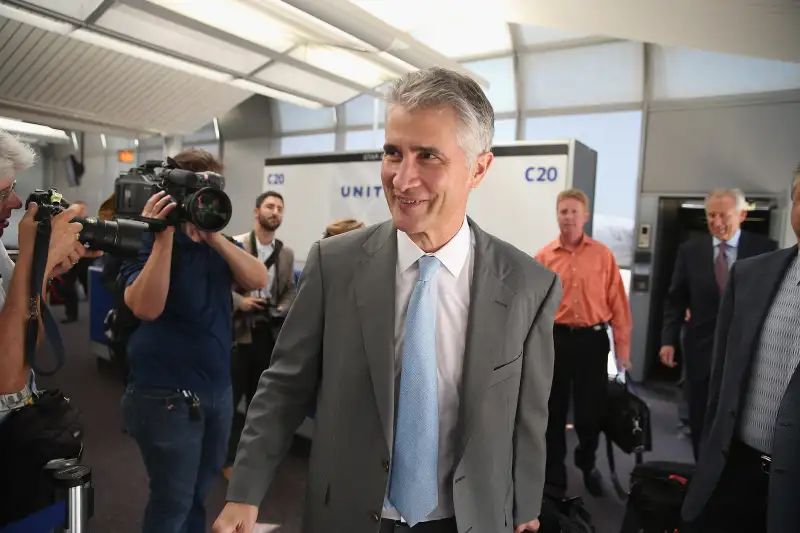 Earlier this week, Jeff Smisek stepped down as CEO of United Airlines amid a federal investigation that allegedly involved the airline in some shady dealings that resulted in an upgrade to one of its key hubs, Newark Liberty Airport. Basically, the corruption probe alleges that under Smisek's leadership, United restored a flight between Newark and Columbia, S.C., to gain favor with David Samson, a Port Authority official with the power to approve infrastructure improvements at the airport—and who just so happened to own a weekend home in close proximity to the Columbia airport.
Smisek has denied any wrongdoing, but United announced this week that he and at least three other executives left the company "in connection with the company's previously disclosed internal investigation related to the federal investigation associated with the Port Authority of New York and New Jersey."
The move was greeted mostly with glee in the business community, which views Smisek's rule at United as a time in which passenger amenities disappeared, loyalty points became less valuable and harder to use, and company employees were treated poorly. Nearly all the travelers at forums like FlyerTalk were elated upon hearing the news of Smisek's departure. "Ding Dong the witch is dead!" one commented. "I doubt he will be missed by staff or customers," noted another.
It has since come to light that even as Smisek left his post under a cloud of sketchy, potentially illegal backroom dealings, he is walking away with an extraordinary severance package that is sure to draw the outrage of every airline passenger who has ever been crammed into a tiny coach seat and nickel-and-dimed for any in-flight nicety beyond basic transportation.
Bloomberg estimated that Smisek departs United $28.6 million richer, based on a cash payout of roughly $5 million, plus restricted shares in the company's stock and performance-based awards. Even more galling, however, are the lavish perks in his package, which include free flights for himself and a companion in first class, airport parking, and a company car for the rest of his life. Smisek won't even have to pay taxes on the benefit of free flights, because United has agreed to cover that expense as well—a perk that is worth more than $437,000 alone, according to the Washington Post.
Considering that the average worker can expect perhaps a couple months' salary when they're let go—and nothing whatsoever if fired under dishonorable circumstances—people are understandably exasperated with the terms of Smisek's exit package. "We believe there's something wrong when an executive is awarded over $25 million for failing to do his job," Molly Sheerer, a spokeswoman for the Association of Flight Attendants union, told the Washington Post.
"What United should have done is forced him to fly coach for the rest of his life," Timothy Pollock, a professor at Penn State's Smeal College of Business, said to the Los Angeles Times. "Instead," he said, "we're all in coach with our knees against our chin, and he's sitting up there in first class enjoying a complimentary cocktail while they're losing our luggage."
Read Next: Companies Must Disclose Pay Gap Between CEOs and Workers
Why, you might be wondering, would United grant Smisek a pile of cash and a long list of luxurious perks after he's helped generate such bad publicity for the company? The answer is that United didn't agree to Smisek's payout after the scandal—the airline agreed to the package when it put Smisek in charge years ago.
When executives at the biggest companies are hired, they often negotiate contracts that are likened to prenuptial agreements, in which the CEO is guaranteed a handsome payout if the relationship goes south and results in a divorce. Companies are inclined to be on board with contracts awarding generous severance packages for several reasons. Theoretically at least, it allows them to convince executives to take jobs at lower annual salaries. Again, theoretically, a CEO with a terrific payout package won't be scared about losing his or her job, and therefore will feel emboldened to make moves to improve the company even if they are unpopular.
"Taking a risk might be right for shareholders, but the CEO might not do it if it could cost him his job," Wharton finance professor Luke Taylor explained a few years back in a story about exorbitant CEO exit packages. "Somehow, with this cushion, a CEO is willing take risks."
Read Next: Tesla's Billionaire CEO Elon Musk Makes Minimum Wage
In the same article, another Wharton professor, Wayne Guay, said that the existence of a golden parachute for a departing executive also ensures that leaders who are asked to leave won't put up an ugly, extended fight that could mire the company in even more negative publicity. "It encourages a CEO to take a walk when it is best for the company," he said, while acknowledging that the awarding of an over-the-top package amid a scandal "just smacks of a sense of unfairness" and "could be fundamentally demoralizing to the company."
In Smisek's case, the severance package is pretty darn demoralizing to travelers too. Regardless, unless he is convicted of a crime "involving moral turpitude," Smisek will get to continue to enjoy the perks of his payout for years to come. Feel free to tell him how you feel about the issue when you're walking past him in first class, on your way back to the coach section of the plane.