What It Really Costs to Go to Universal Studios Florida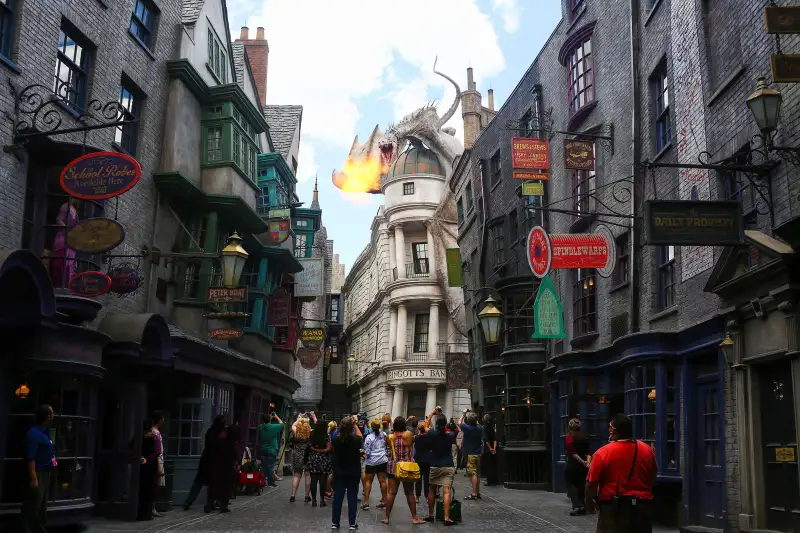 Eve Edelheit/Tampa Bay Times—Zuma Press, Inc./Alamy
When Universal Studios Florida in Orlando first opened in 1990, it was seen as a day-long distraction from the thrills of Disney World. Not so much anymore.
The theme park has swelled to a massive, immersive experience, with two main parks: the titular original and Islands of Adventure, both now attracting close to 10 million visitors per year, up from roughly 5.5 million in 2009.
Why the increase? Blame the Muggles.
When Universal Studios Florida opened the Wizarding World of Harry Potter expansion at its Islands of Adventure park in 2010, followed by the Diagon Alley area in 2014, the theme park tapped into a massive fanbase who love J.K. Rowling's books and films. They gambled that fans would love to sip Butter Beer, browse Ollivander's Wand Shop, and ride the Hogwarts Express - and it's a bet paying off big time, making it a must-visit if you're planning an Orlando theme park trip.
Newer attractions are giving fans fresh reasons to visit, outside of the Harry Potter universe. "Race Through New York Starring Jimmy Fallon," a simulated ride through Manhattan, just opened at Universal Studios Florida, and the "Skull Island: Reign of Kong" ride opened last summer at Islands of Adventure. Meanwhile, Volcano Bay, a whole new 30-acre water park with 18 different rides and attractions, opens May 25.
So Universal can expect its visitation numbers to keep rising, even though the latest round of ticket price increases pushed the one-day cost of admission to both parks up as high as $179. (That's the adult price; kids ages 3 to 9 get a whopping $5 discount.)
How much does it cost in total to bring your family to Universal Studios Florida for a vacation? We've done the research to try to answer this question in as realistic a way as possible, and the mission proved more complicated than one might hope.
Just like at Walt Disney World, Universal's vacation prices can vary significantly based on when you're traveling. An off-peak visit in the fall might cost half of what the same trip would in the summer or spring break weeks. But Universal muddles up pricing significantly by offering a staggering number of complicated upsells, including dining packages ($23 to $45 daily for adults), souvenir cups with unlimited Coca-Cola beverage refills ($14 per person), VIP tours (from $190), and Universal Express passes that allow guests to skip lines for an extra $40 to $150 daily (prices vary based on season).
The point is: Take your time and look over the details very carefully before deciding which ticket options, vacation packages, or add-ons are right for your group.
Most people have to fly to Florida to embark on a Universal Studios vacation, and we are factoring in a cost of $350 per flight, which is the national average to Orlando according to the Department of Transportation. The other transportation expense is a rental car (roughly $50 per day), which most Universal visitors need at least to get to and from the airport. (Disney provides free airport transfers for guests staying at on-site hotels, but Universal does not.)
As for lodging, you could save some money by going with a basic hotel in the Kissimmee area with a pool and complimentary breakfast for around $50 to $100 a night. Many properties near the parks offer free shuttles to all the attractions too, which will save you cash on parking near the gates ($20-$30 at Universal). Even so, all of our pricing is based on Universal hotels, which aren't exorbitantly expensive and come with a a great perk—an extra hour in the morning to hit the rides without lines, before the gates open to non-guests.
Food costs can add up big time on theme park vacations. Sites such as TouringPlans.com list menus at Universal's wide range of restaurants and show that the typical quick-serve meal is around $15 per person. Beverages run $3 for a fountain soda or bottled water, $5.49 and up for a non-alcoholic Butter Beer, and $7 or more for a regular domestic beer or glass of wine. If you're eating three meals a day and adding the occasional snack inside the parks, a family of four will easily drop over $300 per day.
But there are ways to decrease your bottom line. If you use miles for flights or hotels, find great deals on off-season packages, and/or brown-bag some meals or do some dining outside the resort, you can wind up spending hundreds or even thousands less than our estimates. But if you want a good idea of how much some standard Universal Studios Florida vacation might cost, take a look below. In all cases, our pricing is based on travel this summer for a family of four—two adults, and two children ages 3 to 9.
QUICK & CONVENIENT
Ken Kinzie—Universal Orlando
How many days should you spend at Universal Studios Florida? "You can definitely do the big stuff at Universal in two days provided the lines aren't too long," says Jason Cochran, author of the Frommer's EasyGuide to Disney World, Universal and Orlando and editor in chief at Frommers.com. In September and late January, when crowds (and lines) are smallest, you could even squeeze in all the main attractions at both parks in a single marathon day, Cochran says. Or, during busier periods (anytime school is out), it's "possible to do most of the big-ticket rides at both parks on a single day if you have an Express pass that gets you into shorter versions of the ride queues."
But Express passes cost extra—over $100 more on top of normal admissions in summer—so we've skipped that option here. As for how to best plan a quick, action-packed Universal Studios vacation, travelers might naturally look into packages. But we sifted through many options, and it generally cost the same no matter if we were booking hypothetical packages or purchasing rooms at Universal's Cabana Bay hotel and tickets a la carte.
James Kilby—Universal Orlando
In terms of admissions, for a two-night vacation we selected two days' worth of tickets with the Park-to-Park add-on, which gets you into Universal and Islands of Adventure, for a total of $1,065. (Prices in the story include taxes, as well as any online booking discounts—tickets generally cost $20 more if you buy them at the gate.) You could cut the family admissions budget back to $831 (a $234 savings) by opting for base tickets, which allow you to visit only one park per day. But we went with the pricier Park-to-Park ticket option because it's required for entrance on the incredibly popular Hogwarts Express, which transports guests between Universal's two main parks.
Hotel (2 Nights): $369
Transportation (Flight plus car rental): $1,500
Admission: $1,065
Food: $600
Souvenirs & Extras: $100
Total: $3,634
THE LONG WEEKEND
Courtesy of Universal Studios
By adding a third day in the parks, you'll be able to go back and take in your favorite attractions more than once. You'll also be able to hang out and explore the shops and restaurants at Diagon Alley without feeling rushed, and by opting for a 3-Park pass you can hit the water slides and other rides at Volcano Bay too. "It's the coolest water park in Orlando by far right now," says Cochran.
For a three-night package in August at Universal's Cabana Bay with a courtyard poolside suite—a little more space to spread out compared to the standard room included in the option above—the price for our group came to $1,940. The package came with three days' worth of 3-Park admissions, allowing guests to come and go as they please on the same day to any variety of Universal Studios, Islands of Adventure, and Volcano Bay. When we hypothetically booked these items separately, the total was virtually identical, with the hotel coming to $620 and tickets costing $1,321.
Hotel (3 Nights): $620
Transportation (Flights plus car rental): $1,550
Admission: $1,321
Food: $900
Souvenirs & Extras: $150
Total: $4,541
THE VIP EXPERIENCE
Kevin Kolczynski—Universal Orlando
Beyond higher-end accommodations, what might tempt travelers into staying at one of Universal's deluxe hotels is that guests automatically get unlimited Universal Express Passes, which allow you to skip lines on most rides. Just beware that they can't be used to bypass lines everywhere. (They're no good on "Harry Potter and the Escape from Gringotts," for example.)
For this category of vacationer, we selected lodging at the upscale Loews Portofino Bay Hotel at Universal, with a very memorable kind of room—a "Despicable Me"-theme kids suite, where the children's beds look like hollowed-out bombs from the movie. We stuck with a visit of only three nights, and increased the budget for a nicer rental car, more food and shopping, and one big extra—the VIP Experience, which includes behind-the-scenes tours and access to attractions the regular crowds never see. The option costs $200 to $350 per person per day, with prices determined on what season you visit and how many parks are included.
Hotel (3 Nights): $1,987
Transportation (Flights plus car rental): $1,700
Admission: $1,321
Food: $1,200
Souvenirs & Extras: $1,540
Total: $7,748