All the Restaurants Where You Can Get Free Food on Valentine's Day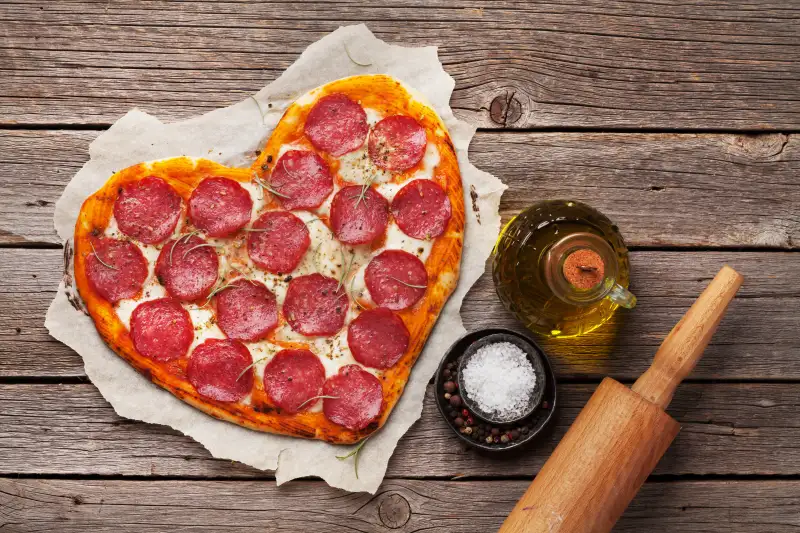 karandaev—Getty Images/iStockphoto
Fancy dinners aren't the only option for Valentine's Day. February 14 has also become a day when restaurants roll out special Valentine's Day deals and freebies around the country.
Instead of romance and luxury, the focus tends to be more on packing in value and building customer excitement on a holiday that—let's be honest—many people don't consider to be romantic at all.
So what's on the menu for Valentine's Day 2018? Among other things, discounted or totally free ice cream, pizza, hot pretzels, chicken wings, cookies, and hot sauce.
Here are the best Valentine's Day restaurant deals, valid at participating locations.
Auntie Anne's: On February 14, customers who are members of Auntie Anne's My Pretzel Perks loyalty program get one heart-shaped pretzel for free when they buy one at regular price.
Baskin-Robbins: Use the coupons in the link here to get $3 off an cream cake order of $15 or more, through February 18, 2018.
Chuck E. Cheese: All guests get a free brownie on February 14, between 6 p.m. to 8 p.m.
El Pollo Loco: Use the coupon in this link for a special Valentine's Day deal for two, which includes two chicken legs, two thighs, two sides, two small salads, two small drinks, and two churros for a total of $10. The deal is valid from February 14 to 18.
Firehouse Subs: Use this coupon for a free cookie or brownie at Firehouse Subs locations on February 14.
Fogo de Chao: Any couple that dines at this Brazilian steakhouse chain between February 10 to 17 will get a buy-one-get-one-free lunch, dinner, or brunch on a future visit.
Hooters: Hooters is running a "Shred Your Ex" promotion on Valentine's Day 2018. Anyone who brings a photo into Hooters and gives it to a waitress for shredding, or who uploads a photo for shredding, gets 10 free boneless wings with the purchase of 10 wings—on February 14 only.
McAlister's Deli: Customers who purchase an adult entrée and dine in on Valentine's Day can get up to two kids meals for free. All members of the McAlister's Rewards program can also get a free sweet tea on February 14.
Papa Murphy's: Through February 14, Papa Murphy's locations are selling heart-shaped pizzas for $7, and a $10 combo deal that includes a heart-shaped pizza and chocolate chip cookie dough. (Papa Murphy's sells uncooked food that customers take and bake at home.)
Potbelly Sandwich Shop: Members of the chain's Potbelly Perks club get a free cookie when they purchase another cookie at regular price on Valentine's Day.
Quiznos: Quiznos Toasty Points reward members will get a credit good for free eight-inch lobster and seafood sub with any purchase, redeemable from February 14 to 28.
Schlotzsky's: Customers who spend $7 or more at Schlotzsky's on February 14 will get a free bottle of Schlotzsky's hot sauce, while supplies last.
TCBY: The Valentine's Day special at TCBY gives you 50% off one order when you purchase one at regular price.
Waffle House: More than 170 Waffle House locations around the country are offering special reservations-only Valentine's Day dinners with white-tablecloth service and one-of-a-kind "atmosphere" on February 14.
White Castle: White Castle is also accepting reservations for its annual "unique Valentine's Day experience," featuring table service, candlelight, and plenty of its original sliders. Last year, some 26,000 people ate at White Castle on Valentine's Day, the company says.