Verizon is Buying Yahoo for Nearly $5 Billion. RIP Yahoo!
Money is not a client of any investment adviser featured on this page. The information provided on this page is for educational purposes only and is not intended as investment advice. Money does not offer advisory services.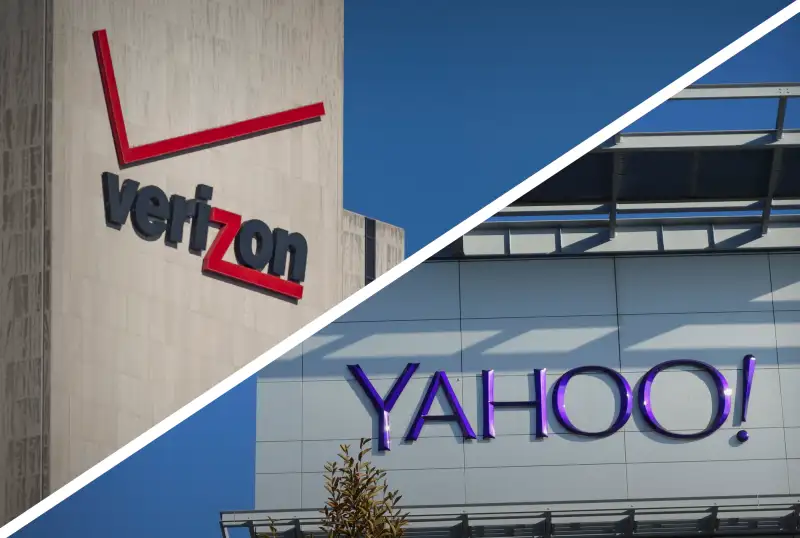 Telecommunication giant Verizon has reportedly purchased Yahoo , according to multiple news outlets.
The deal would complement Verizon's acquisition of AOL for $4.4 billion last year. Other suitors for the once indomitable search giant include AT&T and Quicken Loans CEO Dan Gilbert with support from Warren Buffett's Berkshire Hathaway. Bloomberg's source said the "the deal hasn't been finalized and may still fall apart."
The value of the deal is reportedly for $4.8 billion for the core parts of Yahoo.
The news follows Yahoo's miserable earnings report earlier this week. As Money reported, not only were revenues disappointing, with search and display ads falling, but the company effectively admitted that it had made a huge mistake by snatching up Tumblr, the microblogging site it purchased with great fanfare in 2013 for $1.1 billion. The company wrote down the value by another $482 million, after writing down an initial $230 million last February.
So what happened to Yahoo?
Here are three numbers to help put the Internet pioneer's dramatic fall into perspective.
Advertising: 3%
There was a time when Yahoo dominated advertisements on the internet, a time before Google, now Alphabet GOOGL -0.35% , ruled the world. After owning about 20% of global digital advertising share between 2004 and 2006, according to Pivotal Research Group, Yahoo now has a mere 3%, and falling. Alphabet has a market capitalization rate north of $500 billion.
Companies are simply paying less to advertise with Yahoo. For instance, Yahoo's recent quarterly report showed that the price-per-ad on display fell 15%, compared to the same period the previous year.
"Potential buyers of the business undoubtedly have plans that would attempt to reverse this decline, although we think that bids will reflect more conservatvie (and realistic) expectations," notes Pivotal's Brian Wieser, who pegs the core business at $3.5 billion excluding cash.
Bloat: $116,000
Yahoo has become almost infamous for its spendthrift streak. In a 99-page presentation to Yahoo's board of directors late last year, hedge fund manager Eric Jackson outlined just how much money Yahoo was squandering under Mayer's watch.
The company spent nearly $10 million on new iPhones for its employees, and more than $100 million a year on catered meals. Mayer gave away about $2 million worth of JawBone Ups, a mobile fitness tracker, and spent almost $2 million on the Davos World Economic Forum. Yahoo sponsored the Met Ball Gala for $3 million.
Jackson's complaints dovetail with data that shows Yahoo isn't an efficient company, averaging less than $116,000 in sales per employee, according to Bloomberg, compared to more than $300,000 at Google and almost $400,000 at Facebook. Even sleepy telecommunications companies were run better. Part of the problem is that Mayer spent more than $2 billion on acquisitions that turned into debacles, like with Tumblr.
In response, Yahoo laid off 15% of its workforce in February, while whoever buys Yahoo is likely to reduce staff by thousands more.
Price/Earnings Ratio: 72
Yahoo's stock, meanwhile, is probably too expensive for your taste, despite long-term declines. With a price/earnings ratio four times higher than the S&P 500, and profits expected to increase half as fast, Yahoo simply isn't attractive. Pivotal's Wieser recently downgraded the stock to hold from buy.
Yahoo, the Google before Google, doesn't really have an identity, and never really found one even after Mayer took over. Is it a blogging platform? News site? Shell company for exposure to Alibaba and Yahoo Japan? It turned out to be all those things, and nothing.
The bottom line is that internet users around the world don't Yahoo! anymore — at least to the extent they used to. That's why the end is here for the once powerful search behemoth.