Goodbye, Virgin America! I Hardly Knew You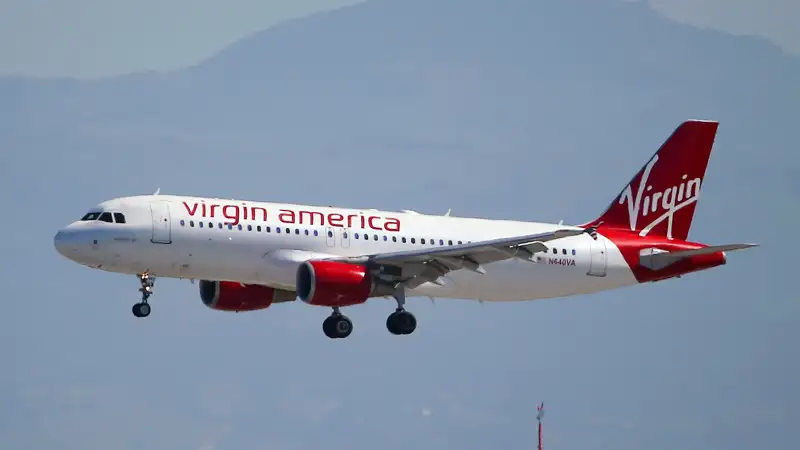 Justin Sullivan—Getty Images
Yesterday I finally got around to flying on groovy, va-va-voom Virgin America. Today comes word that VX (those are its sexy code letters) is being bought by the decidedly more rugged Alaska Airlines. Was it something I said?
It will take months before the Justice Department decides whether to allow the Alaska sale, which means you still have a while to take Virgin America for a spin. When I was booking my round-trip tickets from New York to Fort Lauderdale, I found that Virgin's fares were comparable to those of most carriers, so unless you're determined to fly a bargain airline, cost shouldn't deter you.
The Virgin experience is certainly unique. When you enter the plane, the entire interior is bathed in purple light, and all the window shades are drawn to accentuate the drama. Is purple supposed to evoke the British royal family? Transport you to a 1980s-era London disco? Either way it's pretty, if a little bit weird, especially for a daytime flight.
The Virgin America experience stands out in two other ways. The seats are covered in an almost buttery leather (or maybe it's "pleather"?) and offer just the right mix of back support and comfy-ness. They practically snuggle you, from head to derriere, though I did wonder how these hip-hugging recliners would suit someone with a larger frame.
The other standout was the entertainment system. It's controlled via either a touch screen or the remote wand that snaps into an armrest, and it features free satellite TV and an amazingly diverse—even esoteric—selection of music. Do you like to toggle between Canadian indie darlings Arcade Fire and torch song diva Ann Hampton Callaway? This is the place for you. Ditto if you like to play Pac-Man, test your trivia skills, or distract yourself with a few other video games. On the other hand, if you want to kick back with an in-flight movie, be prepared to pay $5 or more.
And be prepared for some glitches. The sound quality at one of our seats was iffy, and my 11-year-old daughter managed to yank the remote wand out of its socket within 15 minutes, which made her whole system go kaput.
That was especially unfortunate given that you can use the system to order food as well. Rather than wait for the flight attendants to wheel their carts down the aisle with their wares, you can pre-order your drinks and snacks. Now there's some British efficiency!
That's the theory, at least. In truth, most people hadn't bothered to order beforehand, so the service was every bit as labored as usual. That's a minor complaint. More annoying: while Virgin offers the standard nonalcoholic drinks free, they won't give you a single peanut unless you pay for it. No amount of Pac-Man is going to make me feel better about paying $3 for a bag of popcorn.
So is the Virgin America experience worth it? Kind of. We flew Delta on our way to Florida, and the plane offered no video or audio options whatsoever—a big problem when you're traveling with antsy kids raised on JetBlue. (That said, Delta gave us all the pretzels and biscotti we wanted and didn't charge us a farthing.)
Last point: both the Delta and the Virgin America flights were an hour late taking off. I have no idea how else merging with Alaska will change Virgin's vibe, but in this one respect it may be good news: Alaska won the 2015 award for the most on-time airline in FlightStat's annual survey.