How This 60-Year-Old Adrenaline Junkie with 'Einstein Hair' Became the Face of Wall Street
Money is not a client of any investment adviser featured on this page. The information provided on this page is for educational purposes only and is not intended as investment advice. Money does not offer advisory services.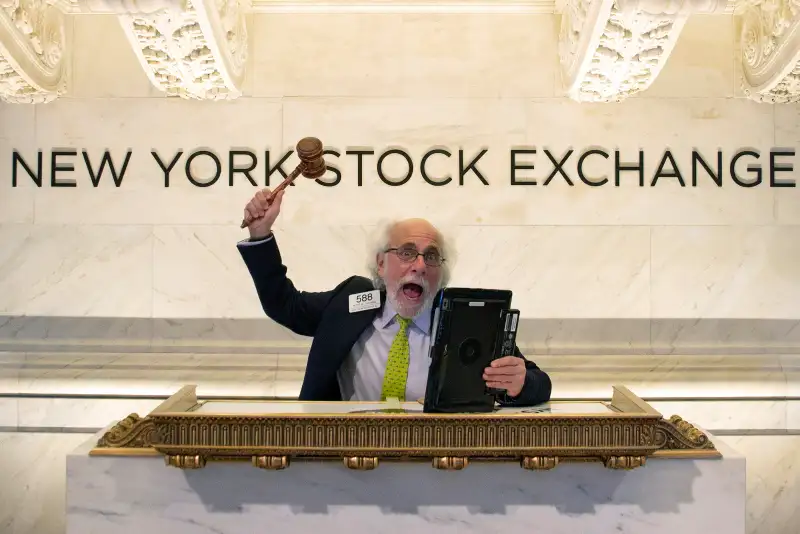 Photograph for Money by Sarina Finkelstein
You may never have heard of Peter Tuchman. But if you follow financial news, you've definitely seen him.
Photos of Tuchman on the floor of the New York Stock Exchange were recently featured in The Wall Street Journal...and The Washington Post and CNN and CNBC.
In fact, big market swings during the past few months mean Tuchman's unusually expressive face has been in the news illustrating stories about stock-market moves even more than usual. And while many investors may be getting heartburn, Tuchman says he loves the market action – and the extra attention. "I thrive on volatility, market actions, headlines, and news. And we've had a plethora of that."
Tuchman, who has worked on Wall Street for more than 30 years, is a broker for Quattro M. Securities, where he executes trades for customers, such as hedge-funds and other short-term traders. But that job has changed dramatically since he began in 1985.
Tuchman, however, has managed to change too. He's re-invented himself by becoming a media personality. That means not only posing for photographers, but also handing out merchandise and maintaining a social media following. Building his own brand has helped Tuchman become one of the unlikeliest celebrities.
"I've had to recreate myself and find an edge," he says.
Getting Started
Tuchman's career on Wall Street began a few years after graduating college, when he landed a summer job at the New York Stock Exchange as a teletypist. "I knew immediately it was my calling," Tuchman says. "I loved the adrenaline and craziness of the place." Within three years he'd risen to become a broker.

Back then, the stock market revolved around human interaction – with traders picking up phones and running into the crowd to fulfill trade orders. Today, it's a much different environment. Trading is now done electronically, with orders routed through traders' handheld devices. The number of people on the stock exchange floor has also dwindled over the years, from thousands to hundreds.
Andrew Savulich—NY Daily News Archive/Getty Images
Still, Tuchman has managed to change with the times. His rise to media fame all started with one picture, during the 2007 financial crisis. The image of Tuchman throwing his hands up in despair circulated the news outlets – and he got more coverage the next day, too.
Whenever the market would go up or down, Tuchman became a press favorite: "I'm visible, sort of loud and boisterous, and they love that," he says. "I've always had this crazy Einstein hair – that's my trademark."
Photograph for Money by Sarina Finkelstein
The NYSE's Einstein
Tuchman says the 'Einstein' nickname stuck, so he began posting on Instagram under the hashtag 'NYSEinstein.' For a while, it was just the press taking photos of him, he says, but that soon expanded to TV and other media appearances too. Through his Instagram branding of this NYSEinstein character, combined with his market exposure, Tuchman has gotten even more attention.
Several young artists reached out to him about helping design merchandise: One even drew the cartoon depiction of NYSEinstein – complete with Tuchman's distinct badge #588 and one of his Dow 20,000 hats – which has since been used for pins, stickers, toys, and other merchandise. While he doesn't make any money from it and gives away the gear for free to fans or celebrities visiting the stock exchange, it makes his job more fun, he says.
Over the last few years, Tuchman says people have started to recognize him outside of the stock exchange. "I get stopped all the time, whether it's on planes, on the street, on the subway, or a group of tourists." Tuchman didn't expect the media attention to last, but "it seems like it's just getting bigger and bigger" he says, "I love being a brand ambassador for this place."
Recently, his son Benjamin has started a career at the stock exchange. "He started getting his picture taken a few months ago, which has been fun," says Tuchman, adding: "There was even one on the front page of Google the other day!"
Photograph for Money by Sarina Finkelstein
A Familiar Face
Tuchman likes to think his celebrity creates an aura of familiarity – even reassurance – for everyday investors who might be intimidated by the fast-moving action on the stock exchange floor. "It gives people some sense of stability by letting them put a face to a market that can be so volatile and scary," he says.
When stocks tumbled sharply in December, then bounced back in January, the stock market was once again in the news. As always, Tuchman was in the thick of things, with news photographers snapping his reactions. While some pictures may look like he's tearing his hair out, he wants you to know that you shouldn't read too much into his reactions.
Photograph for Money by Sarina Finkelstein
"Markets go up, markets go down, but at the end of the day, don't get emotional about money," he says. There's a difference between a trader and an investor, according to Tuchman. If you're an investor you should be focused on the long-term.
"I would hope people don't trade off my emotional reactions" he says, laughing. "What you see is what you get in the day, but that isn't a prediction of where the market is going."