The Best-Performing Tech Stock of 2019 Isn't Google or Amazon – It's a 113-Year-Old Printer Company
Money is not a client of any investment adviser featured on this page. The information provided on this page is for educational purposes only and is not intended as investment advice. Money does not offer advisory services.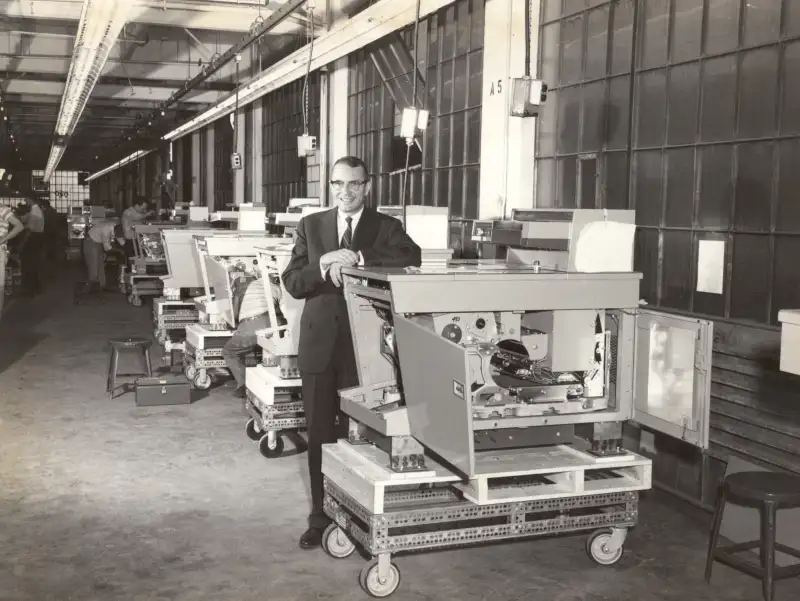 Xerox is synonymous with photocopiers and printers – not necessarily great in today's digital world. But an aggressive cost-cutting plan and bets on ventures like 3D printing have turned the century-old company into the hottest tech stock on the market in 2019.
Xerox, founded as a photographic company in 1906, pioneered the first copier machine in the late 1950s. After decades as an industrial powerhouse, however, Xerox has struggled to adapt to the digital age, posting decreasing revenue for most of the past decade.
Now the Norwalk, Conn.-based company is trying to transform itself into a more dynamic tech firm, investing in its managed print services – equipment servicing and replacing supplies – as well as new innovations like 3D Technology and digital print packaging.
After cutting costs and reorganizing its management team last year, Xerox (XRX) has surged nearly 55% through the end of May, to just over $30 per share. Xerox's return is far and away the highest of any tech stock in 2019, beating out big names like Google, up 5%, and Amazon, up 15%.
A 20th Century Powerhouse
Xerox quickly rose to prominence after it brought out the first copier machine in 1959, prompting a dramatic change in the American workplace. By the early 1970s, Xerox introduced its first color copier, and the company subsequently announced record revenues and profits.
At the same time, Xerox set out to imagine the 'office of the future.' Its famed Palo Alto Research Center (PARC) invented many technologies workers take for granted today: the first computer mouse; the PDF file format; the "graphical user interface," now used on all personal computers; the laser printer; and Ethernet local area networking.
But Xerox failed to commercialize these inventions. After an anti-trust suit with the U.S. Federal Trade Commission in 1975, Xerox was forced to license its entire patent portfolio to other competitors, reducing the company's share of the U.S. copier market from nearly 100% to less than 14%.
The development of digital photocopiers in the 1990's helped Xerox regain market share. Xerox's stock soared as high of $165 in 1999, from $13 at the start of the decade. But when the dot-com crash hit, the stock plummeted, along with the rest of the market. By the end of 2000, Xerox had fallen to $10 per share.
Death of Print
Since the dot-com crash, Xerox has struggled to stay relevant as offices do more and more digitally. Not only do workers print a lot less, stand-alone printers have been replaced by multi-function ones that can print, copy, and scan – meaning that there are fewer overall printing devices that offices need to purchase.
Xerox's revenue, which stood as at $20 billion in 2013, fell to just $9.8 billion for 2018. What's more, a planned merger with Japanese rival Fujifilm was abandoned last year after two of Xerox's largest shareholders, Carl Icahn and Darwin Deason, sued to block the deal, saying it drastically undervalued Xerox and would be the "final death knell" for the iconic U.S. company.
As part of the settlement, chief executive Jeff Jacobson stepped down and was replaced by Icahn's choice John Visentin. Six other board members – including Chairman Robert Keegan, also departed, giving Icahn and Deason more control. (A Xerox spokeswoman said the company was positioning itself "to be a stronger, more innovative Xerox for years to come.")
What's Next for Xerox
Visentin laid out his vision for Xerox to shareholders in February, with plans to invest in the company's relatively stable printer and copier servicing business, as well as cut costs and seek potential news sources of revenue – promising investors flat to growing sales by 2021.
Xerox's service business, essentially repairing and maintaining printers and copiers for existing customers, already amounts to 80% of the company's total sales. Print services revenue, which is declining much less quickly than equipment sales, also offers better profit margins, according to analysts. Xerox has few competitors on the same scale who can offer such a wide range of services.
Xerox is also cutting costs. Analysts expect the company to save $640 million in 2019, mainly by selling its ancillary financing and leasing businesses, reducing headcount, and closing offices. This has already helped Xerox improve its operating margins, with 2018 showing the first reported year-over-year increase in over five years.
Of course, in the longer term, Xerox needs to find organic revenue growth. While that will be difficult, according to CFRA analyst David Holt, selling its financing and leasing businesses should give the company cash to invest in areas like digital document packaging and 3D technology, which might eventually gain traction.
In February, Xerox announced new offerings that act as a scanner-software go-between in paperwork-heavy industries. The company has also made acquisitions in potential growth areas, like when they bought Vader Technologies, a liquid metal 3D printing company, earlier this year.