Chipotle Customers Fled in Droves After a String of Health Scares. Now It's One of 2019's Hottest Stocks
Money is not a client of any investment adviser featured on this page. The information provided on this page is for educational purposes only and is not intended as investment advice. Money does not offer advisory services.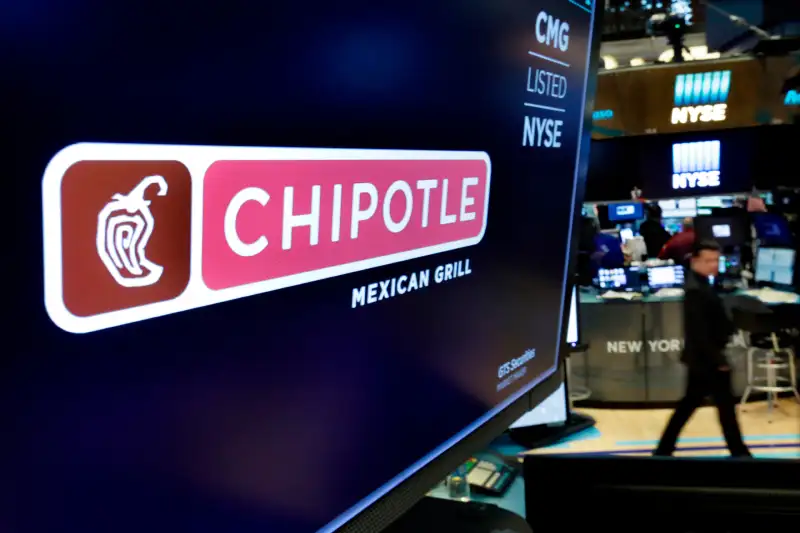 Richard Drew—AP/Shutterstock
For years, Chipotle was the restaurant that Americans loved to hate. Now they're saying quesadill-yeah!
Chipotle rose to prominence in the early 2000s by pioneering a new restaurant concept – the 'fast-casual' chain, with its fast-food style service but also quality ingredients. For years it was one of the S&P 500's highest flyers, with its price rising by more than 30-fold in the decade following its 2006 IPO.
But after a string of food safety blunders in 2015, investors and diners alike lost faith. Chipotle stock plummeted from its mid-2015 high of $750 to less than $300 by early 2018.
Now after hiring a new chief executive – the former head of Taco Bell – Chipotle is rebounding, helped by better quality control, new menu items, and expanded delivery and pickup options.
Chipotle has surged 66% so far in 2019, making it the second-best performing stock in the S&P 500 through Friday. The stock currently sits at just over $710 per share – not far off its peak mid-2015 price.
"We're pleased with the progress we are making," says a spokeswoman.
Food Safety Crisis
Chipotle was long known for touting the freshness of its ingredients in an industry otherwise dominated by processed foods. But in 2015 that became a problem.
While customers loved fresh ingredients, maintaining quality became harder as Chipotle expanded. The bigger the operation got, the more complicated it became to ensure the highest sanitation levels in all of its restaurants.
"We would go through millions of pounds of cilantro! That's such a dangerous item—so many nooks and crannies where E. coli can hide," one former Chipotle supply-chain executive told Fast Company in 2016. "As much fresh produce as they deal with...in retrospect, I can't believe somebody didn't raise a red flag."
Starting with a 2015 E. coli outbreak that affected 60 customers in 14 different states, a series of periodic food safety lapses over the next two years – including cases of salmonella and norovirus that further infected hundreds – stung the chain's reputation.
Eventually Chipotle's entire food-prep process came under scrutiny, sparking a cycle of social media outrage, and customers fled in droves. By the end of 2016, total sales had fallen to less than $4 billion from $4.5 billion the year before.
'Chipotlane' and Other Upgrades
Chipotle's turnaround started after former Taco Bell chief executive Brian Niccol took the helm in March 2018, replacing founder Steve Ells. The chain quickly employed more aggressive marketing techniques – switching from a regional to national advertising strategy. In early 2019, it launched "Behind the Foil," a series of documentary-style ads that showed how ingredients are prepared in the kitchen, a move designed to reassure skittish diners.
Chipotle also pushed into digital, recently rolling out a new loyalty and rewards program in March. A revamped Chipotle mobile app allows customers to order ahead of time and get their food from dedicated 'Chipotlane' pickup windows, to cut down on store wait times.
New snack items were also added to the menu – including quesadillas, nachos, tostadas and frozen drinks – in order to boost foot traffic in stores between busy meal times. And Chipotle introduced new 'Lifestyle Bowls' that offer "diet-driven" options for people who want to eat healthy.
Five Quarters of Growth
Americans have steadily been coming back. The company recently reported its fifth consecutive quarter of growth at stores that have been open at least one year, a key restaurant industry metric. Overall revenue rebounded to $4.8 billion in 2018 from $4 billion two years ago.
Digital sales now account for 16% of the chain's total sales, about double what they were a year ago. BTIG analyst Peter Saleh now expects earnings-per-share to increase to $16.29 from $9.06 in the next two years. He sees digital sales as a key growth area, given that Chipotle's digital sales segment remains well below its major competitors.
What Next for Chipotle
Of course, there are still hurdles. After rallying almost 60% year-to-date, Chipotle stock trades more than 50 times the company's projected earnings for 2019. That's much higher than its competitors within the restaurant industry – such as McDonald's, Starbucks, and Domino's – who on average trade for just over 27 times projected 2019 earnings.
While Chipotle has made great progress, some food safety concerns still remain. Last summer, for instance, Chipotle confirmed another bacteria outbreak in a Powell, Ohio, store that got hundreds more customers sick. As the chain tries to win back old customers, polled customer reviews highlight obstacles like lasting food safety concerns, higher prices, and preference for other quick-service restaurants who are Chipotle's main competitors.
However, some analysts think the stock could go even higher. BTIG recently raised its target price to $790 from $700, citing Chipotle's accelerating growth over the last several quarters. BTIG sees the chain's successful adoption of mobile ordering, delivery, and loyalty programs as a key driver for getting back to peak sales numbers, with revenue expected to grow drastically – from $4.8 billion in 2018 to nearly $6 billion by 2020.