Apple Could Be One of the Biggest Losers in the Trade War with China. Here's How
Money is not a client of any investment adviser featured on this page. The information provided on this page is for educational purposes only and is not intended as investment advice. Money does not offer advisory services.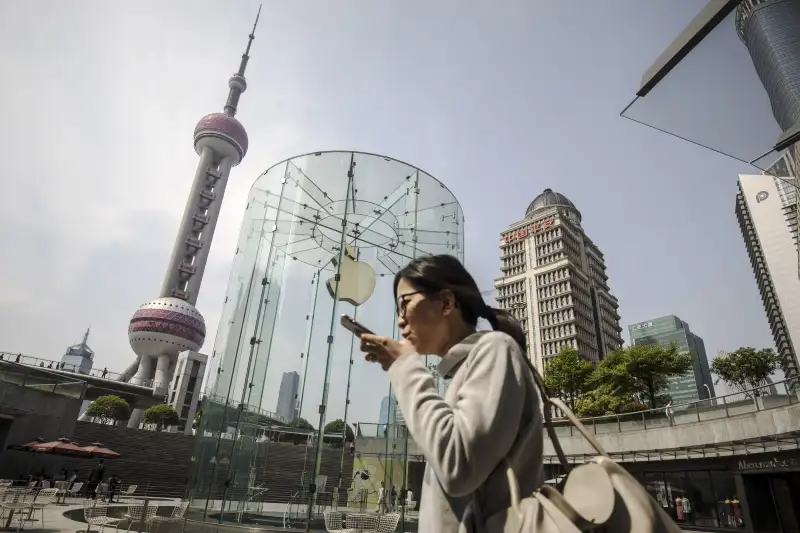 Qilai Shen—Bloomberg/Getty Images
The trade dispute between the U.S. and China is yet again in full swing – and stock of beloved tech giant Apple could be one of the first casualties.
Last Friday, the Trump Administration raised tariffs on $200 billion worth of Chinese goods – ranging from electronics to clothing – from 10% to 25%. China quickly retaliated, raising tariffs on $60 billion of U.S. products including batteries, coffee, and more. Trump has also promised to levy tariffs on the remaining $300 billion worth of Chinese goods as soon as June 24.
News of the new tariffs sent global markets tumbling, with the S&P 500 dropping several percentage points at the beginning of the week. Big tech stocks were among the worst hit. On the whole, S&P 500 companies get nearly 44% of their sales from abroad. That number is even higher when it comes to the important tech sector – at almost 60%.
Although the escalating trade war is hitting a lot of different stocks, investors have been quick to worry about Apple, in particular. Concern over the trade dispute led to a 6% plunge in Apple's stock price on Monday. It's down nearly 10% since President Trump set off the latest trade skirmish with his tweets on May 5. (Apple did not immediately respond to a request for comment.)
While high-tech items like smartphones and tablets aren't included in the latest round of increased tariffs, they would be if Trump follows through with his threat to tax the remaining $300 billion of Chinese goods. And that would have "considerable ramifications" for Apple's business, Morgan Stanley analyst Katy Huberty wrote in a note last week.
Apple's China Problem
One reason Apple is so vulnerable is that the company both assembles and sells its devices in China. Unlike many other big tech companies, Apple sells a large amount of its products to Chinese consumers. Indeed, 'Greater China' – which includes Hong Kong and Taiwan – represents Apple's third-biggest market, after the Americas and Europe. In 2018, that region amounted to $51 billion in revenue, almost a fifth of Apple's total revenue for the year. At a time when global iPhone sales are already weak, any further damage to China's economy would subsequently cut into one of Apple's most critical markets.
The company also heavily relies on Chinese manufacturing for most of its big products, including Macs and iPhones. Two of its biggest suppliers, Foxconn and Chinese-owned Japan Display, are struggling – and both reported disappointing financial results this week. Foxconn's sales decreased almost 18% in the first quarter of 2019, while Japan Display said on Wednesday that its mobile display sales – which makes up almost 75% of its business – had fallen 17% year over year.
Although there have been reports that Apple plans has considered shifting its manufacturing to India or Vietnam, that would not alleviate tariff pressures in the short-term. "A large-scale move out of the country would not only be costly, but could take multiple years to complete," writes Huberty.
More likely than not, Apple will have to raise its prices to deal with supply-chain disruptions, Wall Street analysts believe. To offset the costs from the new tariffs, Apple would need to pass that on to consumers by increasing the price of an iPhone XS by $160, up from its original sticker price of $1,000, Huberty estimates – inevitably hurting already the gadgets' already sluggish sales.
In the "worst case scenario," as Huberty says, Apple will absorb the tariff costs by taking a hit on earnings. That would cut the company's earnings per share next year by as much as 23%, she predicts.