Walmart Pumps Up Black Friday and Thanksgiving Deals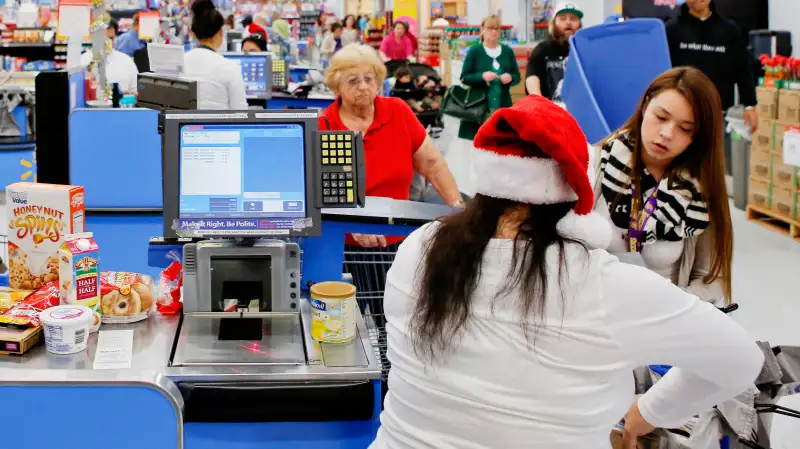 Patrick T. Fallon—Bloomberg via Getty Images
On Tuesday, Walmart held a press conference to introduce what it's calling the "New Black Friday." Per the ongoing retail trend, the Black Friday sales start on Thanksgiving Thursday, and they're hardly limited to a single day. "This year, we're blowing it out with five days of deals in store and online," Walmart chief merchandising officer Duncan Mac Naughton said. "We'll have crazy low prices on the gifts our customers want."
First things first: Is there anything really "new" about Walmart launching Black Friday deals on Thanksgiving, or about having sales stretch from Thanksgiving through Cyber Monday? On both accounts, the answer is no.
Last year, Walmart's Black Friday included a staggered series of doorbuster deals, with some available at 6 p.m. on Thanksgiving, others starting a couple hours later, and still others taking effect early on Friday morning. What's more, Walmart and other retailers began trickling out pre-Black Friday sales the weekend before Thanksgiving if not earlier, plenty of other deals were available over the entire five-day Thanksgiving-Cyber Monday period, and the majority of these sale prices could be purchased online or in stores for the same exact price.
And guess what? This year, it's essentially the same story. The hours have been tweaked for the 2014 version—special deals are available at 6 p.m. and 8 p.m. on Thanksgiving, then more starting at 6 a.m. the next morning—but it's basically been the same plan since 2012.
On the one hand, spreading what are supposedly the best holiday sales out over five days—or, let's face it, over the course of two full months—might make you wonder why it's necessary to go shopping at all on a day traditionally devoted to family time rather than mall time. Walmart may hope that you physically go shopping in its stores on all five of those days, but that doesn't mean you have to play along, especially not when the online option is available.
The traditional retail playbook for Black Friday featured a limited number of low-price "loss-leader" doorbuster deals that drew in the masses. Whether they were actually able to get hold of one of the few ultra-cheap items or not, these customers tended to shop for other merchandise while they were in the stores. Walmart has tried to eliminate some of the bait-and-switch involved in this tactic with a 1-Hour Guarantee, in which shoppers are assured they'll get the doorbuster they want if they're lined up at least one hour before the sale price is available. Yet overall, the strategy remains unchanged: Attract customers with what seem like amazing deals on select items, then cash in when these customers buy all sorts of things—some on sale, some at full price, and collectively very profitable.
With five days of deals, Walmart could have decided that its best doorbuster bargains would be available starting on Friday or Saturday—or any day other than Thanksgiving. But that's not what the world's biggest retailer has done. Like Target, Best Buy, and many others, Walmart is rolling out what seem to be its best deals on Thanksgiving itself, including a 50" LED TV for $218 and kids' "Frozen" pajamas for $4.50. There's nothing stopping Walmart and other retailers from launching these kinds of sales on, say, the Saturday before Thanksgiving. Instead, they're going with Thanksgiving, and because many of the very best deals are available in-store only, consumers who want to take advantage can't stay home with their families and make purchases in front of a screen of their choice.
On the other hand, the season's best prices don't necessarily pop up on Thanksgiving or Black Friday, and, with the exception of a relatively small number of in-store-only doorbusters, the vast majority of deals are indeed available for web shoppers. As a dealnews post pointed out:
The takeaway for consumers should be that it's okay—more than okay—to stay home on Thanksgiving, and then to sleep in and stay home the following day as well. Yes, you might miss out on a select few deals by doing so. But hey, it's really not that big of a deal.