Which 80-Year-Old Billionaire Would You Trust With Your Tech Portfolio?
Money is not a client of any investment adviser featured on this page. The information provided on this page is for educational purposes only and is not intended as investment advice. Money does not offer advisory services.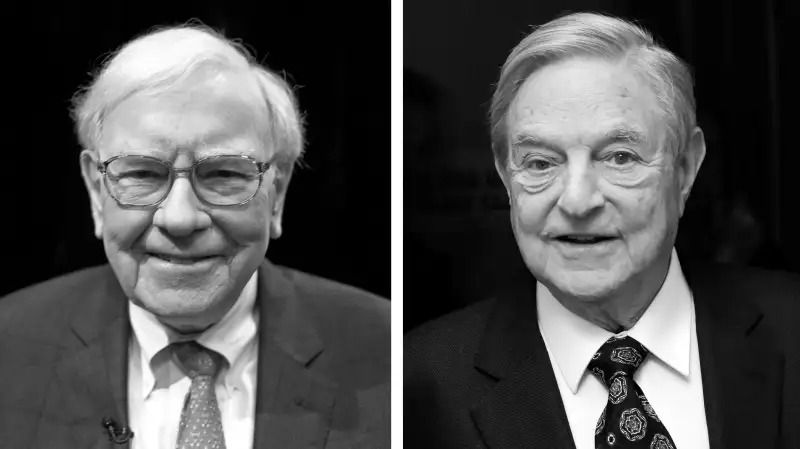 Mark Peterson/Redux (Buffett)—Luke MacGregor/Reuters (Soros)
Both billionaire investor Warren Buffett and billionaire hedge fund manager George Soros have had somewhat troubled relationships with tech stocks over the years.
Buffett famously punted on tech throughout the 1990s, declaring that "we have no insights into which participants in the tech field possess a truly durable competitive advantage." So his investment company Berkshire Hathaway severely lagged the S&P 500 in the late 1990s -- but at least it missed the tech wreck in the early 2000s. For Soros, the opposite was the case: His fund stayed at the Internet party too long in 2000.
Recently, though, both octogenarians have been dabbling in this sector — but in decidedly different ways.
SEC filings released on Thursday indicate that while Buffett is looking to the past for time-tested but overlooked plays on this sector, Soros seems only to be interested in future trends.
Buffett and 'Old Tech'
Buffett is taking the old school approach. Quite literally. His tech sector holdings — indeed, his entire portfolio — looks as if it was straight out of the early or mid 1990s.
For instance, one of his biggest tech holdings, which recent SEC filings indicate he's been adding to, is the century-old IBM .
This technology service provider — which has run into difficulties in the crowded cloud computing space lately — has seen its revenue growth decline for several quarters while its stock has been under fire.
No doubt, Buffett clearly sees IBM as a value, as the stock trades at a price/earnings ratio of around 9, which is about half what the broad market currently trades at. In his most recent letter to Berkshire shareholders, Buffett described IBM as one of his "Big Four" holdings, along with American Express, Coca-Cola, and Wells Fargo.
Beyond IBM, Buffett prefers lower-priced but slower growing internet backbone companies to fast-growing but pricey content providers. This is part of a tech investing trend that Money contributing writer Carla Fried recently addressed.
Other stocks he recently purchased or positions that he has been adding to include the Internet infrastructure company Verisign and internet service providers Verizon and Charter Communications .
Soros' 'New Tech" Bets
By contrast, Soros seems to be trying to ride current and future trends — albeit with highly profitable names.
In the second quarter, Soros added to his stake in the social media giant Facebook . Last month, Facebook shares hit a record high after the company reported robust profits. Plus, Facebook has proven to Wall Street that it can conquer the mobile advertising market, as nearly two-thirds of its revenues now come from mobile ads.
Facebook isn't the only mobile bet Soros is making. He has also been recently adding to his stake in Apple , which along with Google dominates the mobile computing space. New data from IDC showed that Apple's iOS operating system held about a 12% market share among phones shipped in the second quarter — even though demand for iPhones has fallen as consumers await the arrival of the new iPhone 6, which will be introduced in September.
For the moment, Soros' bets on these new tech names seem to be in the lead.
But over the long-term, would you bet on Team Soros or Team Buffett?