How to Watch the 2018 World Cup Argentina vs. Iceland Match Today Online for Free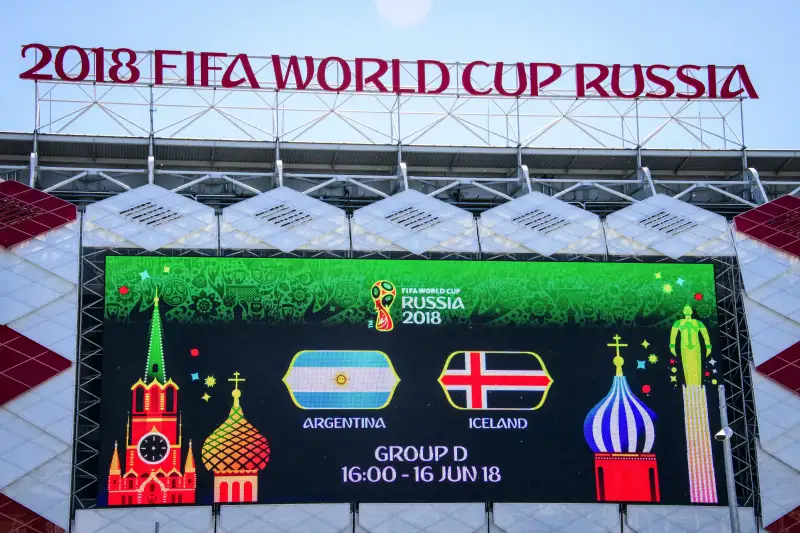 MLADEN ANTONOV—AFP/Getty Images
On Day 3 of the FIFA World Cup 2018 in Russia, Iceland and Argentina play in an eagerly awaited matchup pitting the smallest country ever at the World Cup against a team led by Lionel Messi, one of the wealthiest and best players in soccer history.
When is Iceland playing in the World Cup? The World Cup 2018 schedule for Saturday, June 16, calls for the Iceland vs. Argentina game to start at 9 a.m. ET.
Iceland, a country with a population of just 350,000, is not only the smallest country to ever qualify for the World Cup, it is also playing in its first-ever World Cup tournament. To understate things, Iceland is the underdog on Saturday. They are playing against Argentina, a team that made it to the finals of the last World Cup. Argentina's best player in those finals is still their best player today: Lionel Messi, who remains at the top of his game and will probably go down as one of the best competitors in history.
If you're trying to find out how to watch the 2018 FIFA World Cup on TV or live stream Argentina vs. Iceland and other games online for free, check out our comprehensive how to watch the World Cup 2018 guide. Or just scroll down for the details on how to watch Iceland and Argentina today for free.
What Channel Is the World Cup 2018 Iceland and Argentina Game On?
Argentina vs. Iceland is being broadcast in English on Fox, and in Spanish on Telemundo. If you have a standard satellite or cable TV package, your bundle probably includes these channels. Simply find Telemundo or your local Fox station to watch the Argentina vs. Iceland game.
If you don't have a pay TV package, you should still be able to watch Argentina and Iceland in the 2018 World Cup for free today with a digital antenna. A basic digital antenna costs around $30. In most of the U.S., hooking up your TV to a digital antenna will let you tune in over-the-air broadcast networks like Fox, ABC, and, yes, Telemundo totally for free.
FIFA World Cup 2018 Schedule for Saturday, June 16
What's the 2018 World Cup Schedule today?
• France vs. Australia, 6 a.m. ET, on FS1 and Telemundo
• Argentina vs. Iceland, 9 a.m. ET, on Fox and Telemundo
• Peru vs. Denmark, 12 p.m. ET, on FS1 and Telemundo
• Croatia vs. Nigeria, 3 p.m. ET, on FS1 and Telemundo
As you can see, Argentina vs. Iceland is the only World Cup game today being broadcast by Fox. But there are many other ways to watch the 2018 World Cup for free, online or on TV.
How to Live Stream the World Cup Argentina vs. Iceland Game for Free
Three out of the four World Cup games today are being broadcast on FS1. It's a pay channel owned by Fox, and it's normally only available on TV to people with cable or satellite TV packages.
In our previous how to watch the World Cup story, however, we covered all the basics for how to live stream World Cup 2018 games, including ways to stream FS1 without paying a dime. Here are the details: