How to Watch Mexico vs. Brazil in the 2018 World Cup Today Online for Free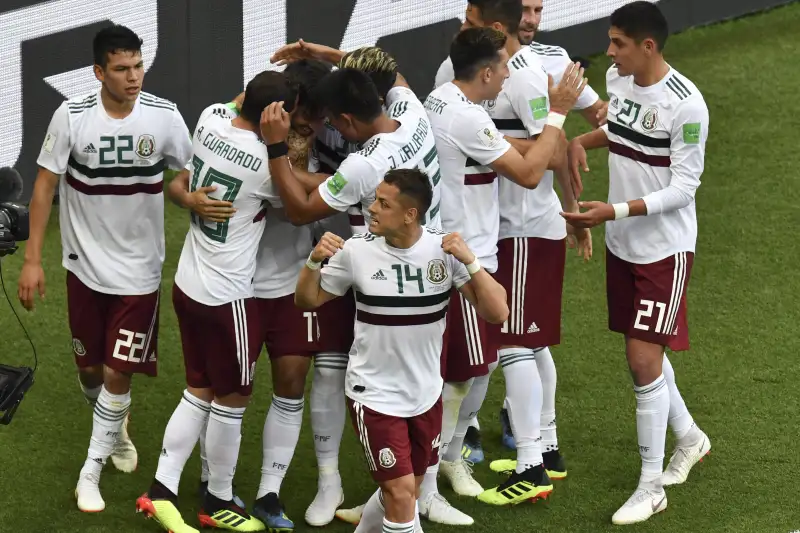 PASCAL GUYOT—AFP/Getty Images
Mexico shocked Germany by defeating the reigning World Cup champions 1-0 in a World Cup 2018 opening round game. But Mexico still needed some help from South Korea, which also beat Germany, to make it to the World Cup 2018 round of 16.
Now Mexico has to face another soccer powerhouse.
Mexico and Brazil are set to play in one of two World Cup games today, July 2 — with the other match being Belgium vs. Japan.
Here are all the details you need to watch the World Cup 2018 on TV, or to live stream Mexico vs. Brazil and other games online — and yes, there are ways to watch or stream the World Cup for free.
What Channel Is the 2018 World Cup Brazil vs. Mexico Game On?
Mexico vs. Brazil is being broadcast in English on Fox, and in Spanish on Telemundo. (In fact, both of the World Cup games today are being broadcast on Fox and Telemundo.) Here's the broadcast schedule for the World Cup 2018 games today and tomorrow.
World Cup Games Monday, July 2
• Brazil vs. Mexico, 10 a.m. ET, on Fox and Telemundo
• Belgium vs. Japan, 2 p.m. ET, on Fox and Telemundo
World Cup Games Tuesday, July 3
• Sweden vs. Switzerland, 10 a.m. ET, on FS1 and Telemundo
• Colombia vs. England, 2 p.m. ET, on Fox and Telemundo
As you can see, most World Cup games on airing on Fox and Telemundo. If you have a basic satellite or cable package, you should have both of these networks — as well as the Fox pay channel FS1 — and all you need to do is find the appropriate channel to tune in.
Even if you don't have cable, it's easy to watch World Cup games for free if they're airing on Fox or Telemundo. All you need is to hook your TV up to a digital antenna, which can cost under $30 and in most of the country provides free, over-the-air broadcasts of networks like ABC, Fox, and Telemundo.
How to Live Stream Mexico vs. Brazil in the 2018 World Cup Online for Free
There are also many ways to live stream World Cup games, including some strategies that allow you to watch online for free. We covered all the details in a previous guide to live streaming the World Cup 2018.
Here are the key points: