How to Watch the 2019 NBA Finals Online for Free: Warriors vs. Raptors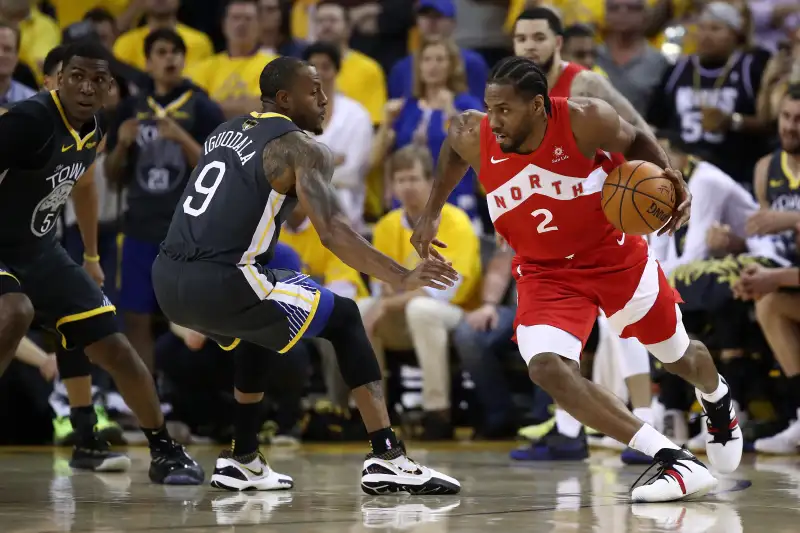 It's the Golden State Warriors vs. Toronto Raptors in the 2019 NBA Finals, with game six of the series scheduled for tipoff on Thursday, June 13.
Few are surprised that the Warriors are playing for the 2019 title: Stephen Curry, Draymond Green, Klay Thompson, and Co. have made it to the NBA Finals every year since 2015 and won three out of the four series they've played for the championship. With a 2019 NBA title win, the Golden State Warriors would be champs three years in a row, and four times in the last five years.
It's quite a different story for the Toronto Raptors. The franchise, which has been around only since 1995, is playing in its first NBA Finals series ever this year, thanks to recent additions to the team including All-Stars Kawhi Leonard and Marc Gasol.
As for the 2019 NBA Finals betting odds, the Warriors were named as favorites to win the championship over the Raptors, even though Golden State had to cope with the injury of NBA Finals MVP Kevin Durant — who played briefly in game five, before suffering another injury.
The first two 2019 NBA Finals games were played in Toronto, and the Raptors came through with a 118-109 game one victory over the Warriors. In game two, however, the Warriors bounced back with a 109-104 win that included a record-setting 20-0 run to start the third quarter and a game-clinching three-pointer by Andre Iguodala to finish off the victory.
The Raptors then won both games played on the Warriors home court in Oakland, California, before the Warriors managed to pull off a 106-105 victory in Toronto on Monday, to keep the series alive. The Raptors now lead the series 3-2 and are just one win away from winning the 2019 NBA Finals championship.
Here's everything you need to know for how to watch the Warriors vs. Raptors 2019 NBA Finals — online or on TV, for free.
What Channel Are the NBA Finals on?
All of the 2019 NBA Finals games are being broadcast on TV by ABC, with game 6 set to start at 9 p.m. ET on Thursday, June 13. To watch the NBA Finals on TV, all you have to do is find your local ABC station and tune in.
If you have cable TV, satellite TV, or another pay TV package, it probably includes ABC and other broadcast networks in the package. But you don't need cable to watch the 2019 NBA Finals. All you need in most of the country is a digital antenna, which can be hooked up to a TV to tune in nearby affiliates of free over-the-air networks such as ABC (as well as CBS, NBC, and Fox).
A decent HDTV antenna costs $25 and up, and it's a great investment if you own a TV and don't want to pay for a cable subscription.
What's the 2019 NBA Finals Game Schedule?
The NBA Finals are a best-of-seven series, with the championship awarded as soon as the Golden State Warriors or Toronto Raptors win four games. Games one and two are being played in Toronto at Scotiabank Arena, while games three and four are hosted by Golden State at Oracle Arena in Oakland, California. Game five was back in Toronto, and it is being followed by game six in Oakland, and (if necessary) the deciding final game seven in Toronto.
Here's the full 2019 NBA Finals game schedule, though game 7 will only take place if the championship series hasn't already been won.
• Game 1, Thur., May 30: Warriors vs. Raptors, 9 p.m. ET on ABC
• Game 2, Sun., June 2: Warriors vs. Raptors, 8 p.m. ET on ABC
• Game 3, Wed., June 5: Raptors vs. Warriors, 9 p.m. ET on ABC
• Game 4, Fri., June 7: Raptors vs. Warriors, 9 p.m. ET on ABC
• Game 5, Mon., June 10: Warriors vs. Raptors, 9 p.m. ET on ABC
• Game 6, Thur., June 13: Raptors vs. Warriors, 9 p.m. ET on ABC
• Game 7, Sun., June 16: Warriors vs. Raptors, 8 p.m. ET on ABC
How to Live Stream the 2019 NBA Finals
The easiest way to watch the NBA Finals for free is with a digital antenna hooked up to a TV, as explained above. But what if you don't have a TV? Or if you'd rather watch the 2019 NBA Finals online for whatever reason?
It is possible to live stream the 2019 NBA Finals, and yes, there are some strategies to watch NBA Finals games online for free.
First off, there's the ABC app. ABC is live streaming the 2019 NBA Finals on its app, though that the app is not available in all parts of the country. Also, to use the ABC live stream, you must sign in with a participating pay TV account. In other words, you must have the log-in info for a cable subscription or similar account.
As an alternative to watching the 2019 NBA Finals online, check out live streaming TV services such as DirecTV Now, Hulu Live, PlayStation Vue, Sling TV, and YouTube TV. These services are like cable in that they bundle together dozens of channels into a package with one monthly fee, and they include ABC and other local channels in many parts of the country.
All of these live streaming TV services come with free trials lasting five to seven days for new subscribers. So you could register for a new subscription in order to live stream the 2019 NBA Finals for free, and you wouldn't have to pay while the free trial was still in effect.
You'll be charged for the first month if you did not cancel before the free trial expires. So remember to cancel if you don't want to become a paying subscriber. The monthly fees for these live-streaming services' basic packages range from $15 per month (a special intro rate from Sling TV) up to $45 or $50 per month for the others.
How to Listen to the 2019 NBA Finals on the Radio or Online
Yet another way to keep up with the 2019 NBA Finals is by listening to audio broadcasts of games — on the radio or online. ESPN Radio is broadcasting the game on local ESPN stations around the country. You can find your local station on the radio or listen online to NBA Finals broadcasts via ESPN Audio.
There are also play-by-play audio broadcasts of the 2019 NBA Finals games on a variety of other AM and FM channels in certain parts of the country. For example, roughly a dozen radio stations broadcast Golden State Warriors games from their home bases in California and Western states. Basketball fans in the San Francisco Bay area can also listen to all Warriors game broadcasts via the Warriors mobile app.