What to Do if You're Afraid to Wear a Hijab to Work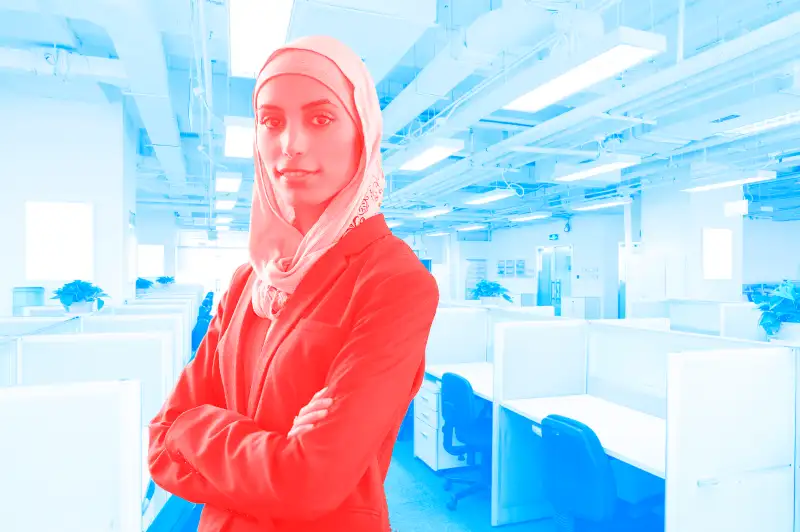 Photo illustration by Sarina Finkelstein
As the Donald Trump presidency begins to take shape, American Muslims are left wondering what the next four years have in store for their community.
During his campaign, President-elect Trump supported, among other racially and religiously charged proposals, a ban on Muslim immigrants and a database for tracking those within the country. On Monday, the FBI reported that hate crimes targeting Muslims rose 67% in 2015 -- an increase civil rights groups attribute to the anti-Muslim rhetoric that came out of Trump's campaign.
As a result, people have taken to Twitter to share worries about women wearing hijabs in public, generally, and in the workplace in particular. One Muslim woman tweeted that her "Trump loving" boss asked her to remove her hijab, and another wrote that they've stopped wearing it altogether.
If you or your friends or co-workers wear a headscarf, here's what you should know about wearing a hijab in the workplace.
Know the Workplace Rules
Religious garb is covered under Title VII of the Civil Rights Act of 1964. Businesses with at least 15 employees are required to provide "reasonable accommodations" for those who wear religious garb, unless it causes the employer "undue hardship" (by, for example, compromising the safety of a factory worker).
Some states, like Colorado, New York and Minnesota, also provide religious protections for employees who work for companies with less than 15 employees.
To be protected by the law, Muslim women who wear a headscarf need only tell their employer the article is worn for religious reasons, says Daniel Mach, director of the American Civil Liberties Union's Program on Freedom of Religion & Belief.
These protections also extend to job applicants, by the way: In June 2015, the Supreme Court ruled in favor of a Muslim woman who sued Abercrombie & Fitch for denying her application because her headscarf violated the company's "look policy" of "classic East Coast collegiate style." The decision, which even notoriously conservative late justice Antonin Scalia called "really easy," sent "a powerful reminder that discrimination in the workplace is unacceptable," Mach says.
Additionally, many companies have policies in their employee handbooks spelling out workplace protections.
Know How to Protect Yourself
But what should you do if an employer or colleague doesn't embrace your religious rights?
In part, you need to gauge the seriousness of any comments or attacks, says Leigh Steere, cofounder of the consulting firm Managing People Better. "Sometimes, it's just a matter of people not thinking before they speak, and not realizing the impact of their words," she says. In that case, you've got a teachable moment, she adds: "Tell them that what they said was highly offensive, and that will probably be the last you'll hear of it."
Even so, document what was said, as well as the time and date of the incident, so you can refer back to it if needed. If the behavior doesn't stop, go directly to your HR department, Steere says. And if they neglect to resolve the issue, seek legal counsel.
If you work at a company that is subject to the federal or a state civil rights act, and a manager asks you to remove your headscarf -- even after you've explained that you wear it for religious reasons -- you can contact an attorney for help.
If you're worried about the cost, do a Google search on "pro bono religious discrimination" to find lawyers in your area; the ACLU also has lawyers on call in most cities. Even an expensive lawyer may be willing to have a quick, off-the-clock chat, and can help suggest resources and next steps, Steere says.
Know How to Be an Ally
What if it's your colleague whose religious rights are at stake? It's worth knowing how to support them effectively if you witness a boss or co-worker hassling someone about her headscarf.
"Many people are unsettled, and are unsure of where they stand -- both in the workplace and in society," Steere says. "It's up to you to say, 'I support you, I do not condone this kind of rhetoric in the workplace, and if you ever feel disrespected, come talk to me.'"
De-escalating a heated conversation can sometimes be as easy as referring to an existing company handbook or workplace policy, says Remi Alli, CEO of conflict management platform Brāv -- so if you're worried about a potential conflict, it's worth digging through your files or intranet to refresh your memory on the existing rules.
You can also encourage a colleague to focus on the work at hand. If you hear someone telling a coworker to take off her scarf, Alli says, you can say something like, "She's here to work. How does what your suggesting affect that?"