This 21-Year-Old Quit College to Rate Dogs on the Internet. He's Now Making Six Figures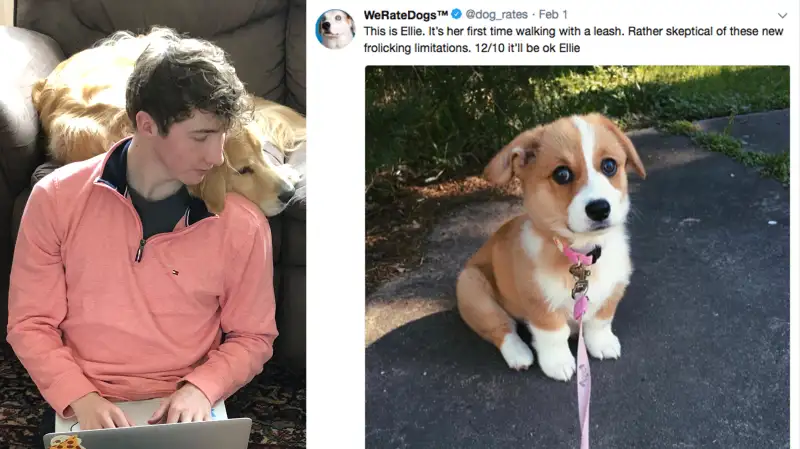 (left) courtesy of Matt Nelson; (right) courtesy of @dog_rates
Matt Nelson was standing on a street in Barcelona one day in late February, admiring a picture he'd just taken of graffiti, when a pickpocket on a bicycle swiped his phone.
Nelson panicked, but not about the stranger possibly hacking into his bank account or leaking his personal contacts.
"My first and most prominent worry was what if he tweets a penis from dog rates," he'd later write on Twitter.
The thief held what many would consider modern-day digital gold in his palm: the keys to Nelson's WeRateDogs, the feel-good Twitter account at @dog_rates that shares and jokingly scores dog pictures twice daily. With more than 6.3 million followers that include the likes of J.K. Rowling, Cole Sprouse and Lin-Manuel Miranda, Nelson's livelihood was tied completely to that iPhone X. And for the recent college dropout doing everything he can to extend his viral success into a lifelong career, the trip had just become infinitely more stressful.
"My mom was like, 'Oh, now you can relax and enjoy your vacation,'" he says. "And I'm like, 'No, absolutely not.'"
The Origin Tail
Nelson catapulted into social media stardom from the unlikeliest of locations: an Applebee's in North Carolina.
On November 15, 2015, he and a few of his Campbell University friends were there after a golf tournament when he brought up the idea of @dog_rates. A longtime fan of Weird Twitter, Nelson had been privately workshopping the pitch for weeks. He would look at photos of dogs and, using humor and a 10-point scale, rate them on Twitter.
"I saw other people doing extraordinary things in 140 characters — making me laugh and making me feel things in that limited character space. I got addicted to that challenge as well," the 21-year-old Nelson says. "I realized dogs were a very hot topic on the internet. If I wanted my writing to reach more people, I wanted to utilize dogs."
Nelson created the @dog_rates Twitter account at that Applebee's table and issued his first-ever rating — an 8/10, handed down to the pet of the golf bro sitting across from him.
By the next morning, the account had 3,000 followers. Nelson's direct messages were soon overflowing with people begging him to rate their dogs.
When Things Got Ruff
The problem with becoming an overnight sensation is that it takes a lot of effort to not fade out into irrelevancy in a nanosecond. Nelson devoted his entire life to the account until, he says, "it kind of just all collapsed."
Still at Campbell in spring 2016, Nelson was sleep-deprived and burnt out. He was posting up to 18 times a day while juggling classes on the complexity of golf course management. He was wielding a crazy amount of influence online, but broke IRL. At house parties, his friends would take his phone to prevent him from checking Twitter.
"I was spending full-time work hours or more monitoring everything about the account," he says. "Monetizing it became a necessity if I was going to continue doing it at that level."
Something had to give and finally did when Nelson contacted John Ricci, a social media marketer in Pennsylvania. The two had been in touch for months about monetizing the account, and Nelson wanted advice about selling @dog_rates. Nelson didn't care about profit; he just wanted to get it over with.
But Ricci said no — the account was too valuable to just dump for some quick cash. His solution: Instead of selling the profile, what if he just helped decrease the workload?
Nelson agreed to let Ricci start sorting through submissions for him, and in doing so he unwittingly learned his first business lesson. "That told me that I need to be a good delegator if I'm not going to go crazy," he says of letting someone else help curate quality dog content.
Another thing he needed to do for the sake of sanity? Leave college.
Last year, Nelson dropped out of Campbell to devote himself full time to @dog_rates. The choice took "way longer than it should have to make," he says, but it's been a good one so far. Nelson to retook control of his schedule, significantly reduced his expenses, and learned digital marketing on the fly.
The Daily Walk
WeRateDogs LLC isn't located in a sleek skyscraper in a booming metropolis — its headquarters is Nelson's parents' home in West Virginia. The house sits on a tree-lined road outside of downtown Charleston, a city described as "the heart of coal country," near an area where pioneer Daniel Boone once lived.
There, WeRateDogs' operations are relatively simple. Nelson estimates he runs 95 percent of things from his iPhone (which, yes, he confirms, does require a massive data plan to handle all the dog photos). He has two remote employees: Ricci, who culls submissions down to about 20 each day, and Tyler Macke, who manages the WeRateDogs online store. His dad, an executive director of a law firm, advises him on finances.
Nelson says he brings in "a low five figures" every month. At minimum, that puts him over $100,000 a year.
For a young CEO pulling in those profits, Nelson is remarkably humble. When he talks, he's well-spoken and unhurried. He peppers conversations with sarcastic and occasionally self-deprecating comments. He jokes that he never does anything cool enough to Instagram; he also can't figure out how to brush his curly hair in a way that makes him looks older than 16. He refers to himself as the Dogfather — and all kidding aside, he may be the dog king of the Internet, with roughly 8 million total followers across seven profiles on three platforms. (That said, it's clear Twitter is his favorite.)
Nelson readily acknowledges that he's surprised by his success, but he doesn't gloss over the fact that he's worked hard to break himself apart from the crowd of animal-themed content creators. He's borderline obsessed with analytics and audience satisfaction, even taming his jokes so they appeal to everyone.
For @dog_rates, Nelson usually tweets twice on weekdays, at noon and 8 p.m. He's never scheduled a tweet, and he's the only one who has ever posted (except Blake Shelton, who took over the account for a day last September).
It usually takes about 20 minutes to perfect a caption. Once a tweet goes up, Nelson says he's "glued to it" like a TV network executive in a control room, watching the number of favorites and retweets climb into the thousands.
But Nelson's empire is built on more than that. His brand of humor has become world-wide-web famous. For example, his dog ratings almost always exceed 10/10 — because, as he once fired back at a critic upset at inflated scores, all dogs are "good dogs." The @dog_rates community enjoys a host of inside jokes, like the one in which Nelson frequently faux-reprimands followers for sending in animals that aren't dogs. He even played a role in developing the language DoggoLingo, popularizing puns like "pupset" and censoring "heck" to "h*ck." Because dogs just don't curse.
"My initial goal was just to make people happy," he says. "Now I'm good at writing like a dog and embodying that behavior, because I've been surrounded by dog internet culture for two years."
Learning the Tricks
Twitter may take up most of Nelson's time, but it's not WeRateDogs' moneymaker. Neither is Nelson's recently published book, #WeRateDogs: The Most Hilarious and Adorable Pups You've Ever Seen, or mobile game, Good Dogs! He makes most of his revenue from the WeRateDogs online store.
At weratedogs.com, bestsellers include hats embroidered with phrases like "dog mom AF" for $26 and sweatshirts screen printed with "i miss my dog." for $35. There are also T-shirts, pillows, stickers, mugs and beanies.
Nelson and his team are preparing to launch a bigger, better shop, one where they can sell actual pet supplies like collars and leashes ("just think about '12/10' on a dog bowl," he says excitedly). But other than that, he's declining most of the sponsorship opportunities filling his inbox.
"That's a revenue stream that we'll probably continue to tap into, but we're very selective," he says. "That's not why people follow us."
Despite this stance, Nelson's audience has been supportive the few times he's agreed to use the account for a brand deal. This past Valentine's Day, for example, Nelson partnered with Disney to rate Lady and the Tramp's spaghetti date. Several users noted that the post was an #ad, but they were fine with it.
"I didn't want to just throw a terrible product in front of people," he says. "I wanted to remain very on brand and have actual content we were delivering still be what they're looking for and what they like."
Maintaining that balance will likely be key to keeping WeRateDogs well-liked and profitable, says Mikolaj Jan Piskorski, author of the book A Social Strategy: How We Profit from Social Media.
"Community management is a huge component of success with these guys," Piskorski says. "The really good online influencers very explicitly explain to their audiences what they are willing and not willing to do for money."
Nelson says he's saving nearly everything he's earning from WeRateDogs. He's exploring creative writing formats on WeRateDogs' spinoff, @dog_feelings, and his biggest personal goal at the moment is to make people realize his comedy skills aren't limited to writing in dog voice.
He doesn't think he'll return to school anytime soon; he believes it would be much more beneficial continuing to be the Dogfather, working from home and hanging out with his biggest inspiration, his golden retriever Zoey.
"Nobody's going to stop liking dogs anytime soon, so there's some job security there," he says.