Here's What You Need to Know About Flood Insurance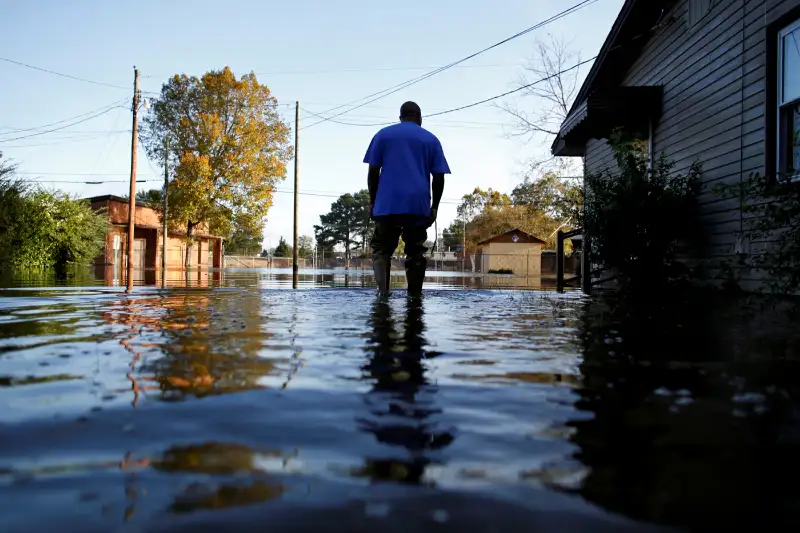 The devastating floods Hurricane Matthew delivered North Carolina may have a lot of Americans, especially those in low-lying or hurricane-prone areas, nervously looking over their homeowners insurance policy and wondering how to protect themselves financially from rising waters.
"Everybody should consider their flood risk because water damage is the most common type of insurance claim in the United States," said Robert Hartwig, clinical associate professor of finance at the University of South Carolina and special consultant to the Insurance Information Institute. "90% of all natural disasters involve some type of flooding," he said, and FEMA stats show that the average amount of damage is $43,000.
If you're looking into flood insurance for the first time, there are some things you need to know. Flood insurance is a distinct policy from your homeowner's (or renter's) insurance, with different rules, exclusions and costs.
"The big picture is that your homeowner's policy does not cover flood damage," Hartwig said.
Read Next: My Family Evacuated During Hurricane Matthew and Here's What It Cost
Your homeowner's insurance will cover water damage if it's caused by a "covered event," to use industry jargon. In other words, if hurricane-force winds shatter a window or cause a tree to come crashing through your roof, the resulting water damage would likely be covered.
Under an ordinary homeowners policy, "Tides are not covered. Any source of water that comes from the ground as opposed to the sky would be considered flooding," said Laura Adams, senior insurance analyst at InsuranceQuotes.com. This includes waves and storm surges, the source of many floods in low-lying and coastal areas.
Also excluded in many policies is "wind-driven" rain, unless that rain is coming into your house via related damage as described above.
People who live in areas designated by the National Flood Insurance Program as hundred-year flood zones, meaning the chance for a damaging flood in any given year is 1%, are required to have flood insurance if they have a federally backed mortgage (which is pretty much everyone with a mortgage).
"Outside of NFIP flood zones that are high-risk flood areas, [flood] insurance is not federally required, but it's recommended if you live in one of the moderate to low-risk areas as defined by FEMA," Trulia.com managing editor David Weidner advised.
Homeowners required to have flood insurance as well as those who live in lower- or moderate-risk communities that have elected to participate in the program are eligible to get flood insurance through the NFIP. (You can see if your community is a participant here on FEMA's website)
NFIP flood insurance isn't cheap — the organization's website says the average annual policy premium is about $700, and insurance experts say people who live in areas with the greatest risk of flooding can pay as much as several thousand dollars a year, but even those high prices are subsidized through the program.
Read Next: How to Help Victims of Hurricane Matthew
If you decide to buy flood insurance, you have a 30-day waiting period before the policy goes into effect, so don't count on being able to buy insurance a week or two out from predictions of a big storm headed your way.
But people considering flood insurance should also keep in mind that there are a number of things, including some pretty big expenses, that a policy will not cover.
For starters, the maximum you can insure is up to $250,000 for the structure of your home itself, and an additional $100,000 for its contents. Generally, built-in appliances like a stove, refrigerator and dishwasher fall under the main home category, but washers and dryers, as well as smaller appliances, will fall under the contents category, Adams said.
Within the contents coverage, even if you go for the maximum coverage available, you can expect caps on categories of items like art, jewelry, furs and electronics. If you're a cash-under-the-mattress type of person, be aware that currency is excluded from coverage, along with precious metals and stock certificates — a safe deposit box might be a better place to stash those valuables.
The scope of a flood insurance policy is limited pretty much to the footprint of your home's foundation and a detached garage (with limits). That means anything on your property outside that boundary, including decks, patios, swimming pools, hot tubs and even wells and septic systems, isn't covered.
The other big asterisk pertains to basements or what policies refer to as "below-grade" living space. This includes basements, but it also can include "walk-out" basements or other living area that might be partially below ground if, say, your property is built on a hill. When it comes to these spaces, Hartwig said you can insure the structure itself — for instance, you would be covered if the foundation cracks or the furnace fills up with water — but contents are excluded, so think twice about building out a top-of-the-line home gym, game or media room if you live in a flood-prone area.