Where to Get Free Pretzels on National Pretzel Day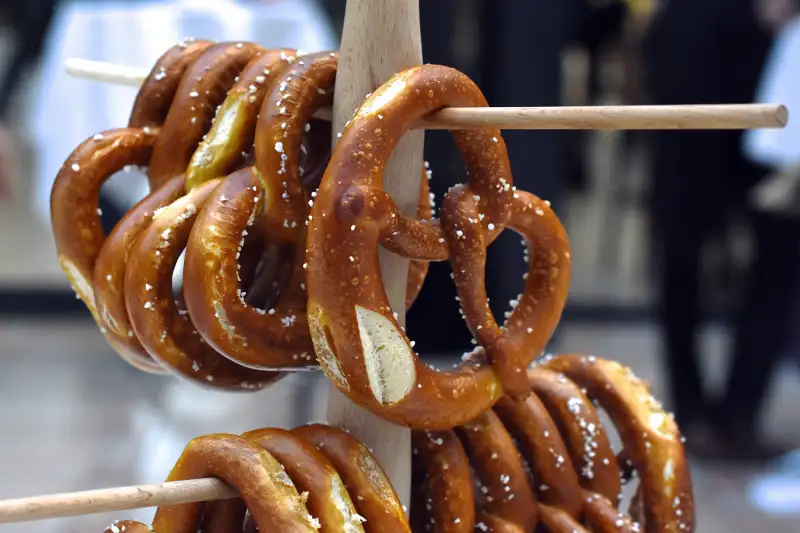 Katrin Sauerwein—Getty Images
Tuesday, April 26, is being celebrated as National Pretzel Day, the latest in a long line of marketing holidays featuring food giveaways. Here's where to snag a free pretzel or, in one instance, a free cold beverage:
Auntie Anne's Pretzels: Download the Auntie Anne's rewards app by midnight on Monday, April 25, and you'll get a reward redeemable for one free original or cinnamon sugar pretzel, valid from April 26 through May 1.
Ben's Soft Pretzels: Donate at least $1 to the Intrepid Fallen Heroes Fund inside a participating Ben's location and you'll get a free pretzel on April 26.
Carl's Jr.: Use the linked coupon and get a free Auntie Anne's breakfast sandwich when you purchase another sandwich at regular price. Valid Aprile 26 only.
Cumberland Farms: Purchase any hot pretzel at this convenience store chain on April 26, and you'll get a free fountain or frozen Chill Zone beverage. The offer is valid from noon to 6 p.m. at participating Cumberland Farms in Florida and the Northeast.
Philly Pretzel Factory: This chain, based primarily in the Northeast, is giving away one free pretzel to each visitor on April 26, though not at transportation and venue locations such as airports, train stations, zoos, and stadiums. In addition, the first 100 people in line at each participating store will receive a card to redeem for one pretzel every day during the month of May.
Pretzelmaker: Any customer who spreads a message of kindness on social media and uses the hashtag #warmthoughts gets a free pretzel on April 26. Just show the message on your device in the store when placing an order.
Read Next: 5 Signs McDonald's Is Totally Bailing on Health-Conscious Dining
Wetzel's Pretzels: Head into any of the roughly 300 Wetzel's Pretzels locations around the country on April 26 and ask for a free pretzel, no purchase or other action required.
Correction: An earlier version of this story misstated the locations participating the Philly Pretzel Factory promotion.