White Pantsuits Are the Latest Political Fashion Statement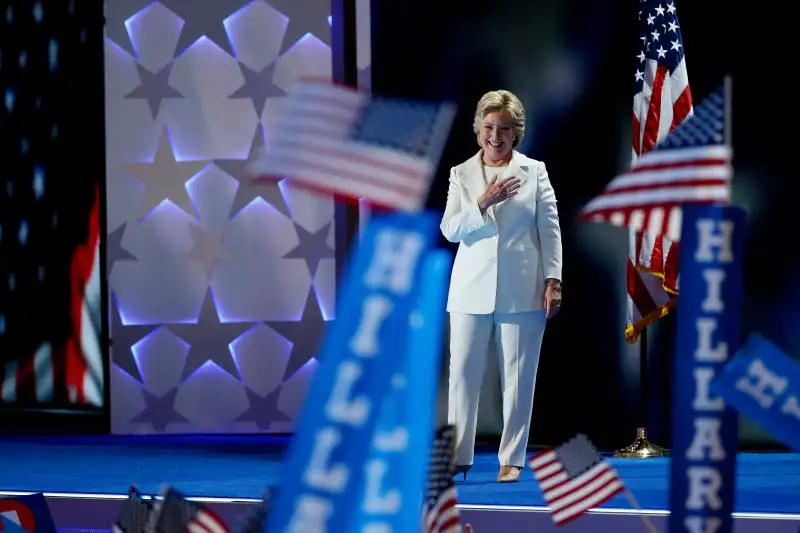 Aaron P. Bernstein—Getty Images
"Nasty Woman" tees and "Make America Great Again" caps aren't the only political apparel making waves this election season.
When she took the stage to accept her party's nomination for president at the Democratic National Convention, Hillary Clinton wore a white pantsuit, a nod to suffragists and her own history as something of a pantsuit icon. Now, supporters across the country are vowing to don white pantsuits when they vote for a woman as the first presidential nominee of a major political party.
For that matter, the popularity of white pantsuits is rising in general thanks to Hillary-mania. Lyst, an e-commerce platform, tells the New York Times that "white pantsuits" have become the most-searched color of pantsuit, with a 7% lead over "black pantsuit," previously the most popular color.
"The pantsuit has had a massive resurgence in interest with a 460% uplift since January 2016," Katherine Ormerod, Lyst's editorial director, told the Times. "The interest in white pantsuits in particular has certainly confounded expectations — especially as we usually see a seasonal dip for white color ways across every category."
Facebook groups like Pantsuit Nation and hashtags like #WearWhitetoVote are filled with supporters promising to wear a pantsuit, white, or a combination of the two.
Read Next: 14 Memorable Money Moments in American Political Fashion
Meanwhile, the Wall Street Journal reports that supporters of Republican candidate Donald Trump are encouraging each other to wear red.