Why Russia Is Destroying Its Own Economy
Money is not a client of any investment adviser featured on this page. The information provided on this page is for educational purposes only and is not intended as investment advice. Money does not offer advisory services.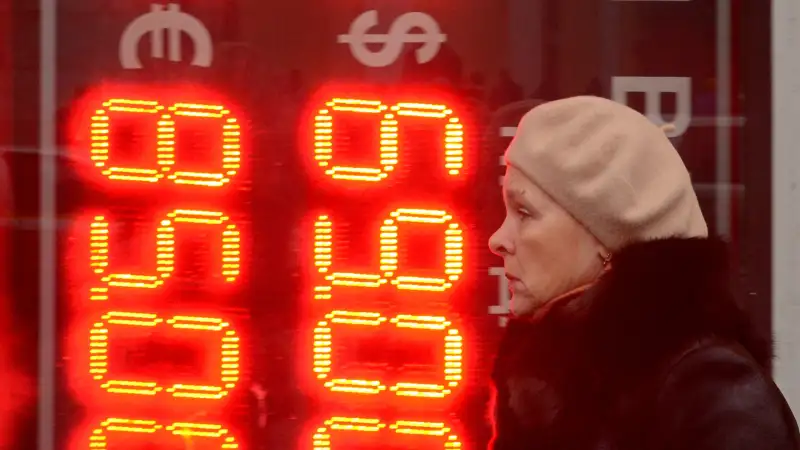 Kirill Kudryavtsev—AFP/Getty Images
Things aren't exactly going well in Vladimir Putin's Russia. Oil prices have fallen to $59 a barrel and the nation's economy is on pace to contract between 4.5% and 4.7%—more than twice the contraction caused by our own Great Recession—if that price remains at $60 or below. Meanwhile, Russia is straining against American and European sanctions that are putting even more pressure on the country's finances.
When the United States was facing recession, our Federal Reserve lowered interest rates to near-zero levels—and has kept them there. That stimulated the economy by making spending and investing more attractive (credit was cheap) and turning saving into a losing proposition (on top of low interest payments, money in the bank could potentially be eaten away by inflation).
But Russia has apparently adopted the opposite strategy. Instead of lowering rates to spur investment, the nation's central bank has raised its key rate to a whopping 17%. That means simply leaving rubles in the bank will lead to extraordinarily high risk-free returns. Unless businesses can find an investment opportunity that will make them even higher returns, a very tall order, there's no point in withdrawing any money. Why spend on a new store or factory when you'll make more just letting your cash sit in a vault?
Read more Gorbachev Blames the U.S. for Provoking a 'New Cold War'
It's very likely, in other words, that Russia's higher interest rates will slow its already slowing economy. Rosnef, a state-owned oil company, has already accused the central bank of "pushing Russia towards recession."
But if that's true, then why is Russia pursuing such a policy? The reason is that Russia has an arguably even more urgent problem than its slowing economy. Russia's currency, the ruble, has been in free-fall as oil prices have dropped, and is now down 47% against the dollar since the beginning of the year. This is a big problem for Russian companies that need to pay their debt in dollars, and whose rubles are now worth nothing on international markets. Worse, Western economic sanctions have prevented businesses from accessing reserves of foreign currencies overseas. Without drastic action, Russia could find its economy permanently crippled by an all-but-worthless currency.
Since people selling their rubles for dollars is what's pushing the currency down, the central bank has raised interest rates to make holding on to rubles more attractive. That's meant to keep the currency's value up, even at the expense of short-term economic growth.
The plan doesn't appear to be working, however. Even after a massive jump in interest rates, the ruble has continued to crater. Economists are now suggesting Russia may be forced to impose capital controls—policies that would make trading rubles for dollars more difficult or expensive, or require exporters to convert dollars to rubles—to prevent a further sell-off.
Ultimately, anything short of an increase in oil prices is unlikely to do much good. Oil and gas revenues make up roughly half of Russia's budget, and without that money, the country is in for rough times. "The central bank was too late with its move," one expert told Bloomberg. "Without oil and the economy stabilizing, the ruble won't rise."