Why Tiffany Haddish Keeps Wearing the Same $4,000 White Dress — Even at the Oscars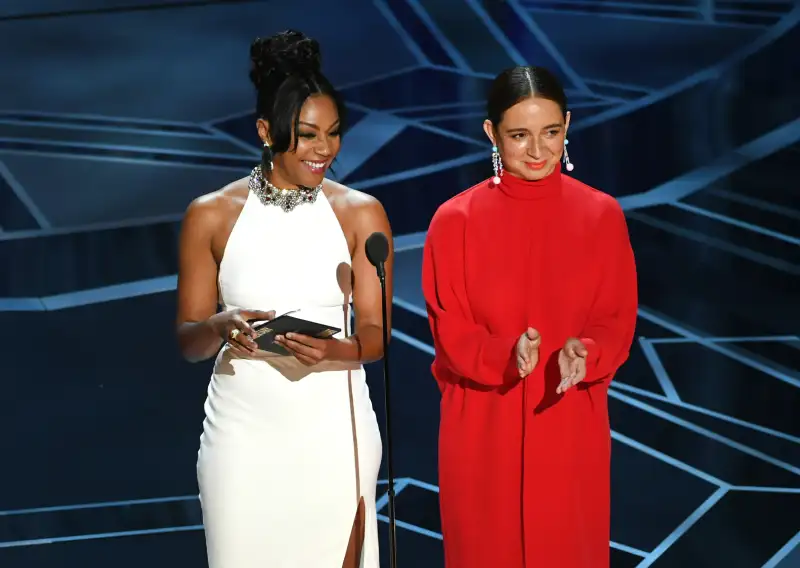 Kevin Winter—Getty Images
Actress and comedian Tiffany Haddish showed that she's seriously savvy with money at the 2018 Oscars last night.
The breakout star of Girls Trip did what many considered unthinkable: She wore a dress that she's worn before—not once but twice.
Last November, Haddish became the first black female comedian to host "Saturday Night Live." She kicked off the show in a stunning white Alexander McQueen dress that she'd worn previously to the Girls Trip premiere. The dress cost Haddish $4,000, she explained, and she was absolutely going to get the most use out of it possible, fashion faux pas or not.
"I don't give a dang about no taboo. I spent a lot of money on this dress. This dress cost way more than my mortgage. This a Alexander McQueen, OK?" Haddish said in her monologue.
She followed up that performance by recycling the same Alexander McQueen dress on Sunday at the 2018 Oscars, where Haddish and Maya Rudolph presented awards for animated and live action short films. Both presenters removed their uncomfortable high heels before coming on stage—Haddish wore Ugg slippers instead—and quite a few fans noticed Haddish lived up to her promise by wearing a familiar white dress.
As she wrote in her recently published collection of personal essays entitled The Last Black Unicorn, Haddish grew up in one of the poorest neighborhoods of South Central Los Angeles and says she remains unabashedly careful with her money even as she's become wealthy and successful in Hollywood.
Last summer, she told a story on "Jimmy Kimmel Live" about how she invited her Girls Star co-star Jada Pinkett-Smith and her husband Will Smith—one of Hollywood's highest-paid actors—on a swamp tour in Louisiana. Haddish not only surprised the Smiths by picking them up in a cheap $20-a-day rental car, but she got a deep discount on the tour by booking it with Groupon.
We've included affiliate links into this article. Click here to learn what those are.