Why Wall Street Will Mourn Eric Cantor (But Not For Long)
Money is not a client of any investment adviser featured on this page. The information provided on this page is for educational purposes only and is not intended as investment advice. Money does not offer advisory services.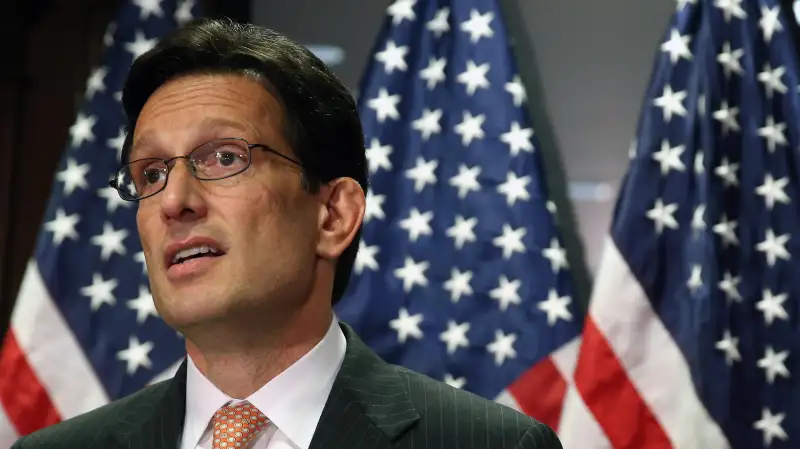 House Majority Leader Eric Cantor's surprise defeat in yesterday's Republican primary sure seems like bad news for Wall Street. Among the seven-term Virginia congressman's top donors, according to OpenSecrets.org, were individuals and PACs associated with money managers Blackstone Group and Scoggin Capital Management, and the investment bank Goldman Sachs.
If nothing else, they got a lousy return on investment. But will Cantor's imminent departure from Congress be a serious setback for financial services companies on the issues they really care about?
Cantor's loss will have the most immediate impact on two fairly narrow pieces of legislation: the renewal of the charter for the Export-Import Bank, and the extension of the Terrorism Risk Insurance Program, or TRIA. (The bank is a government agency that provides loans to purchasers of U.S. goods. TRIA helps insurers cover losses due to terrorism.) These aren't issues that move a lot of voters to the polls, but for some conservative activists they are symbols of the way government gets too close to business. TRIA and the Ex-Im bank have support among business and financial lobbying groups, and Cantor was seen as an ally. But House financial services committee chairman Jeb Hensarling has been a skeptic of both programs.
"There is probably no better poster child of the Washington insider economy and corporate welfare than the Export-Import Bank," said Hensarling in a speech at the Heritage Foundation in May.
Cantor's defeat is widely seen as a chance for Hensarling to move up in the House Republican leadership. Hensarling voted against the Troubled Asset Relief Program, the bank bailout, which Cantor supported.
The victory of Cantor's primary opponent, David Brat, is also a revival in fortunes for the Tea Party wing of the Republican Party. That raises the specter of another acrimonious fight over the raising of the debt ceiling.
Few on Wall Street would welcome the prospect of the U.S. government defaulting on its debts, and another round of brinksmanship could cause major headaches for investors. The 2011 deadlock caused Standard and Poor's to downgrade the U.S.'s credit rating from triple-A status, and led to a historic plunge in the Dow. However, the debt ceiling does not come up again until March 2015.
But on the big regulatory issues, such as the post-crisis Dodd-Frank law imposing new rules on banks, and the powers of the Consumer Financial Protection Bureau, not much has really changed. By and large, across the Tea-Party-to-Establishment spectrum, the GOP sings from the same hymn book—they want these White House-backed laws rolled back. "Those things are sort of partisan issues," says one D.C. conservative activist. The insurance, banking, and securities industries are also top sources of campaign donations for Hensarling, by the way. (As they are for many Democrats, too.)
In an interview on Bloomberg Televsion today, Goldman Sachs president Gary Cohn was asked if Cantor's defeat would make it harder to do business. "I don't know," replied Cohn. "I don't think so."