Women Have Given $217 Million More to Democrats Than Republicans This Election. And It's Giving Female Candidates a Big Boost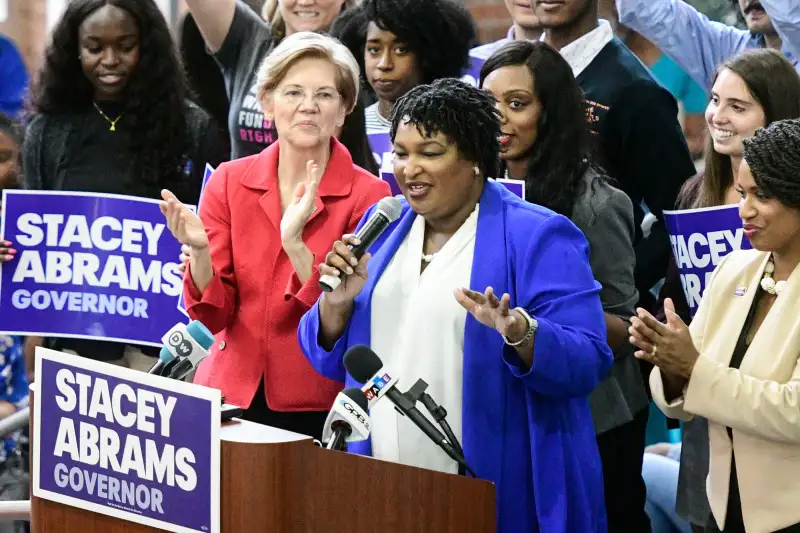 John Amis—EPA-EFE/REX/Shutterstock
Women are donating more money to candidates in Tuesday's midterm election than ever before, and it's giving a major boost to Democratic women.
The 2018 election cycle, taking place amid the tumultuous second year of the Trump presidency, has seen a large increase in the share of campaign donations made by women, according to a new report from the Center for Responsive Politics -- and a record amount of the new money pouring in is going to other women.
Women have given $308 million to Democratic Congressional candidates this cycle, more than double the $141 million they gave to Democrats in 2016.
What's more, of that total haul, $159 million went to women Democratic candidates, while $148 million went to men. That means for the first time women Democratic candidates outraised their male counterparts -- at least among women donors. In the past, men have outraised women among both men and women donors.
Among Republicans it was a different story. Total giving by women to GOP candidates was $91 million. While women also gave more to Republican women in this cycle than they gave in the last one, that giving was on a far smaller scale. It rose to $19 million from $11 million. Meanwhile, women gave $72 million to Republican men, about $17 million less than last time around.
The wave of giving by women could give female candidates a boost. Women have already won record numbers of primary victories in both the House and the Senate.
Inequities remain, however. While giving by women is up, women gave only roughly $1 for every $2 that men gave this election cycle, and overall men candidates still outraised women candidates.
One likely reason women tend to give less is that they have less money of their own. The Center for Responsive Politics' analysis found that women who described themselves as professionals gave nearly $10 for every $1 given by women who said they were homemakers.
Here are the candidates who got the largest share of their donations from women, as of August:
Rank: 1
Kirsten Gillibrand

Party: Democrat
Race: New York Senate
Share from women: 57%
Rank: 2
Tammy Baldwin

Party: Democrat
Race: Wisconsin Senate
Share from women: 52%
Rank: 3
Elizabeth Warren

Party: Democrat
Race: Massachusetts Senate
Share from women: 52%
Rank: 4
Jane Raybould
Party: Democrat
Race: Nebraska Senate
Share from women: 51%
Rank: 5
Bernie Sanders

Party: Independent
Race: Vermont Senate
Share from women: 49%
Rank: 6
Tina Smith

Party: Democrat
Race: Minnesota Senate
Share from women: 49%
Rank: 7
Howard Sherman

Party: Democrat
Race: Mississippi Senate
Share from women: 48%
Rank:8
Beto O'Rourke

Party: Democrat
Race: Texas Senate
Share from women: 48%
Rank: 9
Dianne Feinstein

Party: Democrat
Race: California Senate
Share from women: 47%
Rank: 10
Claire McCaskill

Party: Democrat
Race: Missouri Senate
Share from women: 47%