Barbara Bush Famously Wore Fake Pearls And a $29 Pair of Shoes to Her Husband's Presidential Inauguration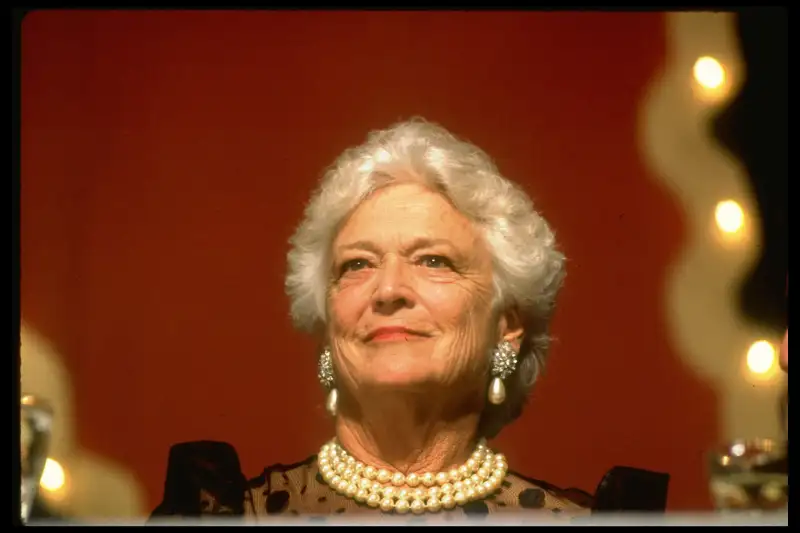 Cynthia Johnson - The LIFE Images Collection/Getty Images
Former First Lady Barbara Bush, who died Tuesday at 92, will be remembered for many things including her literacy legacy, her commitment to her family and her quick wit.
The former First Lady was also known for bringing an understated and frugal flair to the often glamorized role of First Lady — most famously wearing her faux pearls and a $29 pair of shoes to George H.W. Bush's inaugural ball in 1989 (though she did opt to wear a designer dress, donning a royal blue Arnold Scaasi gown).
While she was often compared to her predecessor, Bush was always believed to have put less importance on fashion than former First Lady Nancy Reagan, who opted for high-end designers like Carolina Herrera and Oscar de la Renta. During the week of George H.W. Bush's inauguration in 1989, Bush reportedly used her signature humor to make a sly reference to being more practical than Nancy Reagan, saying: "Please notice — hairdo, makeup, designer dress. Look at me good this week, because it's the only week," according to Vanity Fair.
Diana Walker - Time Life Pictures/Getty Images
And Bush practiced what she preached. She kept her style down to earth, in what many women of her decade saw as relatable, despite her affluent upbringing. Bush was born in Manhattan, but grew up in Rye, N.Y. — attending prestigious schools throughout her childhood including the selective Rye Country Day School in Westchester County and South Carolina's Ashley Hall boarding school. She also went to Smith College, but dropped out when she married George H.W. Bush.
When they got hitched in 1945, George H.W. only had a small inheritance from his father, a Wall Street investment banker. But the couple soon multiplied their wealth by selling a stake in an oil-drilling business for $1 million and buying and selling houses as they moved around the country for George's political career. In the mid-80s, the Bushes also took over his family's sprawling compound in Kennebunkport, Maine, which features multiple houses on 6.4 acres of property and was valued at $8.4 million in 2010.
The Bush's fortune really ballooned once they were inside the White House — quadrupling their net worth to around $23 million, Town & Country reported.
David Burnett - Consolidated News Pictures/Getty Images
And despite her preference for a practical lifestyle, being the First Lady also meant brushing shoulders with foreign leaders and sometimes having to refuse opulent gifts — even if she didn't necessarily want to. In fact, one time, she recalled feeling upset she had to give up thousands of dollars worth of jewelry that were given to her as a gift from a leader of Bahrain.
"The agonized look on my face is because he had just given me approximately $85,000 worth of jewelry, which I immediately gave to the State Department," the Washington Post reported Bush said in 1988, a reference to honoring the $180 value limit for gifts to U.S. public officials from foreign governments.