Here's How Much Woodstock Performers Got Paid 50 Years Ago — and Who's the Richest Star Now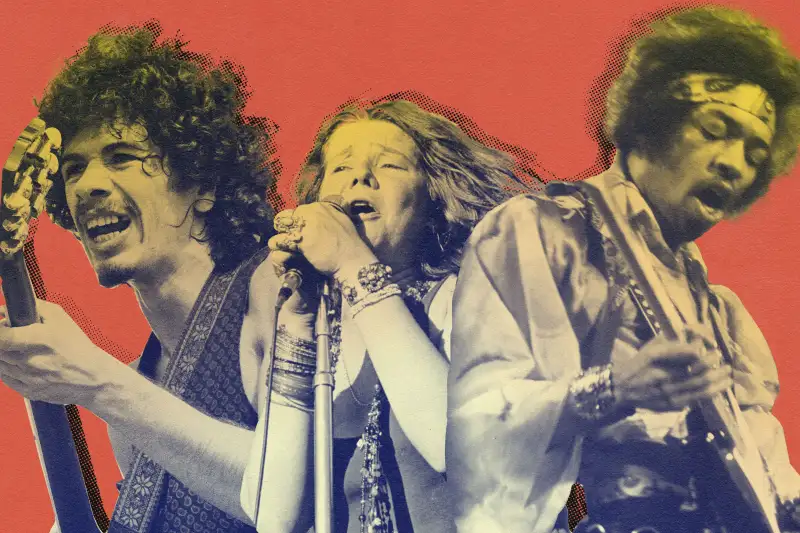 Illustration by Lixia Guo; Getty Images
Before Woodstock was a cultural phenomenon, it was a financial fiasco.
Organizers behind the legendary music festival in upstate New York, which celebrates its 50th anniversary this summer, said they wound up $1.3 million in debt after the historic 1969 event—roughly $9 million in today's dollars. But they eventually broke even years later thanks to album and movie ticket sales.
In addition to basic problems like miles of traffic jams and a lack of sanitation and food for a colossal crowd estimated at over 400,000, Woodstock organizers failed to adequately fence in the concert area. As a result, many fans attended without paying for admission — which was $18 for the three-day festival, the equivalent of about $125 today. That meant festival producers had even less money than expected to pay Woodstock's performers, several of whom reportedly demanded twice their usual pay rate, upfront.
How much did bands get paid for playing at Woodstock in 1969? The amounts varied widely, according to generally accepted reports that have surfaced over the years and trace back to an old story in Variety. The disparity in some of the paychecks is dramatic: Woodstock headliner Jimi Hendrix was paid over 20 times higher than another guitar icon, Carlos Santana, who was mostly unknown at the time.
Woodstock organizers were inclined to pay top dollar to artists like Hendrix, Creedence Clearwater Revival, and Jefferson Airplane because they were desperate to put well-known talent on the bill. Leading up to the festival, top acts like the Rolling Stones, Led Zeppelin, The Doors, John Lennon, and Bob Dylan all declined to perform at Woodstock. Some on-the-spot improvisation was also necessary for Woodstock producers: In order to get stars like Jimi Hendrix on stage, organizers reportedly convinced a local bank to open up after hours during the festival and took out an emergency loan.
Here's how much performers were paid for playing at the original Woodstock festival in 1969, along with some updates on who is the richest rock star now.
Jimi Hendrix: $18,000
In the two years before Woodstock, Jimi Hendrix had put out three studio albums that each reached the top 5 best-seller list in the U.S.: "Are You Experienced," "Axis: Bold as Love," and "Electric Ladyland." The latter peaked at No. 1 on Billboard in late 1968 and remained in the charts for 40 weeks.
So it was certainly justified that Jimi Hendrix was billed as the overall headliner at Woodstock in 1969, and that he commanded the highest paycheck of all performers. Hendrix was paid $18,000 for appearing at Woodstock, which is the equivalent of about $125,000 today.
There was also a clause in his contract stipulating that no one could perform after Jimi Hendrix at the festival. Because there were so many delays and miscues at Woodstock, Hendrix didn't wind up on stage until the morning of day four of the three-day festival, Monday, August 18, 1969. By that time, the vast majority of people had left — meaning that most fans didn't even see the Woodstock headliner perform, including his legendary version of "The Star-Spangled Banner." Side note: His performance at Woodstock represented the only Grammy nomination Jimi Hendrix received while he was alive, and he didn't win.
Blood, Sweat & Tears: $15,000
Blood, Sweat & Tears had a No. 1 album in 1969, and the band's biggest hit, "Spinning Wheel," was peaking during that summer. That's why Blood, Sweat & Tears received the second-highest paycheck at Woodstock, $15,000 — or $105,000 in today's dollars.
Creedence Clearwater Revival, Joan Baez: $10,000 Each
The folksinger and activist Joan Baez was 28 years old and six months pregnant when she took the stage at 3 a.m. on the first night of Woodstock. Decades later, she told the New York Times that she had been incredibly shy, suffered severe stage fright, and had no idea what songs to perform.
"Not everybody knows me, and my music isn't rock 'n' roll," Baez recalled, noting that she didn't really fit in at the scene in upstate New York. "I was a political activist, and there were not many of those at Woodstock." Baez wound up singing the traditional spiritual "Swing Low, Sweet Chariot" and Bob Dylan's "I Shall Be Released," among other songs.
The Woodstock setlist for Creedence Clearwater Revival, led by singer-songwriter John Fogerty, includes many classics still played on the radio today, including "Born on a Bayou," "Suzie Q," "Bad Moon Rising," and "Proud Mary." CCR went through an ugly breakup in the early 1970s, but the band's full performance from 50 years was finally just released as an album this summer, "Live at Woodstock."
Joan Baez and Creedence Clearwater Revival were among the highest-paid performers at Woodstock, receiving $10,000 each, or about $70,000 today, after adjusting for inflation. According to Celebrity Net Worth, John Fogerty has an estimated net worth of $70 million today, while Joan Baez's net worth is roughly $11 million.
Jefferson Airplane, The Band, Janis Joplin: $7,500 Each
In the next tier of highest-paid Woodstock performers come some of the top music stars in the late 1960s, who received $7,500 apiece (equivalent of about $52,000 today). Janis Joplin put on what many consider her breakthrough performance at the 1967 Monterey Pop Festival, and two years later at Woodstock she played crowd favorites like "Piece of My Heart" and "Ball and Chain." Both Janis Joplin and Jimi Hendrix died due to drug overdoses a little over a year after Woodstock.
The Band, best known at that point for their song "The Weight" and for playing regular as Bob Dylan's band, were actually locals who lived in the area where the festival was held. "After three days of people being hammered by weather and music, it was hard to get a take on the mood," The Band's Robbie Robertson wrote in Rolling Stone 20 years after Woodstock. "We played a slow, haunting set of mountain music. We lived up there, near Woodstock, and it seemed kind of appropriate from our point of view."
Jefferson Airplane, the quintessential 1960s San Francisco psychedelic rock band, were well-known for top 10 hits like "Somebody to Love" and "White Rabbit" when Woodstock took place. Part of band, led by singer Grace Slick, was reborn as the Starship in the 1980s, when it released pop songs that topped the charts like "We Built This City" and "Nothing's Gonna Stop Us Now." Grace Slick has an estimated net worth today of about $20 million, per Celebrity Net Worth.
Richie Havens, Sly & the Family Stone, Canned Heat, The Who: $6,000 - $7,000 Each
A band called Sweetwater was supposed to be the opening act at Woodstock, but they were stuck in traffic when the festival was scheduled to start. Richie Havens and his band had driven up to the festival site from New York City early, and after hopping on a short helicopter ride to land near the stage, they wound up opening Woodstock on Friday evening. Havens played for nearly three hours, and his extended setlist included several Beatles songs and the memorable improvisation known simply as "Freedom."
Of the other Woodstock acts that received reported payments of $6,000 to $7,000 ($42,000 to $49,000 today), the best known by far is The Who. A 1969 report by Rolling Stone said that The Who's manager collected $11,200 before the band's performance at Woodstock, but that's believed to be an exaggeration. The Who singer Roger Daltrey did confirm, however, that it demanded upfront payment before the band began its set at 5 a.m., after waiting around backstage for some 14 hours.
"Woodstock wasn't peace and love," Daltrey recalled to the New York Times recently. "People were screaming at the promoters, people were screaming to get paid. We had to get paid, or we couldn't get back home."
The British band, which released "My Generation" in 1965 and the historic rock opera "Tommy" in 1969, was still a big enough deal in 2010 to be asked to play the Super Bowl halftime show, and they are working on a new album expected to be released in 2019. The two core members of The Who, Roger Daltrey and Pete Townshend, are probably the richest Woodstock performers still alive today, with net worths estimated at $85 million and $105 million, respectively.
Sly & the Family Stone, whose music blended funk, soul, and rock and has been sampled abundantly by rap artists like Dr. Dre, A Tribe Called Quest, and Arrested Development, received $7,000 for performing at Woodstock in 1969. They didn't go on stage until 5 a.m., band member Rose Stone recalled later in an NPR interview. "The sun started to come up and all of a sudden all we could see was just a sea of people," she said. "I think it was like an apex of our group."
Arlo Guthrie, Crosby, Stills, Nash & Young: $5,000 Each
The second time that Crosby, Stills, Nash & Young played live as a band, it was in front of hundreds of thousands of people at Woodstock. Neil Young had recently been asked to join the trio of David Crosby, Stephen Stills, and Graham Nash, who had released their first album in the spring of 1969. At Woodstock, the famously prickly Neil Young refused to be filmed and most of the band's acoustic set featured just Crosby, Stills & Nash, who opened with their epic "Suite: Judy Blue Eyes."
Arlo Guthrie, the song of folk music icon Woody Guthrie, was only 19 years old when he played at Woodstock. He was expecting to perform on the festival's second day, and he indulged in plenty of champagne backstage on the first night because there was no food and nothing else to drink, Guthrie later recalled. Then Woodstock organizers suddenly asked Guthrie to play on the first night. "Richie Havens has been up there playing for hours. There's nobody else and you've got to play now," they told him.
Guthrie played a short set, and by most accounts it wasn't a particularly good performance. He didn't play his best-known song, the 18-minute-long antiestablishment saga "Alice's Restaurant," which was released in 1967.
Arlo Guthrie and Crosby, Stills, Nash & Young were paid $5,000 each for playing at Woodstock, about $35,000 today. Neil Young, who has had decades of success as a solo artist and leader of other bands outside CSNY, is now the richest star in this group, with a net worth currently estimated at $65 million.
The Grateful Dead: $2,500
Perhaps no band is more closely associated with the hippie movement and the kind of crowd drawn to Woodstock than the Grateful Dead. But members of the band admit that the Grateful Dead's set at Woodstock, played while the rain poured down and consisting of only five songs, was a disaster.
"The stage was wet, and the electricity was coming through me. I was conducting! Touching my guitar and the microphone was nearly fatal," the Grateful Dead's Bob Weir told Rolling Stone. "It was probably the worst set we've ever performed. And to have performed it in front of a crowd that size was not an altogether fulfilling experience."
Santana: $750
Here's the rest of the low end of the payscale at Woodstock in 1969, according to Variety:
• Ravi Shankar: $4,500
• Johnny Winter: $3,750
• Ten Years After: $3,250
• Country Joe and the Fish: $2,500
• Incredible String Band: $2,250
• Mountain: $2,000
• Tim Hardin: $2,000
• Joe Cocker: $1,375
• Sweetwater: $1,250
• John Sebastian: $1,000
• Melanie: $750
• Santana: $750
• Sha Na Na: $700
• Keef Hartley: $500
• Quill: $375
Of these artists, two performances in particular stand out for how memorably they played — and how little they were paid. The British singer Joe Cocker's iconic version of the Beatles' "With a Little Help From My Friends" closed his set and probably summed up the vibe at Woodstock as well as any song.
Then there's Santana. Few people at Woodstock had heard of Santana, which in the summer of 1969 was a mostly unknown band led by 22-year-old Carlos Santana, a guitar phenom who performed in his teenage years at bars and strip clubs in Tijuana, Mexico. Santana received $750 for playing at Woodstock — about $5,000 in today's dollars, and 24 times less than Jimi Hendrix's paycheck — and it was money well spent. Carlos Santana was high on mescaline when the band took the stage on Saturday afternoon, and by most accounts they blew people's minds with electrifying performances of songs like "Evil Ways" and "Soul Sacrifice."
Three decades after Woodstock, Carlos Santana was an established rock god and released the album "Supernatural," featuring collaborations with the likes of Lauryn Hill, Eric Clapton, and Rob Thomas. The Santana-Thomas song "Smooth" became one of the biggest-selling singles of all time, and Santana collected multiple Grammy Awards in 1999. Today, Carlos Santana is 72 years old and has a net worth estimated at $50 million.