This Entrepreneur Left a 25-Year Career at Xerox for a Job in the Pits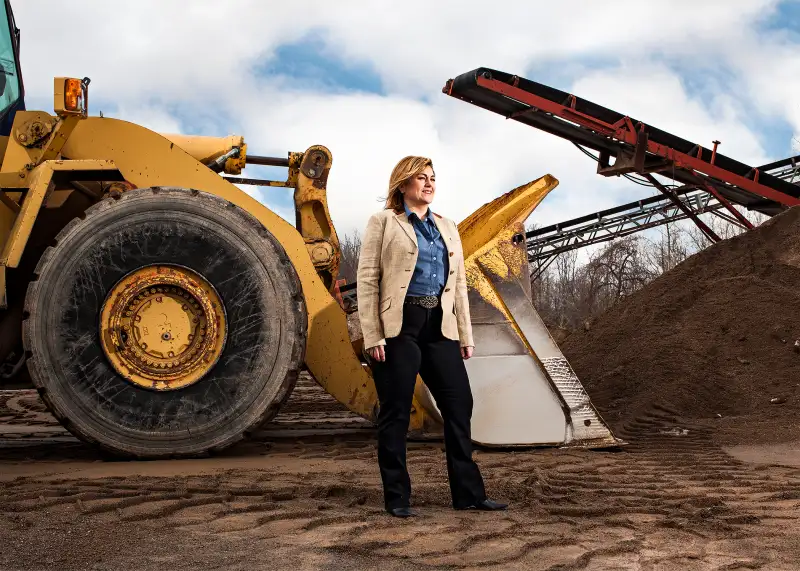 In early 2011 Kaye Stone-Gansz was cruising along the executive track at Xerox when the downsizing company dangled an attractive buyout package. To the surprise of her colleagues, the 25-year vet took the bait. "I thought, This is my sign; this is my time to do my own thing," says Stone-Gansz, who had long harbored entrepreneurial aspirations.
Rather than begin from scratch, she decided to look for a business to buy. At Xerox she had started as an engineer, and then jumped around several disciplines before becoming a director of product services. Her strength was serving as a liaison between engineers and customers, and she figured she could use those talents to grow an existing company.
The buyout allowed her to stay at Xerox for eight more months, during which time she shopped for businesses around Sodus, N.Y., where she lives with her husband and daughter, now 3. After she considered a scrap-metal business, the owner of nearby Smith's Gravel Pit—a 100-acre mining facility specializing in gravel, stone, sand, and topsoil—heard of her intentions and reached out to see if she'd be interested in his company. Stone-Gansz didn't know a thing about gravel. "But I'm a quick study," she says.
While the pit had revenue of $680,000 in 2011, its owner ran it as a secondary business. "So he left many markets untapped," says Stone-Gansz. Confident she could expand the customer base among municipalities, garden centers, and the like, she negotiated a $1.2 million purchase price. She drew some funds from retirement savings and secured a loan for the remainder.
Upon taking over the business in February 2012, she immediately began spending mornings at the pit and afternoons connecting with potential clients. "My best advertisement is me," she says. So far, she's grown the customer base from 150 to 225, and boosted revenue nearly 50%. And while she's working more hours, Stone-Gansz says her personal gratification has skyrocketed. "I go home feeling really good about each new customer I got."
By the Numbers
$600,000
Amount she drew from savings: The majority was pulled from her 401(k). Stone-Gansz, who saves regularly in an IRA, doesn't feel her retirement is compromised, just different. "Once you have your own business and you've acquired assets, they become your retirement."
70%
Initial pay cut she took: In her first year Stone-Gansz paid herself $40,000. Between that money, her package from Xerox, and her husband's salary as general manager at a fabrication company, the family was able to cover its living costs. Last year she upped her pay to $80,000.
2013
When she was named female entrepreneur of the year: The award, from the New York State Small Business Development Center, was based on her having grown the company so quickly. While the pit's 2013 revenues hit $1 million, Stone-Gansz anticipates another 50% increase in 2014 as a result of new projects and continued customer growth.
This article originally appeared in the May 2014 issue of Money Magazine.