Wish Every Work Day Felt Like a Vacation? For This Guy it Is.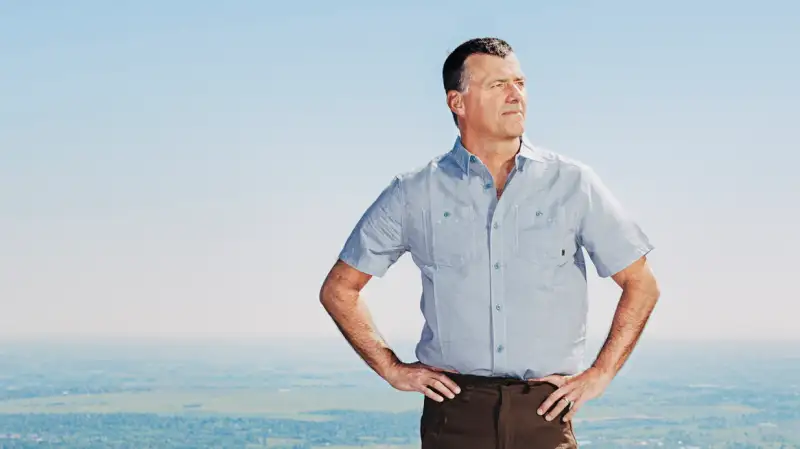 Benjamin Rasmussen, wardrobe and grooming by Ashley Kelly
For 30 years, David Harris bounced around Silicon Valley, using his sales and marketing savvy to overhaul tech companies. But in 2011 he received a sizable payout from the sale of Tumbleweed Communications, where he had been vice president—and he was ready for a change. Though his work was highly compensated, it was also high pressure. "I wanted to continue to chal­lenge myself," he says. "But I needed to get out of high tech for my mental health."
Around the same time Timberline Adventure Tours, a Lafayette, Colo., company offering hiking and biking trips across the U.S. and Canada, went up for sale. Harris and his wife, Kisa, had gone on many vacations with Timberline and had even become friendly with the owners.
For Harris, it was the perfect opportunity. He was looking to do something he felt passionate about, and Timberline filled that bill. Plus, he felt the business had potential beyond its current revenue: "I knew Timberline offered a great product. It was a matter of getting it out to the right people." While details of the purchase were still being ironed out, Harris moved with Kisa (then an aerobics instructor) and his three daughters to Louisville, Colo., where they lived off investments until he settled into his new role.
Immediately after taking over in January 2012, Harris began boost­ing Timberline's digital presence—revamping the website and developing strategies for social media and email marketing. He used skills he'd honed in Silicon Valley, only now "product overhaul" meant testing trails and putting together a "fun puzzle of trip itineraries."
Today Timberline offers 84 tours to about 600 clients annually. Revenues hit $1.2 million in 2013, up from $850,000 in 2011. While Harris isn't making the big bucks he used to, he's enjoying going to a job that doesn't feel like work. "At the end of a trip, when clients are beaming and thanking you for making their vacation," Harris says, "it's just such a pleasure."
BY THE NUMBERS
$500,000: What the company cost
Harris, who bought the business with cash from the sale of Tumbleweed, drew on his sales experience to create a valuation. The owners still cared about the company, and Harris says that made it somewhat harder to negotiate them down to the price he wanted to pay.
84%: how much less Harris earns than he used to
While his family can live off the $100,000 he and Kisa bring in (she's the VP), they're still adjusting to the seasonality of the business, which requires intensive budgeting. Harris credits Kisa, who is "as organized as the day is long."
240: Target number of new clients to add in 2014
Harris is proud of Timber­line's customer loyalty— 84% of travelers in 2012 were returning—but he'd like to grow the customer base so that 40% of clients are new. He plans to introduce more trip itineraries, and he's working on building corporate partnerships, hoping that this will help raise revenues to $2 million by 2015.