Painting the Kitchen One of These Colors Could Boost Your Home's Value by $1,400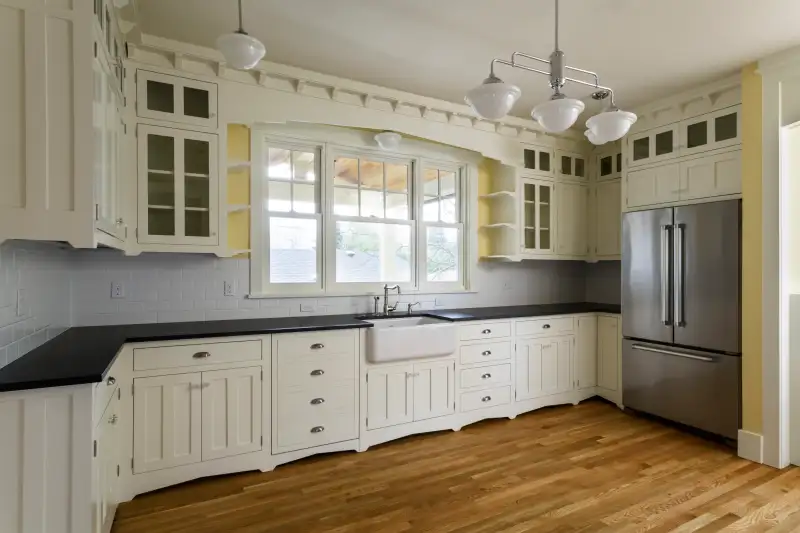 David Papazian—Getty Images
If you're thinking about selling your house, you might want to slap a coat of paint on your walls.
According to a new analysis from Zillow, homes with yellow kitchens command an average of $1,360 more than homes with white kitchens.
Some other colors, like sage green, dove gray, and what Zillow called "warm, earthy tones" also turn up in houses that fetch higher than average prices.
But not all colors enhance a home's value: Grays and browns, for example, don't help. Houses with dark- or slate-gray dining rooms sell for about $1,100 less than the average, and orange-brown terra-cotta in a living room knocks about $800 off a home's value. Keep brown out of the bedroom and bathroom, too, Zillow suggests.
READ NEXT: The 6 Best Home Upgrades for Under $1,000
The best bet, it seems, are neutral paint colors. The yellow recommended by Zillow for kitchens isn't a brilliant sunny yellow or lemon yellow. Instead, think more along the lines of a creamy or wheat-colored yellow.
Surprisingly, purple is a white-hot hue for dining rooms: Zillow found that dining rooms painted "mauve, eggplant or lavender" are found in homes that are worth around $1,100 more.
But in general, stick with subtle color schemes, says Zillow chief economist Svenja Gudell.
As always, it's hard to distinguish correlation from causation—in other words, the data isn't entirely clear on whether certain colors actually increase the value of a home or if homes that buyers value highly just tend to be decorated this way.
Either way, a fresh coat of paint is a cost effective way to freshen up a home before showing it to potential buyers, and it makes sense to stick with the tried and true. "Warm neutrals like yellow or light gray are stylish and clean," Zillow chief economist Svenja Gudell said, because they subtly imply "an eye for design that may translate to other areas within the house."